By PROF WAQAR HUSSAIN
News and Knowledge : July 24, 2013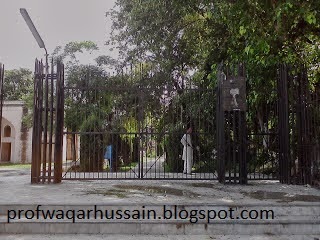 We reached Hasan Abdal from Abottabad to see Gurdwara Panja Sahib at about 8 am. But due to prayer time of Sikhs, guard asked us to come at 10 am. We became worried thinking, how to spend about two hours? Perhaps, the guard judged anxiety on our faces, he suggested: "In the meanwhile, you can see the meditation place of Baba Wali Qandhari(RA) and Hakimon ka Maqbra( tomb of persons expert in eastern herbal medicines). Both places are at a stone's
through from Gurdwara."



First we saw meditation chamber of Baba Wali Qandhari (RA), then came out of the sacred room. In the front of the Holy Place, there were cart sellers, selling usual things which are often sold on darbars (tombs of saints). We asked one of them: "Where is Hakimon ka Maqbara?"The cart seller quickly raised his hand and pointed towards the tomb and said: "there it lies!"
There was an iron bar gate behind that a lush green thick forest, with a few ravaged structures, was visible. On entering the main gate, wife said: "It is a small but beautiful garden." We all looked around and felt that it was a pleasant and picturesque place to visit. On the entrance, the Archaeology Department has installed Informational Board, both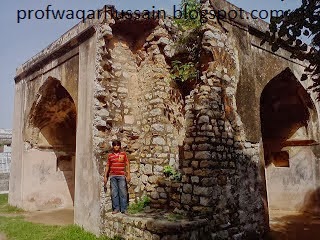 in Urdu and English. I read both versions and then kept on explaining it, whatever we saw next. There is a vast brick roadway almost dividing the garden into two parts. On our left side, there was an octagonal pinkish structure with four arched entrance. There was no grave inside the tomb. In fact, this mausoleum with water tank on western side was constructed by Khawaja Shams ud din Khawafi, the Governor of the Punjab, in 1589 AD for himself.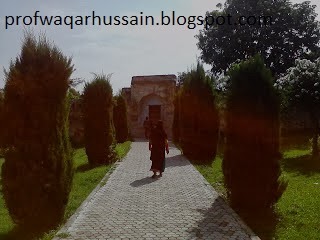 The two brothers; Hakim Abdul Fateh Gilani and Hakim Hamam had extraordinary competency in eastern medicine. Their proficiency bestowed them a respectable position in Akbar's court. Both brothers had direct access to Akbar. Hakim Hamam was closer and favorite of the two for Emperor Akbar. When they died, they were buried in this garden on the order of Akbar, setting aside the wish and efforts of Khawaja Shamsuddin who built it for himself.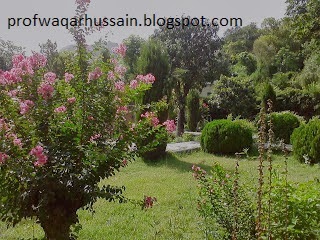 After the burial of Hakims, this garden came to be known as Hakimon ka Maqbara. In Ain-i-'akbari , there is mention of the town( Hasan Abdal) and is also written that Shams ud din built a vault for himself in which lies Hakim Abdul Fateh buried. Akbar visited the town on his way back from Kashmir is also mentioned.
Amsar Hussain uttered in surprise; "What type of tomb is this, where there is no grave." During Sikh rule (1799-1849), the graves of venerated hakims (doctors of eastern medicine) were leveled and this octagonal sepulcher was used as the munshi khana (vernacular office). Now, it is crypt without graves. On one side, there was excess to upper recesses as well as the roof through staircase but now they are all blocked. Zawar Hussain advised: "Archaeology department should install an epitaph of the two hakims inside this octagonal tomb." Amsar Hussain nodded his head in acknowledgement and said: "Their bodies are still there, the Sikhs have leveled the upper part of the graves to use it as clerk office. Thus, the installation of epitaph and reconstruction of the outer part of the grave will lessen the loss incurred by the Sikhs."


Then we came out of the vault and went westward, there was a small water tank which had many fish. Tank showed lack of cleanliness and repair. From there we went through brick pavement towards eastern side. There were much type of plants especially Cyprus and flowers on each side of the way. At the end, we saw a square boundary with a wooden door.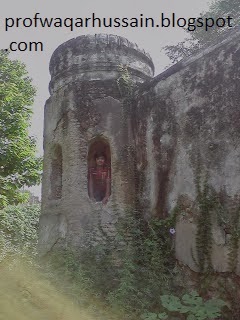 We opened the door and entered the premises. There was a grave built on high platform in almost centre of the site. The structure was built by limestone, bricks and lime mortar. Surface was decorated with colourful fresco (painting on wall plaster) paintings which are now disappearing due to weathering and lack of repair work. Nisar Hussain asked: "Who is lying in the grave?" This is a tomb of Lala Rukh, member of Royal family of the Mughal Emperor Humayoun. Perhaps she was died here at Hasan Abdal ongoing or coming back from Kashmir.
Some writer says Empress Noor Jehan was buried here. It is recorded historical fact that Noor Jehan(wife of Emperor Jahangir) went to Kashmir along with Jahangir. There is a town Ittar Shisha(scent glass) between Mansehra and Balakot



and people say that once bottle of rose scent of Noor Jehan fell here and broken apart and the place came to be known as Ittar Shisha. There is another tradition that once Noor Jehan fell ill while gong to Kashmir. Her eyes got severe infection and she could not see anything. Jahangir got worried and didn't sleep the whole night. Next day a fakir (saint) came to pass there. Jahangir told him his worry. The fakir advised: "Clean her eyes with river water", flowing near his halt. Noor Jehan did so and recovered completely.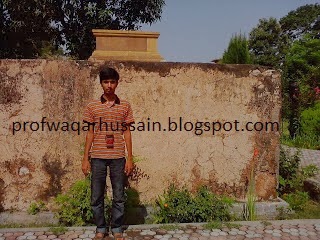 That place is come to be known as Nain Sukh(soother of eyes) and still exist near Kashmir. Many people suffering from eye disease go there and wash their eyes with river water and get recovery. The above traditions show that Noor Jehan came in this area and was sick. Perhaps these traditions are behind the belief that Noor Jehan was buried here. Otherwise, Noor Jehan died on 17th December, 1645 and was buried at Shahdara Bagh in Lahore in a tomb she had built herself.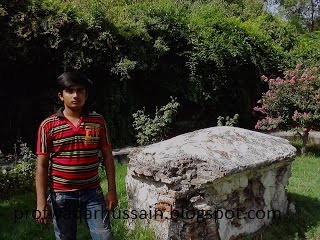 Lala Rukh means red face, Mughal had white colour and during fever, face often becomes red. There is great possibility that any Mughal princess might be travelling towards Kashmir and fell ill during the course and latter on died here and people remembered her with red face which might be the outcome of fever or otherwise. So they might start her calling as Lala Rukh. Her real name might be a different one. It was a prestigious garden where its builder and Governor of the time could not find the place of burial. Then, how could an ordinary person got burial here instead of a dignitary one. This point also favors that any Mughal princess is buried here. Further, the construction of tomb depicts typical Mughal architecture style. So, there is great likelihood that any Mughal princess is buried here and her real name is different from Lala Rukh.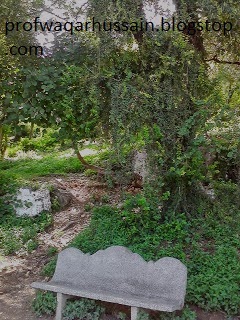 Some researchers say British were charmed by Thomas More's imaginary heroine and might have mistakenly named the place as such. Thomas More says he patterned his heroine after the Emperor Aurangzeb's daughter, but historian says none of the Emperor's daughters had name of Lala Rukh. Thus the identity of the occupant of tomb is unknown. Again if it was an imaginary princess then how imagination transformed into a real grave of illustrious features; separate enclosure, high plate form of variegated sand stone, use of limestone and burnt bricks laid in lime mortar and above all thick plastered surface decorated with colourful fresco having floral design of red and green colour. The tomb wall is square having each side of 100 feet with beautiful pillars at four corners and rich plantation—all indicates the presence of a illustrious personality and celebrity of the time inside the tomb. Who was more distinguished other than the royal princesses for whom the Greater Mughal built structure like Taj Mahal.
The modern writers, who thinks identity of the occupant of the tomb is unknown, refer this mausoleum as Saroo Wala Maqbra(Cypress Tomb) as many cypress trees are present there.
Whosoever is lying in the garden tomb is the lucky one as it is one of the most amazing places I have ever visited because the person who built it for himself couldn't get opportunity to be buried here; the persons, who were actually buried here, have lost their graves and the grave which still exists has lost identity of the occupant person! What a strange happening! So, this tomb should better be called Strange Tomb.