By PROF WAQAR HUSSAIN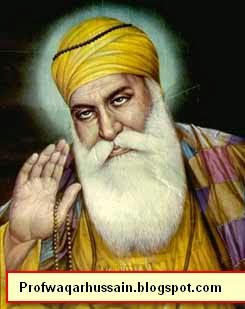 On returning from Abbottabad, we halted at Hasan Abdal to see meditation place of Hazrat Baba Wali Kandhari (R.A), Hakimon ka Maqbra and Gurdwara Panja Sahib – The three most renowned historical sites of Hasan Abdal. During journey, my eldest son Amsar Hussain asked the importance of Gurdwara Panja Sahib. I told him that once Baba Guru Nanak, founder of Sikhism, came here and an incidence took place which resulted in a hand print mark of Baba Guru Nanak on a stone, still lying in the Gurdwara. Thousands of Sikhs come from all over the world to see that hand print. Zawar Hussain asked, "Who was Baba Guru Nanak?­­­". Baba Guru Nanak is the founder of Sikhism,born on 15th April, 1469 in the house of Mehta Kalu (Patwari) in Rai bhoi ki Talvandi now Nankana Sahib near Sheikhupura. He was the first of the ten Sikh Gurus to whom Sikh believes that Sanctified spirit of Guru Nanak descended upon each of the nine subsequent gurus when they embellished Guruship.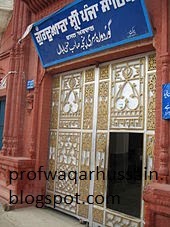 From childhood, Baba Guru Nanak was interested in divine subjects. One can understand his interest in deity that in village school, he astounded his teacher when he described symbol of first letter of alphabet, which is straight and upright in Persian and Arabic, to be indicating the unity and oneness of God.
Many miraculous events are attributed to Guru Nanak. Rai Balu, a local landlord, reported that once Guru Nanak was sleeping and a poisonous cobra provided shade to save him from the scorching Sun. I t is also reported by a resident of Sacha Soda who was travelling with me from Lahore on Sargodha Express that once in early days of Baba Guru Nanak's life, his father gave him camels loaded with cereals to take them and sell out the cereal . He sat out for a trade journey. Within a few days, He returned back. His father was astonished on his early return and asked what the out come of business deal was? Nanak replied, "He had made a sucha soda (a true deal)". His father inquired more details. He said, "When he was passing near a village, he saw people dying of hunger, consequently, he distributed all the cereals among the poor and returned". Later on, that village got the name of Sucha Soda and is still present near Sheikhupura.

It is reported by Prof Naseer Habib now in UK about Guru Nanak that he was in confinement (jail) and Zaheer uddin Babar( the founder of Mughal Dynasty) invaded India and came pass there. He released Guru Nanak and in gratitude Guru blessed him; "Go and enjoy as your seven descendents will rule over the throne".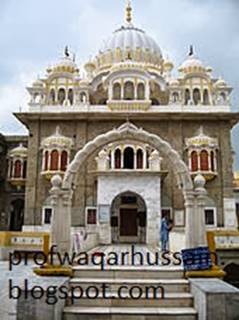 Another miraculous event related to Guru Nanak happened when he was 30 years old. One day he didn't return after ablution (Wazzu), his clothes were lying on the bank of stream/river_Kali Bein. The villagers assumed that he had been drowned in the stream. Daulat Khan Lodhi, the governor of the Punjab for whom Baba Guru Nanak had worked for,ordered to drag the stream to search his body but with no avail. The villagers left the stream in a confused manner; some proclaimed he was dead, other said he was alive. After three days, he reappeared and flabbergasted everyone. He didn't speak to any one for a day. The next day he broke the silence and pronounced: "There is neither Hindu nor Mussulman (Muslim) so whose path shall I follow? I shall follow God's path. God is neither Hindu nor Mussulman and the path which I follow is God's". Guru Nanak reported that he had been taken to God's Court and was served with a cup of nectar (amrita) and was given command: "This is the cup of adoration of God's name. Drink it. I am with you. I bless you and raise you up. Whoever remembers you will enjoy my favour. Go, rejoice of My Name and teach other to do so. I have bestowed the gift of my name upon you. Let this be your calling."
After this proclamation, Nanak got mentioning in the accounts as a Guru and thus a new religion Sikhism got birth. Here Nisar questioned," What is the religious book of Sikh?" Guru Granth Sahib, a vast collection of verses written in Gurumukhi script. It is reported that once Baba Guru Nanak went to Pak Pattan and sought permission from Gadi Nasheen( keeper of a saint's tomb) of Hazarat Baba Farid Shakar Ganj RA to be allowed to add some verses of Baba Farid RA in his book that he was granted.
Guru Nanak then travelled on foot with a Muslim companion Bhai Mardana in all over India and in nearby countries in five different journeys (udasi) from 1500 to 1524. My youngest daughter Sadaf Fatima asked: "what he taught to the people". The core and crux of his teaching has three parts ; first Vand kay Chakko_ helping others especially needy ones ; second Kirat Karo_ earn living honestly ; third Naam Japna_ Meditating God's name to control 5 evils to eliminate suffering and live a happy life. Basic principles of Sikhism are Truth, Equality, Freedom, Justice and Karma. Zawar Hussain asked about the numbers of Sikh. There are about 23.8 million Sikhs in the world and about 21 million( i.e. 9%) live in India. Nisar suddenly asked: "How many Sikhs live in Pakistan?" They are about 20000 in Pakistan. Sadaf asked: "Why Sikhs are called Sikhs….all laughed but mother ordered them to be quiet. The word Sikh means students or disciple or follower so Sikh means the disciples of Guru Nanak.
Amsar asked: "When did Guru Nanak came to Hasan Abdal"? Probably in his third journey (1514-1518) which lasted for 5 years during which he visited Kashmir, Sumer Parbat, Tashkand, Sikkim, Tibet, Nepal, etc.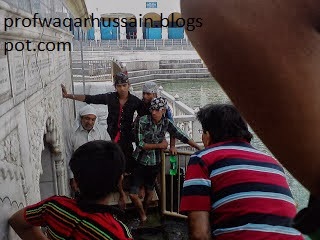 In the meanwhile, prayer time of Sikhs in Gurdwara ended and we were allowed to enter for a short period. First, we went down stairs, there was a fresh water tank having many fish quite visible and a rock. An elderly and three young Sikhs were standing in the water near the sacred rock. We sought their permission to see the sacred rock having hand print of Baba Guru Nanak. They allowed but advised us to cover your heads with any cloth. Then one by one we went near the rock, having a hand print of Baba Guru Nanak, underneath a spring of water was gushing out. Here I asked the elderly Sikh about the story behind this hand print. He said Guru Nanak and Bhai Mardana came to Hasan Abdal in Baisakh Samwat in 1521. They sat under a cool shady tree and started reciting kirtan. On hearing, many followers gathered there.



This practice annoyed the local saint Baba Wali Qandhari (R.A) who was meditating in the nearby top of hill. There was a spring of water on the top of hill. Guru Nanak sent Bhai Mardana thrice to fetch water from Baba Wali Qandhari (R.A). But he refused to give water rather said, "Why don't you ask your master for water whom you serve." Mardana went back to Guru Nanak and told the whole conversation. On hearing, Guru Nanak asked: "Oh, Mardana! Repeat the name of God! The Almighty and drink the water to your heart content."
The Guru put aside a big rock and pure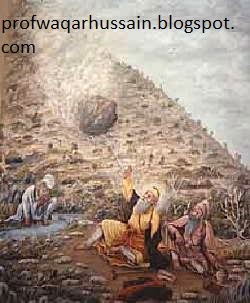 fountain of water sprang up and began to flow endlessly. Bhai Mardana quenched his thirst. On the other hand, fountain of Baba Wali Qandhari RA dried up. On witnessing this he threw a rock in rage towards Guru from the top of the hill. Guru Nanak stopped the down hurling rock with his hand that left behind his hand print on the rock for ever. On seeing this, Baba Wali Qandhari became Guru's devotee. So the matter ended in truce.
Later on, a Gurdwara was built containing sacred rock on the spot where Baba Nanak stayed. After hearing this tradition, we had a cursory look of the Gurdwara as our allotted time was vanishing.It was really a pleasant, informative and memorable visit.