By : Dr Ajaz Anwar
The News : October 6, 2019
Artist and conservationist, Dr Ajaz Anwar fondly remembers Nicholson Road and Qila Gujjar Singh as his "early pastures"; Joan McDonald Junior Cambridge School which had a "cosmopolitan atmosphere"; and how he loved travelling on the upper storey of double-deckers "because it gave a better view of the cityscape"


Chowk Matti. Medium: Water Colour.
Share !
Lahore was the most modern city of the Raj. Re-planned in anticipation of the automobile while city walls had outlived utility against fire power. Photography and the Railways impacted the new town planning concept. Later, electricity would greatly alter the architecture and living styles — expansion was horizontal, usurping agricultural lands.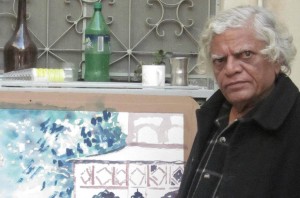 Born in Ludhiana, I arrived here by train from the rooftop of which my father (Anwar, cartoonist), descended at each stop to fetch me from my mother to let me have some fresh air. Once I was here, there was no looking back. Lahore has been my city ever since. Even though later in life, I travelled extensively to the now war-torn Syria, Middle Eastern countries, Malaysia, India, Iran, and across Europe and far East, and sojourned for long periods in Istanbul, Rome and Kampala, I was able to conclude that of all these fabled cities, Lahore was the best, even though it is being strangulated by the short-sighted and greedy.
I had great exposure having learnt to ride a bicycle at a very early age. It was available for Rs 2 for an hour. Our landlord, Mazhar Ali Khan, owner of Muzaffar Mansions, never made us feel like tenants, and we resided there for 34 years. Nicholson Road and Qila Gujjar Singh were my early pastures. It may be recalled that lady bicycles were also available for rent with Mullah Latif and many girls and women rode to their schools and colleges and offices. One such lady was Purnama Ghosh who took to a motorbike.
Lahore Omnibus was of world-class standard under Major Moss who had opted to stay back. Leyland double-deckers merrily plied on Lahore roads from Shahnoor to Pakistan Mint and Railway Station to Shahdara. I always preferred travelling on the upper storey because it gave a better view of the cityscape. A friend of mine, however, was more apprehensive because there was no driver on the upper floor. Sadly, the bus service was discontinued because the lands of their depots at Ichhara, (City) Railway Station, Shahdara, and elsewhere had become very expensive, and the Lahoris were left at the mercy of wagon owners, mostly policemen, led by goons. Only one such survives near Gulberg's Main Market that houses the Alif Laila Children's Library. (Post-script: the double-decker housing the Alif Laila has been removed, now it is housed in a brand new bus!)
Fast forward to when my father did not believe in enrolling in school at an early age — it could deprive a child of an essential part of his grooming, he thought; my maternal grandmother, a school teacher, agreed. I was admitted to Joan McDonald Junior Cambridge School in 1952. It was founded by an Irish lady Miss Joan McDonald, who was the first principal of Kinnaird College that had been shifted from Empress Road in 1912 to a spacious bungalow on Lake Road, Lower Mall. The lady, upon her retirement, bought a bungalow at the nearby 47 Lower Mall and founded a school named after her. It changed hands, and is now owned and run by the Najmuddin family.
The school had a cosmopolitan atmosphere with some Parsi, Goanese, Christian, and Muslim teachers. Mrs Harding, an English lady whose son had been killed on Burma front had stayed back. I had the singular honour of being a favourite of Mrs Murad, who later featured in many movies as a stunning dancer. Being a late entrant to the school, she recommended me to be promoted to KG. The following morning my father waited for her to finish a fiercely contested basketball match.