By The Newspaper's Staff Reporter
Dawn : May 24, 2019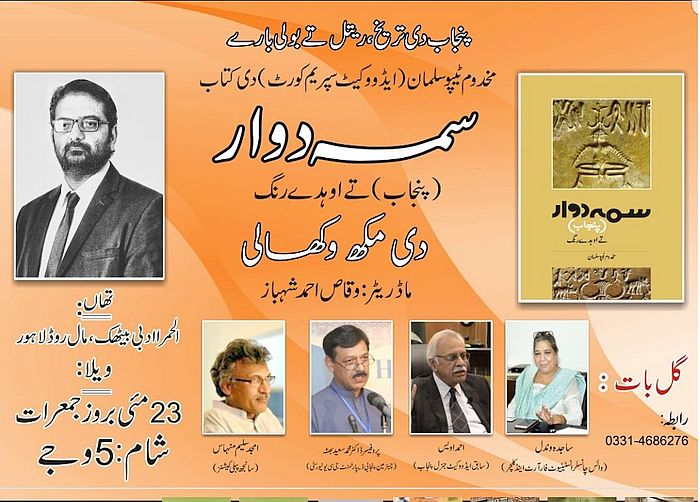 LAHORE: A book titled, Sama Dawar, Punjab Tey Odhay Rung, by Makhdoom Tipu Salman advocate was launched at Alhamra Adabi Baithak on Thursday.
The book encompasses different historical milestones of Punjab and covers its history spanned over some 7,000 years.
Speaking on the occasion, Institute of Art and Culture (IAC) Vice Chancellor Sajida Vandal congratulated the author for writing a book of great substance, saying such a book in Punjabi was much needed. Ms Vandal liked the concise volume of the book that's just 100 pages long.
Author Tipu Salman thanked the audience and the panelists. To Salman, there was a great need to write in Punjabi on the subjects that had got some literary and philosophical value because Punjabi, according to him, was considered an inferior language, good only for abuses and jokes. He said all human progress was attached with language and the identity of a people who spoke that language.
Professor Dr Saeed Bhutta, the head of Punjabi Department, Government College University, threw light on different aspects of the book, especially focusing on its historical perspective.
Former Advocate General Punjab Ahmed Awais said the writer had covered almost all aspects of life and different phases of Punjab.
He said the author also talked about civilisations, flowing like a river in only one direction of progress.
Amjad Saleem Minhas, the publisher, also spoke highly of the book.
On the occasion, a resolution was passed to leave no stone unturned for getting Punjabi its true status and implementing Punjabi as a compulsory subject at the primary level.