By Zaman Khan
Daily Times :March 24, 2018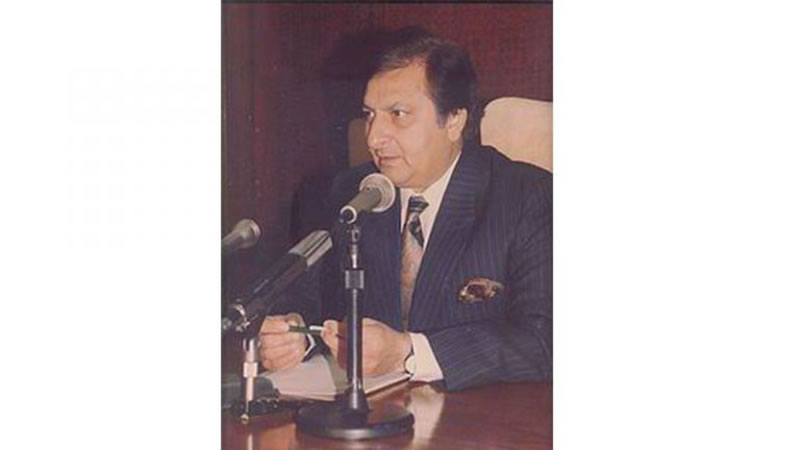 Celebrated writer and politician Fakhar Zaman has authored more than 40 books in Punjabi, Urdu and English. He is the recipient of civil awards; Hilal-e-Imtiaz, Sitara-e-Imtiaz and coveted Indian Punjab award Shiromani Sahtik Award along with many other International Awards. He has been a minister, dealing with culture during the second tenure of prime minister Benazir Bhutto, a Senator and two times Chairman of Pakistan Academy of Letters (PAL). He is currently the Chairman of World Punjabi Congress and International Sufi Council. In political field, he has been the President of PPP Punjab and at present he is the President Central Culture wing of PPP. Zaman is a multi-dimensional personality; therefore we had the opportunity to have in depth interview with him.
Tell us about yourself, your family background, education and hobbies etc?
I was born in Gujrat in Jutt family. My father, Major Zaman, was a known political and social figure of Punjab. I did my BA Hons in Persian and stood first in Punjab. I was Captain of college cricket team, vice captain of Hockey and President of the Student's Union. Later on, I received Masters Degree LLB and Post Graduate Diploma in International Affairs from the Punjab University. Then I went to The Netherlands from where I did my Post-Graduation and also Higher education from the International Court of Justice, The Hague.
The writer says censorship by dictatorial regimes made him happy as they certified his conscience and duty as a writer
When did you start writing?
I used to write some poetry and short story during my studentship. In addition, I started an English monthly 'The Voice' from Gujrat, monthly Urdu magazine 'Bazgasht' and Punjabi weekly 'Wangar'. All of these journals were banned by the successive military dictators. Till early 70s, I used to write in Urdu and English but one day a Lahore Radio producer asked me to write a Punjabi Play for the popular dehati (rural) program. I wrote the play which was extremely liked by the listeners and then I wrote more plays for the radio and for the television. After the publication of my first Urdu anthology, I wrote my first Novel in Punjabi 'Sat Gawachay Lok' (The Lost Seven) followed by my first Punjabi anthology. One day I switched on the Indian TV Doordarshan and heard, to my great pleasure, Amrita Pritam discussing my writing and declaring that 'Sat Gawachay Lok' has set a new trend in novel writing and from then on novelists in both the countries will have to shun the traditional novels and follow the new technique set by Fakhar Zaman.
You have visited almost half of the world. Which city and country is your favourite?
I love Sweden and Austria and their capitals Stockholm and Vienna. I visit these countries at least twice a year accompanied by my wife, eminent history scholar Dr Fatima Hussain.
Zia Ul Haq's Martiall Law regime banned five of your books, how did you feel about it?
Let me tell you the truth, I was very happy because I have written against dictatorship and fascism that certified my conscience and my duty as a writer.
How do you feel about your Punjabi novels and poetry being taught in all Punjabi Universities of India and Ph.d and M.Phil thesis being written on them?
I feel very delighted because so much research work has been done on my writings. I also feel delighted when I see my works having been translated into major languages of the world.
You have twice been the Chairman of Pakistan Academy of Letters, what do you think were your major achievements?
I held two International Conferences on Democracy, Peace and Sufism in 1995 and 2010. The former was attended unprecedentedly by 400 delegates from 110 countries and was inaugurated by PM Benazir Bhutto and concluded by President Leghari. The second conference in 2010 was inaugurated by President Asif Ali Zardari and concluded by the Governor of Punjab and Federal Education Minister, delegates from 80 countries participated in the conference. These conferences projected soft image of Pakistan in the length and breadth of the world.
The major work which the academy did was the publication of 14 Sufi poets of Pakistan, contemporary writers and poets of Pakistan since 1947 onwards from all languages and resistant literature written on General Zia's martial law were translated into 8 languages of the world i.e. English, Russian, Chinese, Spanish, Arabic, French, Persian and Urdu. Now if somebody goes to the respective countries they can find it in the central libraries in their particular languages. Thirdly, the first ever Culture Policy was announced by the National Commission of History and Culture of which I was the Chairman. That policy has been intact till now. Among other things we dealt included establishment of Cinema City, National Institute of Drama, National Academy of Performing Arts, National Art Gallery and expansion of Lok Virsa Pakistan National Council of the Arts, National Archives and Documentation Centre. We would have done more if we had got more time. We had also planned to rewrite non-partisan history from 1947 onwards but only two volumes were written when our government was dismissed.
You have particular views about Punjabi language which is written by different groups, would you elucidate?
I am totally against the purist, archaic and unfamiliar Punjabi writings because they are retrogressive. There exists a group of literary fundamentalists who have formed a mafia and are doing a lot of harm in the popularisation of Punjabi language. I am of the view that the words that form the usual parlance in cities and backwaters should be the standard language. What to do if my cook and driver use the word 'problem', 'tension', 'welcome' and 'culture'. So the lingo should have the guts to break the resistance of middle class. Here lies the illogical approach of the caboodle of fundamentalist group. This also applies to Urdu writings which still get license from Lucknow, Aligarh and Hyderabad. I tell them to seek vocabulary from local languages, whom I call the National Languages of Pakistan.
You have done a lot to popularise Sufism, what do you plan to do more in this field?
As I told you, we translated Sufi writings into 8 languages, produced 14 documentaries in English on Sufi poets and I delivered 13 lectures on Sufi Poets of Pakistan on PTV. I am of the view that Sufism as a subject should be taught from Matric onwards.
You also say these days that the curriculum from Matric to M.A in Punjabi language should be changed?
Yes, I do say that. Those who write books under text book board are mostly either Urdu writers or reactionary Punjabis. There should be radical changes in the curriculum from Matric to Masters level. I am also repeatedly requesting the Government to establish the first ever Punjabi University in Lahore.
The Gujrat University published a voluminous number on you with title from artist Imroz, How did it happen?
The then VC of Gujrat University Dr. Nizam ud Din, a brilliant educationist, decided in a syndicate meeting to bring out especial number in view of my contribution to literature. After all, I am the son of soil, as far as Gujrat is concerned.
Is it correct that you once wanted to make a film, what happened then?
Yes, I was on set with script on Tansain which was to be directed with music by Khwaja Khursheed Anwar. Unfortunately my father put his foot down. Then I thought to make a film on Bhutto which I am sure could be as big as film on Gandhi. But perhaps it's a dream.
You said in one of your interviews that you won't write no more in Urdu and Punjabi because you are exhausted, do you think writers do retire?
They may not retire but at a certain stage which I call stage of saturation, they may only repeat themselves. But now I am writing an English novel spread over social, political, cultural, moral decadence and degeneration since 1947. I hope I'll complete it in this year.
In your speech in Lahore, the other day, you said something new that writer's writing should undergo forensic test, and if its DNA matches the tenens of truth then he or she is a genuine writer, would you elaborate on it?
Yes, I did say that because in the history of Pakistan a great many of writers of repute have made compromise and kowtowed to the establishment. I and all general writers will never forget those opportunists who attended the meeting with Zia Ul Haq on April 11, 1979, only one week after the judicial murder of Zulfiqar Ali Bhutto. Similarly those writers who received civil awards from Military dictators betrayed the essence of genuine writing.
What is your idea of literature and fine arts?
I am very clear on this subject. Writers have to have commitment with the pains and sufferings of the have-nots, that's why I say that Art for Art's sake is simple nonsense. Fine Arts is an instrument for social change, it is not only "Gul-o-Bulbul Afsana". In Pakistan, very few will come up with the standard.
Do you think you will ever achieve the Punjabi objectives?
Yes, I am sure; the day will soon come when Punjabi will be taught as a medium. First ever Punjabi University will be established in Lahore and these thick headed and inept members of Provincial Legislature will speak in their mother tongue. Let me say one thing that Punjabi himself is the enemy of Punjabi language and culture. Punjabi politician, Punjabi bureaucracy and Punjabi elite eat "rizq" from the land of five rivers but speak and interact not in the language which has gone into their blood through their mother's milk.
Shahzia Sikander's installation that was exhibited on the opening day of the Binealle has been reinstalled for public viewing in the gardens of Alhamra Arts Centre. On the opening day of the event, Sikander in collaboration with Ali Sethi held her exhibition for the attendees of the Bienalle Festival, but it was meant only as a part of the opening ceremony. Shahzia worked with the children of Old Lahore's musicians for the installation.
The exhibition has now been installed in Alhamra and will continue till March 31st.