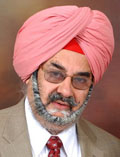 By Harjap Singh Aujla
Shot partly in Amritsar and partly in Canada, the East Punjabi film represents true Punjabi character. Its hero is an Amritsari, Amarinder Singh Gill and the heroine is a Middle Eastern Pakistani girl Sanjeeda Sheikh. Both speak a common dialect of Punjabi language. True to the ancient Punjabi traditions, there are no vulgar love scenes throughout the film.
The film is about a Khalsa College Amritsar student, who is an ace Bhangra Performer. All the characters are from the old Lahore Division consisting of Gujjranwala, Sheikhupura, Sialkot, Gurdaspur, Amritsar and Lahore. It portrays the cultural extra-curricular activities of the students of Khalsa College Amritsar.
This is the third film in the series of Lahore division based theme films, in which the Standard Punjabi of the erstwhile Central Punjab is projected. The earlier films were "Angrez" and "Lahoriye". Lahoriye had one song in the voice of Showqat Ali of Gujarat district of Pakistan, that was its finest song. All other songs were mediocre.
In this very film, the story is great, the direction is very good and the screenplay is superb. No promotion was done. Even the trailer was released only a day earlier. But the film is drawing packed houses, not only in India, but in Canada, the United Kingdom, the United States, Italy, Australia and the Middle-East.
The only drawback is its music, which is not even mediocre. In spite of this weakness, people are thronging to the cinema halls. I think for maintaining strong cultural links between East and West Punjab, this is a must see film.
harjapaujla@gmail.com