The Friday Times : 11 May 2018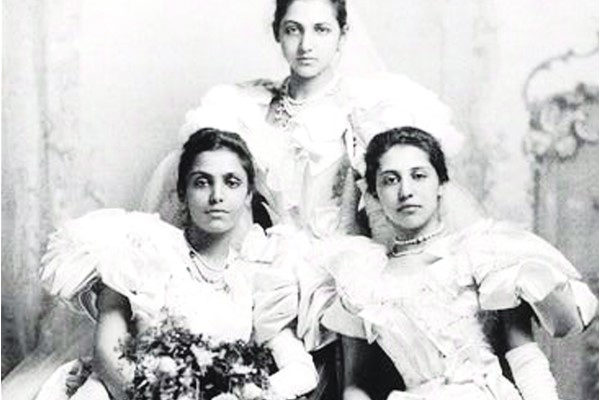 This is a photograph of Princess Bamba Sutherland (centre), Catherine Hilda Duleep Singh (left) and Sophia Duleep Singh (right) at their debut in 1894.
The sisters had an unusual heritage and had even more unusual lives. Their father, Duleep Singh, was a deposed Indian maharajah who had been exiled to England and Bamba née Müller, their mother, the Cairo-born illegitimate daughter of a German merchant and an Abyssinian slave. They were raised in considerable splendour on a vast Suffolk estate as thoroughly anglicised aristocrats.
Bamba settled alone in Lahore and eventually married Dr David Waters, the principal of King Edward Medical College in Lahore. She was widowed in 1939.
Sutherland died on March 10, 1957 in Lahore. As the last surviving member of the dynasty, Bamba left a large quantity of important historical items to her secretary, Pir Karim Bakhsh Supra. The collection consists of 18 paintings, 14 watercolours, 22 paintings on ivory and a number of photos and other articles. The collection was sold to the government of Pakistan and is kept at Lahore Fort. It is known as the Princess Bamba Collection
Princess Catherine Hilda Duleep Singh was the second daughter of Maharaja Duleep Singh. She was educated in England and in 1895 she was presented at Court. Later, she became a suffragist, but did not take part in Emmeline Pankhurst's Suffragette movement. She was a member of the Fawcett Women's Suffrage Group and the National Union of Women's Suffrage Societies (NUWSS).
In 1903, she toured India, went to her ancestral home in Lahore and other places such as Kashmir, Dalhousie, Simla, and Amritsar. She also visited the princely states of Kapurthala, Nabha, Jind, and Patiala and interacted with both the royalty and the local people. After her return from India in March 1904, she lived in Europe with her former governess Lina Schäfer in the Black Forest in Kassel and in Dresden and also visited her family in Switzerland.
Singh spent most of her adult life with Lina Schäfer. During World War I, she lived with Schäfer in Germany at the risk of being called a traitor. None of the family members seemed to have opposed this relationship. Schäfer died on August 26, 1938 at the age of 79. Catherine then left Germany after disposing of all her property and moved to England. Catherine died of a heart attack on November 8, 1942. Her sister Sophia was the first to find her body.
Sophia became politicised in 1906–7, while visiting her elder sister Bamba in Lahore, who was closely watched by anxious government agents. It was here that Sophia met leading freedom fighters Gopal Krishna Gokhale and Lala Lajpat Rai. She returned to England a convinced anti-colonialist.
She had already raised funds to improve the living conditions of lascars in the London docks, but a chance meeting with a disciple of Christabel Pankhurst led to her becoming a leading campaigner for women's suffrage.
When the suffragettes turned to violence, many members of the Women's Society for Social and Political Union resigned, but true to her warrior heritage, Sophia continued both to champion the organisation and endorse its tactics. She publicly lent her support to a group of women charged in 1913 with planning arson attacks and was in the dock herself three times for refusing to pay taxes.
Like her father before her, she became an embarrassment to the royal family, particularly since she had taken to selling copies of the Suffragette outside Hampton Court Palace, where she had a grace-and-favour house. The campaign was put aside during the First World War and Sophia raised considerable sums for Indian soldiers at the front and nursed those who were invalided to Britain.