By Editorial
The Frida Times : 06 Apr 2018
Umar Riaz says it was the hero's passive resistance and dignity before his executioners that gave him his undying fame and glory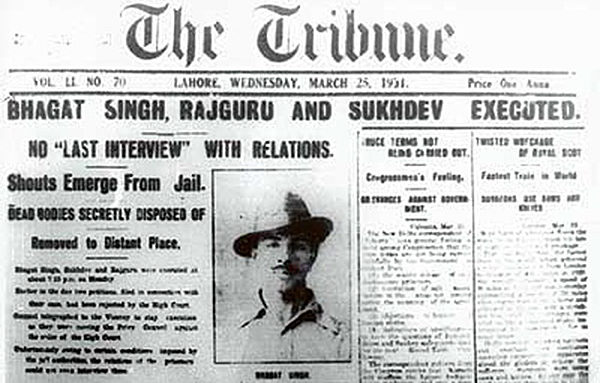 A young Englishman lands in a Colony on official assignment. A long sea voyage followed by a train journey brings him to a tranquil city in the plains. The young man is on probation for an initial period, so life is easy. A month or more after his arrival, he leaves his headquarters one afternoon on a bicycle with a local guard in tow.
Suddenly he is shot at. He falls to the ground. His guard follows the assailants on foot and they shout at him to turn back and go away. The guard keeps running after them. The assailants open fire. The guard goes down in a hail of bullets, and ends up dead, like his "sahib".
The assailants vanish. Police registers a case against unknown accused and is so clueless that it doesn't even know the exact number of attackers. No one had thought that this would be the making of a mega case, a popular myth and an iconic hero.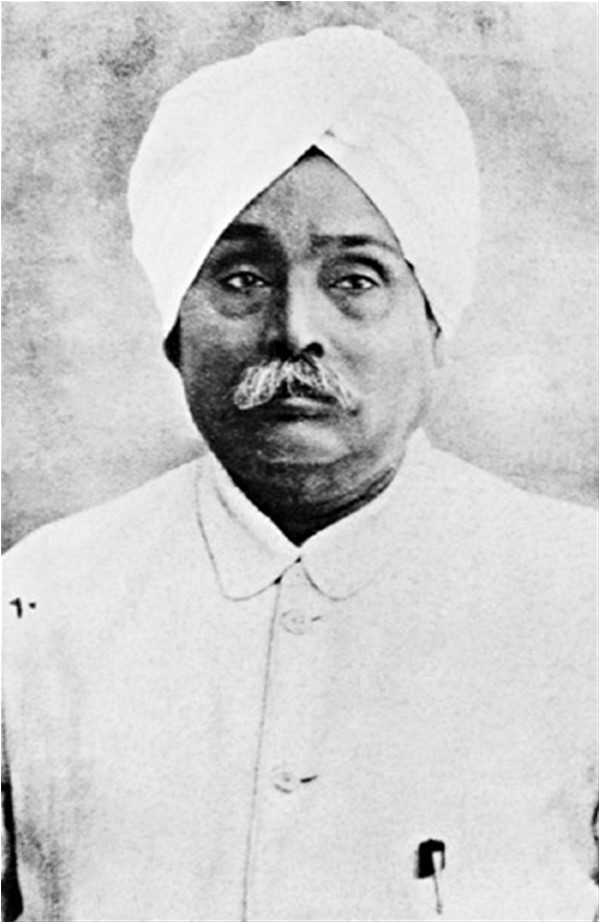 Lala Lajpat Rai, whose death at the hands of colonial police infuriated the revolutionaries
Bhagat Singh's aversion to indiscriminate violence and his commitment to stirring a youth revolution made him turn armed violence into a symbolic one
The title of this piece gives the story away. Bhagat Singh was hanged in Lahore on 23rd March 1931 – 87 years ago. A lot has been written about him, his friends, his cause and his sacrifices. Not much about those who were killed to start with. John Saunders was Assistant Superintendant of Police and was just 21. Bhagat Singh was 23 when he fatally shot him. The other deceased was Chanan Singh, a middle aged Head Constable who refused to give up the chase despite the exhortations of his attackers.
Surely Bhagat Singh must have had good reason to kill Saunders. He must have done something really nasty to have attracted such retaliation as claimed by posters from the 'Commander in Chief Hindustan Socialist Republican Army'.
It turned out that Saunders was actually innocent, even by the standards of revolutionaries. One James Scott, Superintendant of Police, was the real culprit. The revolutionaries mistook Saunders for Scott. The posters had been prepared in advance with the name of James Scott, but since it was not possible to print new ones so Scott's name was switched with Saunders'. It was claimed that the assassination of Lala Lajpat Rai has been avenged who was killed by "an ordinary police officer like Saunders". The revolutionaries categorically mentioned that their act was due to revenge but they were "sorry to have killed a man".
Lala Lajpat Rai was a notable resistance leader of India who was leading a march in front of Lahore Railway Station to protest the arrival of a commission led by one Sir John Simon. He was deputed to formulate a constitutional formation for India. The well known Nehru Report and Fourteen Points were in response to the Simon Commission. Indians from all parties were not happy with the Simon Commission and its members were greeted with chants of 'Go Back Simon' wherever they went. Lahore was no different where the government responded with equal ferocity through a police contingent led by Superintendent of Police James Scott. Lathi or baton charging was a favourite colonial response to disperse rowdy crowds. Lala Lajpat Rai was the special target that day, he was hit in the head and taken straight to hospital. Sixty-three and already a heart patient, he died seventeen days later and as per his doctors, the lathi blows contributed to his death.

Bhagat Singh is visited by his father in jail
Lala Lajpat Rai's death infuriated his supporters, students and disciples. Bhagat Singh was one of them. Exactly a month after Lala ji's death, Saunders was shot dead by mistake in place of Scott. The revolutionaries, however, tried to justify their error. Jatinder Sanyal who was tried along with Bhagat Singh published the first biography of Bhagat Singh two months after the execution. He wrote: "Saunders was popularly regarded as connected with the beating of Lalaji".
As active revolutionaries, Bhagat Singh and his comrades turned out to be lousy executioners.
They had expected a fight out with Police after the killing and were prepared to die fighting – which did not materialise because after Chanan Singh no one chased them. Their earlier mission of robbing a train was also botched, resulting in the death of a passenger by mistake and the death penalty for four, including famous Ram Parsad Bismal and Ashfaqullah Khan.


Ajay Devgn as Bhagat Singh in the film 'The Legend of Bhagat Singh' – in the scene where Saunders is shot
His passive resistance was what made Bhagat Singh a real hero. After he successfully managed to escape Lahore, Bhagat Singh had the option of resorting to more violence and go on a killing spree. He chose the opposite. His aversion to indiscriminate violence and his commitment to stirring a youth revolution made him turn armed violence into a symbolic one. Even when he managed to sneak in to the Legislative Assembly in New Delhi with a pistol and explosives, he chose to avoid hurting anyone. He courted arrest with slogans of "Long Live Revolution" and his star has not stopped from rising since that day.
British authorities in India royally screwed their own judicial process and hastened the social beatification of Bhagat Singh. The judicial process was declared a farce by none other than Muhammad Ali Jinnah. A.G. Noorani in his book The Trial of Bhagat Singh: Politics of Justice has elaborately chronicled the trial and rightly pointed out that even when the accused had indirectly surrendered in a dramatic fashion, the prosecution case was full of loopholes while the process was just a mockery.
The trial was one of many political trials conducted by the British Empire with the sole objective of perpetuating the interests of empire instead of meeting the ends of justice.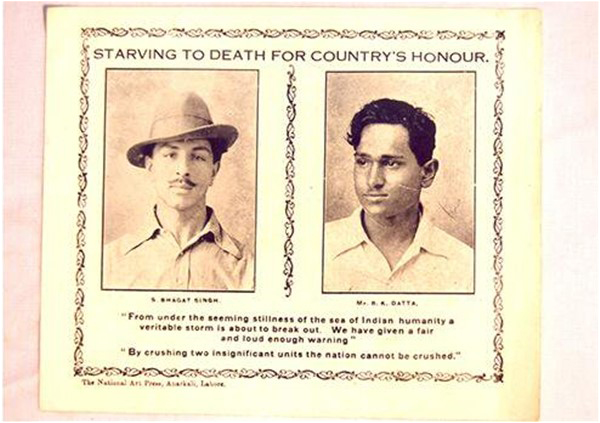 Poster printed in Lahore in support of the revolutionaries' hunger strike in jail
Bhagat Singh is not a hero for what he did when he was free but what he did when he was in custody. Though he has acquired iconic status, he was not the only one who willingly endured the travails of colonial oppression after 1857. From the Tehrik Mujahideen of the Frontier to the Hurs of Sindh and from the extremist Savarkar to the nationalist Subhas Chandar Bose, resistance movements were full of fervour despite being on the fringes to the mainstream Two-Nation ideology of the Muslim League and the Indian National Congress.
In his passive resistance and dignity before his executioners, Bhagat Singh attained as much fame and glory as any mainstream freedom fighter.