By Shaista Sirajuddin
The Friday Times : 02 Mar 2018
Shaista Sonnu Sirajuddin on Salman Rashid's memoir of Partition – a deeply personal journey, yet one which is relevant to us all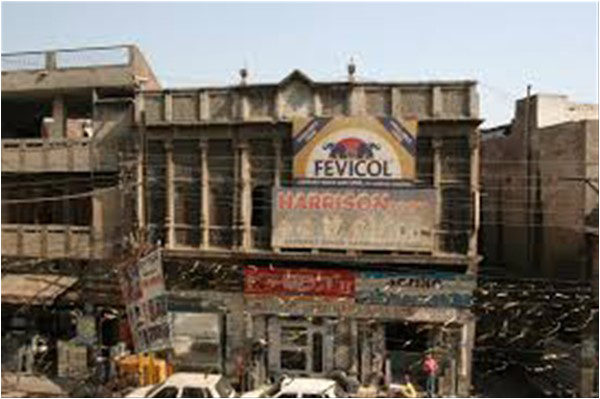 Habib Manzil, Jalandhar, as Salman Rashid found it - Photo Credit - odysseuslahori.blogspot.com
Note: Single quotation marks indicate quotes from the text. Double quotation marks refer to other sources
"I'm from where everybody comes from. From my home." (Derek Walcott, The Odyssey)
"Paths are human; they are the traces of our relationships." (Robert Macfarlane)
Salman Rashid's latest book recording his first ever journey from Lahore to his pre-Partition family home in Jalandhar is, at one level, quite different from the rest of his work. We know him to be a seasoned travel writer, the eternal wayfarer who has traversed the length and breadth of Pakistan, and the prose of his observations while distinctive is nonetheless "public". This is an account of a very personal odyssey. At another level one senses a confluence, a coming together of the man and his journeys, a point where the experience of discovery is as much of the external world as one of self-realisation, a "coming home".
The places on his 'visa' are precisely defined: Amritsar, Jalandhar, the ancestral vollage of Ughi and Solan, and the border crossing from Wagah on the Pakistan side to Attari on the Indian side to be on foot. From there on the entwining of footfall and word hold the reader entirely captive. To some of us, no matter how familiar and nostalgically evocative the locations mentioned, we follow his gaze and hear his speaking voice. The writer speaks of the definite 'design' of his 'pilgrimage'. We know that half his close family never made it across alive during Partition, so there is in the literal sense little suspense in the narrative. There is, however, a mounting of anticipation; even a trepidation with each step in the trajectory of this design. Jalandhar is where he arrives from Amritsar but not where he stops. He moves on to Delhi to trace the movments of his uncle, Habibur Rahman (a survivor) who was summoned to Solan to escort his young sister (who did not survive) back to Jalandhar, before returning to Delhi and his work at Irwin Hospital. For the reader there is no feeling at this point that Rashid has veered away from the main focus of his objective: Habib Manzil on Railway Road, Jalandhar, that the trip to Solan is simply a part of his archival travelogues. This going off on a tangent—if one can call it that—is integral to the process of reconnecting with the past, of reentering history, of piecing together a truncated family. The 'paths' followed are indeed "human" and "traces of our relationships".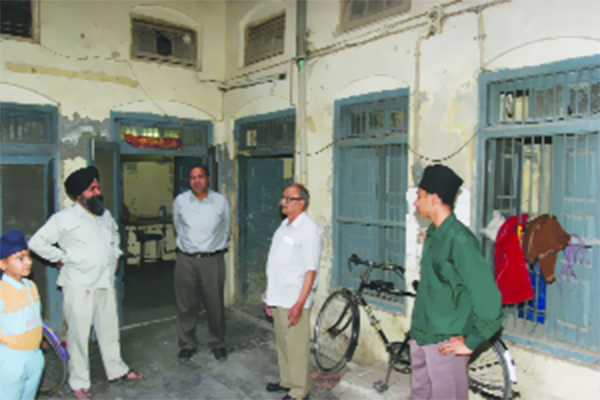 Rashid's journey to the other side of Punjab eventually turned into one of reconciliation and forgiveness – Photo Credit – odysseuslahori.blogspot.com
If the millions who made it across the border, and as many who lost their homes, their loved ones and finally their lives have become part of a 'huge data', a mere statistic, in Rashid's book there is an attitudinal redrafting. The moment he crosses the border he is interacting with a living land and with living people. The spontaneity and acuteness of his observations and responses are fresh, animated, at times quirkily humorous and above all, imaginative: 'two cultural shocks awaited me as we neared town: girls in jeans and t-shirts zooming about on scooters and pigs rooting in garbage dumps'. In the initial casual glance, 'the latter were taken for dogs', as for the former, 'the girls they were not really the shock. The surprise was that very few men ogled at them'. He is reminded of Afghan men reacting in a similar way to unveiled women who had till the recent Talibanised past been virtually 'non existent' and who are described in inimitable Rashid style as 'perambulating shrouds'. In sharp contrast he is also reminded of a very different set of Pakistani male heads which 'turn like radar antennas' towards every passing 'swaddle of clothing…that could possibly be a woman' and to the accompaniment of an all-too-familiar display of scabrous scrotal compulsions. The physical features and behavior of the people who help or hinder his explorations are vividly Dickensian. While no mocking caricature is implied, the portraiture is candid. From the opening encounter with an Indian customs officer named Shahzad or Shahbaz, who coyly demands 'mithai' (read: 500 rupees) and whose 'secret' has since acquired a dubious immortality in prose, we move on to Rajiv Sharma, 'Raja' for short, a man of many wheeling parts who had 'a paunch that could be used as a table' and whose memorable signature phrase 'pee poo laidaey' is 'richly redolent of typical Punjabi sangfroid and nonchalance'. He is joined by his friend Ramesh and we have a lively account of the bustling duo facilitating the writer or energetically pursuing their own business or rather complicated 'businesses'. Individuals—and on occasion their families—are not just referred to as stepping stones for the visitor to get to the heart of the story. They live and breathe on the pages; we can picture Iqbal Singh behind his crowded shop counter in the day, and lying awake at night as he racks his memory for some crucial information. Then there is Sanjeev, whose 'pet name' is 'Lovely'; a fact so recognisably Subcontinental, reminding us of our shared proclivity for calling grown men "baby" or "kaka jee" – laughably ridiculous, yes, but also in a strange way rather endearing. The writer's own sense of humour and wit, however, do not desensitise him to recording encounters marked by a quiet poignance: the elderly, limpid-eyed Darshan Singh shuffling after him just to say "I too have seen Lahore", or Gurdial Singh who speaks so passionately and yearningly about the Lahore of his youth and whose 'feeling and warmth', notes Rashid, 'brought tears to my eyes'. It is, of course, not all warmth and generosity, there are others too whose interaction with the writer is in a very different key. One such example is the obstreperous clerk in Irwin Hospital who spits out with 'unconcealed' hostility (and it appears an unawareness of the irony of his words): "We are the same people. So how can you be any different because of the border?" Another is the 'portly' sour-faced woman who now resided in the Manzil on Railway Road and whose malevolence is equally unconcealed in her attempt at barring entry to the visitor from Lahore. Home, both in its connotation of "going to" and "coming from" is pivotal in the narrative and its critical re-evaluation underpins the writerly viewpoint.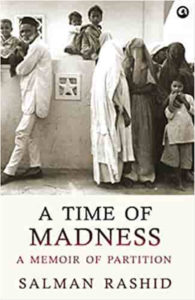 Early on in the book, in response to Raja's remark that things were really the same in both countries or most certainly the Punjab, Rashid admits that he would be comparing 'every little thing' with Pakistan, 'back home'. This brings us to certain aspects of the work that some might object to as being unpatriotically biased, or politically incorrect. We are after all such self-appointed guardians of patriotism and correctness! However the fact is that the veracity of his comparisons speaks for itself. What Pakistanis have seen and experienced over the post-Partition years appears to have numbed our capacity to see at all, let alone react against on a collective level. Rashid's observations, delivered with plain-speaking incisiveness, need to be heeded. They have substance on at least two counts: the first, that they accord with much that we have unfortunately, begun to take with a for-granted acceptance and do not have the courage to publicly write about; the second, that they are anchored in research which is in-depth and meticulous. Without grandiose claims to be a historian or social scientist Rashid is someone who probably knows his own country more than many of us (including even some of his readers) who rarely leave the comfort of our metropolitan enclosures. While one is free to disagree, one can hardly question his 'loyalty to the land' regardless of 'creed' and therefore a natural kinship with the spirit of the commemoration in Desh Bhagat Yadgar.
In the structuring and tenor of Rashid's memoir even apparently the smallest casual observation is not without a telling significance. In Guru Nanak Dev University in Amritsar, where he stays for a short while, he notices 'lovely tree-shaded avenues with partridges scampering across the way', at 'ease' because they are not 'molested'. With it comes to the rueful comment, 'in Pakistan the first thing we would have done is…shot and eaten them to extinction'. Although not a part of Rashid's narrative one cannot but help thinking here of an event 'closer home' which was the recent hosting of a grand partridge shoot in the Kallar Kahar region, at full provincial governmental level, complete with sumptuous feasting and dancing horses! Clearly there is no gainsaying for the priorities or taste of those at the top. While our crowded cityscapes and ugly ravages of urban overspill may well resemble those in India, there are other aspects such as our attitude to the natural physical environment and its ecology in general, which are certainly not comparable. We are constant witnesses to a systematic de-greening of our cities where trees for example, are the 'first victims of any development project'. Those providing oxygen and shade and are indigenous or have become so over hundreds of years are regularly supplanted by the ubiquitous and uncomfortably phallic bottle and date palms. In contrast is Rashid's description of a large pipal tree in the middle of a busy road 'with traffic passing on either side'. When jokingly playing devil's advocate he suggests to Bakhshish Singh, the person driving him at the time, that it should be cut for greater convenience, 'aghast' as he is at this the man's response is eloquent: 'Bhaiji, you may get away killing a man, but never even talk of destroying a tree'.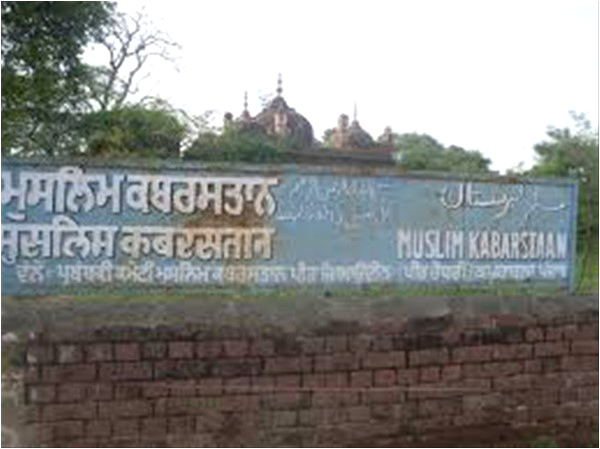 A pre-1947 Muslim graveyard near Jalandhar
Railways too are of special comparative interest for the writer. He notes how efficiently trains run in India, clearly indicative of a high degree of management and maintenance. In Pakistan the railways tell an all-too-familiar story of sadly wasteful declension, hanging on as an orphaned relics of a time when trains were the main economical means of transport for many a common man. Rashid's research presents some sorry facts: from more than '1,200 functioning railway stations inherited from the British at the time of Partition, there were less than 500 working in the first decade of the twenty-first century'. The revamping and laying of thousands of kilometres of new tracks on one side of the border was countered on the other side by no new tracks being laid, branch lines closed, track fittings and steel being 'filched' and disused railway stations 'annexed as private residences'. In his travels, for Rashid the 'train buff' who had ridden trains in Pakistan 'not for getting anywhere but for the pure joy of railway journeys', just for the 'thrill of the wood-chug locomotives and the clickety-clack of the big wheel on the rails', the domestic scenario is unlikely to prompt anything other than a bleakly evocative nostalgia.
Interpretations of and perspectives on historical events and personages are variable and can be argued about at length. What is more readily and obviously verifiable is how one finds living 'at home'. Why is the impulse to appropriate or vandalise what belongs to someone else—or is public property—so highly motivated and routinely finds expression in wantonness that ranges from blatant encroachment by organized qabza groups, to ripping out seats from buses and bus shelters and pinching lotas from public toilets? During some anti-American protests on the Mall in Lahore in recent years, in which outlets of McDonalds and KFC were attacked, the 'angry young' and old men were spotted decamping from the scene on motorbikes, gleefully bearing aloft their trophies of fried chicken and French fries. Why do we find it so difficult to regard ourselves as the "public", as part of a community? Is it because ownership – and not mere possessing – entails the responsibility of being caretakers, or more precisely, the takers on of care? Far more appealing seems to be the persona of marauding desperados in a live-and-let-die world, where every person is for their own self.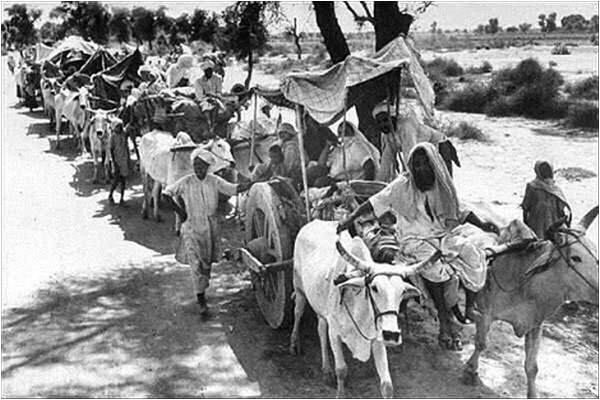 Salman Rashid traces at least some of the predatory tendencies in society today to the violence and looting of 1947
According to Rashid's analysis, such aspects of our evolution can be traced back to the 'days of Partition lawlessness', the ujaday da saal (Year of Partition)in Sardar Saudagar Singh's words, or referred to as looti da saal (Year of Plunder) in Pakistani Punjab, which left a defining mark on the citizens of the newfound land. The appetite for looting and plundering in the subsequent years was now whetted by previously undreamed-of opportunities to appropriate land and properties which had not been worked for. While all our negative characteristics cannot be wholly attributed to Partition, its influence was undeniably significant. The writer's diagnosis is a cogent one and opens up fresh lines of inquiry.
A remarkable feature of A Time of Madness, all 126 pages, is the amount of diverse – though relevantly related – matter that has been packed into it. There is, for example, a detailed account of the origins and mutations of the predominant Arain caste in the Punjab and a predilection in its members to deny reality and invent a historically spurious provenance. This ties in with the wider question of "identity" and the contradictions which bedevil our definitions and understanding of it. We speak smugly about being "sons of the soil" yet insist on an exclusively Arab or, contrarily, Aryan lineage—heavens forbid that we think of ourselves as children of the Maha Sapra Sindhu, the ancient name for the land were Pakistan now sits. Student dissertations are prone to cliches of roots, contemporary local fiction romances clay, mud and dust, yet so often underlying such avowals is a profound denial of the ground beneath our feet, the same ground that our Sufi mystics sang about and harvested poetic metaphors from.
Rashid simply states: 'I had not let memory turn grief into hatred for them across the border. Instead, it taught me to forgive and move on'
Returning to the object of the writer's Jalandhar quest, which was to discover the exact details of what befell his relatives on a "remorseful day" in the summer of '47, and by way of a prelude (according to the timelines of actual events, though not of the narrative) we learn of Eidu, the family servant, who along with his wife and children were brutally murdered. Among them was a two-year-old boy who was thrown from a roof. In a tragically ironic twinning of life and art and with a reversal, albeit of social hierarchies, what comes to mind in this account is the strikingly similar end of the young prince, Astyanax, who was thrown from the ramparts of Troy in Euripides' great play. The climax of Rashid's personal odyssey and where the narrative wheel comes full circle takes place not in Habib Manzil on Railway Road, but at a house lying just off Krishna Street. It was in a room here that his family had sought shelter from a murderous, 'baying mob' and from where 'no living body left'. He names each one of them in a grim roll-call of the dead: his great grandfather, Mian Qutbuddin, about 90; his grandfather, Dr. Badaruddin, aged 60; his grandmother Fatima, probably 55; his aunt Jamila in her late twenties and Tahira, only 22. In stark, pared down prose Rashid describes the room, with 'its green washed walls, badly in want of repainting' and 'lined with bags of refined flour'. He writes 'in the silence I gazed at the walls that were once spattered with the same blood as mine. Where would have they huddled hoping to be dissolved into the brick and mortar behind them? Where my grandfather would have lain in a pool of blood? What were their final thoughts?' The mind's eye then closes. There is no melodrama or sentimentality, not even an anticlimax, just the eloquent simplicity of plain speech: 'I felt nothing. If I had thought such a discovery would flood me with grief and I would weep uncontrollably, it did not happen.'
In A Time of Madness, Salman Rashid has broken the curfew of his surviving family's tearless silence, their stoic resolve not ever to speak of a deeply traumatic chapter in their lives. He has given tongue to something that seemed to be always present in its absence, and he does so with restraint, with respect, and above all with an understanding of human suffering. The tenor and style of the book is reflective of this. While the speaking voice is forthright, there are no self-absorbed interior monologues and little dwelling on the introspective. The sensitivity and honesty with which he responds to that which he learns and experiences suggests a sensibility that is no stranger to introspection or quiet musing, but one which preserves its reserve. This is what lends the book its dignity and poise, no matter how harrowing and divisively provocative is the past revisited.
By way of a closure of the Jalandhar pilgrimage, a crucial section of Rashid's narration deals with two realizations – at the personal and at other levels. The first is that just as he had 'inherited grief from a family', Mohinder Pratap (the man whose father had led the murderous mob to Krishna Street) was 'bearing a legacy of remorse' from a father who 'rued' his actions'to the end of his days'. The second is that both men needed to meet and 'needed each other' to'heal the wounds of Partition'. Without platitudes or self-righteousness, Rashid simply states: 'I had not let memory turn grief into hatred for them across the border. Instead, it taught me to forgive and move on'. The encounter between them may well have contributed to this state of mind and heart.
The Chorus in Seamus Heaney's play The Cure at Troy enjoins:
So hope for a great sea-change
On the far side of revenge.
Believe that a further shore
Is reachable from here
Believe in miracles…
Call miracles self healing
Such a hope finds affirmation in the account of one Darshan Singh, recorded by Rashid. In this the Sardar recounts a time during Partition when he and his family were fleeing from a group of Muslims who were retaliating against a massacre of their own brethren. In the moments when all seemed lost, a Sikh elder suddenly called out, "In God's name, do not advance on us for we are unarmed. Permit us to cross on foot." In that instant, interjects Rashid, 'something went very right. Something inexplicably human took place: the inherent goodness that lives, even if in small measures, in all human beings came to the fore'. The Sikhs were silently allowed to make their way to East Punjab. It is on this note of hope, this faith in the 'inexplicably human' that A Time of Madness ends. A very personal pilgrimage has become something shared, holding out the possibility of retuning our ears to hearing "the outcry and birth cry/Of a new life at its turn", of sustaining and replenishing our fragile humanity. Long may the amaltas bloom for this pilgrim on both sides of the border, and for all others like him who keep the pathways open.