By Chaudhury Ashraf
Daily Times : Nov 16, 2017
Writers of resistance literature have always refused to accept fiction for facts, myth for history and challenged the status quo
Fakhar Zaman has been writing in Punjabi for the better part of the last half-a-century. He has penned novels, short stories, criticism and poetry in the language but also in Urdu, and occasionally in English as well. His work has attracted a great amount of readership (and following) on both sides of the border, as well as amongst the Punjabi speaking diaspora over the world. Fakhar's literary journey has been a labour of love. Along the way he came under the spell of Zulfiqar Ali Bhutto and was inducted by the charismatic leader as one of his close advisers.
Usually mixing politics with poetry is not a good idea. Fakhar stayed clear of this pit fall, yet, let his writings turn into a voice of protest and resistance, never mind a deep stamp of ideology. For a while after the fall of his mentor, and later his tragic death at the hand of a ruthless dictator, Fakhar was part of a heroic political resistance, a rarity in those dark days. In that grim and inglorious era, he penned some of his master pieces, chief among them being the Bandivan (the Prisoner) and Ik Maray Ho'ay Banday Di Kahani (The Tale of a Dead Man.) These works were both a metaphor for resistance as well as also a political statement of allegiance to an ideology, which forever marked his personal identity as well as literary persona. Those were the street fighting years too. In that time lapse of an eerie quiet and a graveyard like silence, men like Fakhar, and some women as well, kept the flag of resistance flying against a totalitarian system of the worst kind this country has ever experienced in its long, checkered history.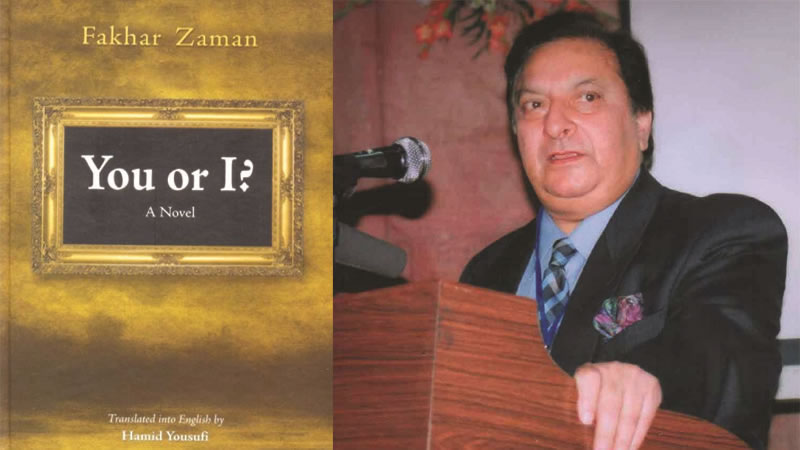 Recent works published by Fakhar, after a long hiatus, are evidence that his pen has lost none of its vigor and flavor. Let's talk of his novel entitled You or I, narrated in a unique style, which is a fine blend of symbolism and 'word craft'. The remarkable thing about the narrative of this novel is that despite its looming political ideology, it underpins the diction rather than overarch it. In fact, it is the English version of his original Punjabi novel that goes with a curious title, 'Tukee Mein', but even in translation it retains its refreshing and down to earth flavour. It could be claimed with some justification that the novel has barely shed any of its originality in translation. However, it remains exclusively in Fakhar's domain and no other contemporary work in Punjabi seems to have attained this class. Khairu, the lowborn protagonist of the novel, takes up cudgels against the homegrown petty bourgeoisie, the exploiters and persecutors of the toiling masses. Khairu, the rustic, illiterate village lad, becomes a reluctant revolutionary, and in due course a genuine leader who calls for peace on the border and amity among nations on the basis of sovereign equality. As a sort of 'peacenik', he comes under the cross hairs of oppressive state machinery, which he fights with his bare hands or at the most by hurling stones in reply to gun fire by the guardians of the border. He also earns the wrath of his countrymen, the champions of status quo, who ridicule and mock him as insane, deranged and everything else. Indeed this is the best example of resistance literature, worth taking serious note of. The book is heavy on symbolism, with its warp and weft woven in thinly disguised nuances of the truth the way it should be told. In a world of turmoil torn asunder by centrifugal forces of tyranny and shallow dogma, Fakhar's work is a path breaking effort. It reminds you of the literary counterpart of the famous painting "The Scream", since it exudes the same agony and anguish remarkably blended by Edvard Munch in his masterpiece.