By shahab Ansari
The News : November 1, 2017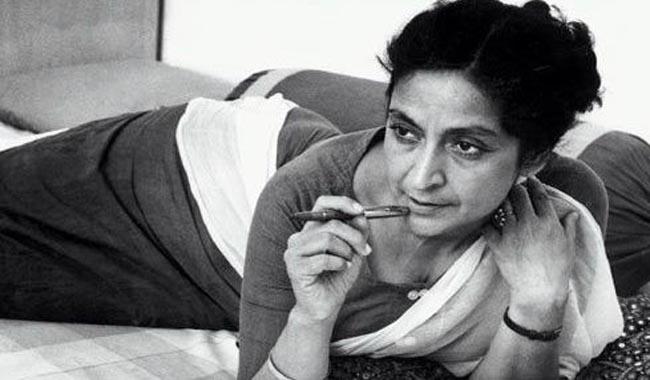 LAHORE:Amrita Pritam was the last giant of the subcontinent's literary world, a larger than life figure, a great human who did not believe in discrimination of any sort but, unfortunately, she never received the place she deserved in India and Pakistan.
This was the consensus among the galaxy of Punjabi writers, poets, intellectuals and media personalities at one day international conference on the legendary writer on her 12th death anniversary, organised by World Punjabi Conference at a local hotel on Tuesday.
The conference comprising two sessions was in fact a mega event to pay tributes to Amrita Pritam, who was a mutual asset of all humanity in general and the literary world of the sub-continent. Literary figures at the conference expressed their heartfelt impressions about this brave woman who fought, wrote and lived for humanity and human causes, specially the 1947 partition.
The speakers who addressed the participants included Qazi Javaid, Zaman Khan, Illyas Ghumman, Parveen Malik, Sabir Ali Sabir, Neelum Bashir, Baba Najmi, Bushra Ejaz, Hassan Askari Kazmi, Asim Butt, Muddassir Butt, Afzal Sahir, Dr Sugra Sadaf, and World Punjabi Conference Chairman Fakhar Zaman. Speaking on the occasion, Muddassir Butt said a building or a road should be named after Amrita Pritam and a campaign should be started in this regard.
Neelum Bashir expressed great remorse over the decline of Punjabi language in the new generation and added: "We should play our part to promote our mother tongue." Paying a great compliment to Amrita, Neelum Bashir said Amrita was a brave woman and she lived the way she wanted to live bravely.
Fakhar Zaman said: "Our mother language has never been promoted simply because the Punjabi politicians, bureaucrats and the elite are all its worst enemies. He added: "In fact such a Punjabi is the worst enemy of Punjabi language."
He said nothing was written for such a great human being and a legendary writer in Pakistan and India and only a three lined news item appeared in Indian paper on her death. He added it was a matter of great shame for India since, except Satindar Singh Noor, no Indian writer wrote an obituary sentence about this great writer, a common asset of Pakistan and India and the entire literacy world. Fakhar expressed a great sense of remorse over the demolition of Amrita Pritam's House in India and added that a commercial plaza has been built on this site now. He said he conveyed his disapproval and displeasure to this incident to Indian high-up too. The WPC chairman said poetry and literature has no boundaries and we should own Amrita and Bhagat Singh while the Indians should own Dullah Bhatti in the same way since they all are our heroes. He said he had only two regrets in life, one was his failure to persuade Amrita to visit Pakistan and the similar fate he faced when he tried to bring Dalip Kumar to this country.
He said WPC's next international conference will be on great Punjabi literary figure Shiv Kumar Batalvi. Before the conclusion of the conference, Ch Saeed Ahmed, WPC president, presented nine points resolution to the house which was passed unanimously.
The resolution demanded resolving of all Pak-India conflicts peacefully. Relaxation of the visa regime and hustle free travel facilities for the writers, poets and intellectuals, establishing of a website for the promotion of Punjabi language, special efforts for women's welfare, A 100-number Punjabi paper should be introduced in both countries, establishing of a Punjabi University, Punjabi should be introduced on primary level, support to literary institutions and finally, a road should be named after Amrita Pritam. It is pertinent to note that no literary figures and guest invited by WPC could come to Pakistan to attend the conference due to visa problem.