By Inderjeet Singh
Tribue India : Oct 9, 2017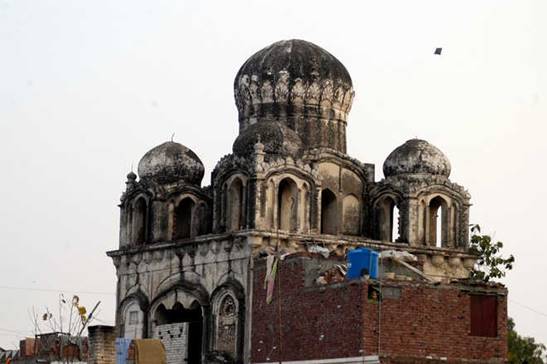 Gurdwara Gurukotha Chheveen Paatshahi at Wazirabad (Pakistan). Photo: Akram Varraich
Vishav Bharti
Tribune News Service
Chandigarh, October 9
The recently notified Punjab State Culture Policy has drawn flak from experts for not saying a word on cultural exchange with Pakistani Punjab.
Writer Amarjit Chandan feels that the core of Punjabi culture is in West Punjab. "Hence, ignoring this aspect is the main lacuna in the policy. Without interacting with its western limb, the body culture of East Punjab (only 15 per cent area of the undivided Punjab) simply can't thrive," he added.
"Though we know the hard political reality, the policy could have shown the pan-Punjabi perspective at least," he said.
Even cultural experts in West Punjab feel that any cultural policy prepared on either side of Wagah will remain incomplete and flawed if it doesn't include both East and West Punjab.
Mahmood Awan, Punjabi writer and columnist for the News International, Lahore, says though the policy talks about programmes like "Jarhaan Naal Jurho", there is no mention of roots across Wagah, where roots of Punjabis lie.
"It pained me because Nankana, Pakpattan, Kartarpur and Harmandir Sahib belong to all of us and is our collective heritage irrespective of this 20th century nationalistic reductionism," he says. Punjab, he says, is the ultimate peacemaker between two warring nation states and Punjabi politicians and intellectuals on both sides of the Radcliffe line need to realise this. "Our connected cultural policies can become our peace posters," he says.
Bhai Baldeep Singh, former AAP leader, who works on cultural transformation and rejuvenation, welcomes Punjab's dialogue with self through cultural policy, but he feels that Punjab is not just a political region. "Punjab is an idea which has its roots till Sindh, so any policy without discussing the entire land falling between five rivers will remain incomplete," he feels.