By Divya Malhotra
Dawn: May 28, 2017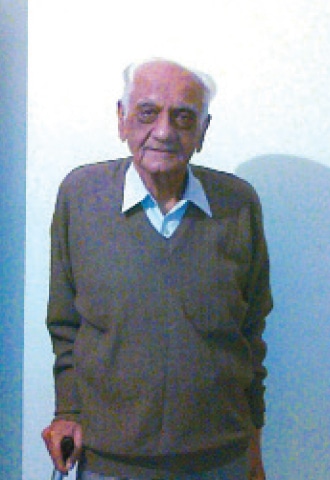 I grew up knowing Pakistan at three levels; first, through my dadu's narrations as his hometown; second, through the lens of diplomacy, as the arch-enemy of my homeland. However, after my own visit in 2012, my impression of Pakistan evolved as a blend of both and I understand now that within the two enemy states, there are two Punjabs united by a common past and pain of partition.
Two weeks ago, I lost my most precious possession, my dadu (grandfather). He retired from the Indian Revenue Service in 1986 and since 1990, we grew up and grew old in each other's company. My grandfather was born in Lahore in 1928 and spent less than a quarter of his life there. Yet, these formative years of his life had left an indelible impression on him, most evident in his zabaan (Urdu). His day began with the Hind Samachar, an Urdu daily and his vocabulary included more Urdu words than Hindi.
He had told me and my brother umpteen stories about the journey of his life from Lahore to Chandigarh. Oftentimes, he told us that his friends were a mix of Hindus and Muslims, how they shared food, celebrated festivals together and enjoyed a common "Indian" identity. His days in Dayal Singh College were equally joyous, and he reminisced the times when they would bunk college to witness anti-British demonstrations. "Even with two annas in pocket, we could afford small pleasures of life. Life was simple then...", he would tell us repeatedly.
He fondly spoke of the evenings when he relished the thick, delicious Rabdi Lassi prepared by "shaadi halwai" and "Multani halwai" and how the modern day preparations fail to match the taste of Lahore.
While recollecting his last days in Lahore, he had a bunch of bitter sweet memories to share. His family left for India on Aug 13, but he left on Aug 15 from the last train to India. "As I was locking the house, I removed the watch my father had gifted me and left it on the table to ensure I don't lose it. My Muslim friends gave me a skull cap and a long kurta to conceal my Hindu identity and escorted me till Lahore Railway Station." This was his last memory of Lahore.
Despite his fading memory in old age, he remembered most of his childhood clearly. Even after so many years, he could recall his address in Montgomery Park, Qila Gujjar Singh. But whenever I asked him if he wanted to go back to see his house, he would bluntly say "Never!"
Partition had scarred his past forever, but he had inadvertently inspired me to visit Lahore. I had visualised his hometown in my imagination and in 2012, when I came to know that Pakistan was hosting the South Asian Youth Conference, I jumped to the opportunity. My family knew that my dadu would never approve of this decision. So without his knowledge, I got aboard Sada-e-sarhad (the Delhi-Lahore bus) at daybreak on Nov 5, 2012. That five-day trip was a highly emotive and exciting experience for me. However the excitement did not end with the trip. I was yet to tell my dadu about my little (mis)adventure. As I finally spilled the beans upon returning home, he was annoyed at first, but overjoyed later. I told him I managed to visit the neighbourhood where he grew up.
"In brick and mortar, there was nothing much I could relate to, but I could still sense some connection standing there." My grandmother poured some hot tea to cool him down. He smiled as he sipped his tea and glanced through the photographs I had clicked. We three were lost in conversation. The rest is history.