by: Harjap Singh Aujla
South Asia Post Issue 35 Vol II, March 15, 2007
Master Ghulam Haider was one of the all time greats amongst the pioneering music directors of India. His life story is extremely fascinating. His meteoric rise can be compared to that of a foot soldier, rising to the rank of a general. I was perplexed to know that every write up about him starts from the age of 25 or even later and ends up at his demise.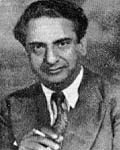 No one has cared to research about his roots, his illustrious parentage and his initial grooming that blossomed into a genius. Even there are two stories about his date and place of birth. I think we the Punjabis need to do thorough research on his impressionist childhood that laid the foundation of a trend setting maestro.
There are two conflicting accounts about Ghulam Haider's date and place of birth. The so far recorded history shows his birth in Sind. Another document says that he was born in Hyderabad Sind. But there is also a story, narrated to me by none other than Bhai Partap Singh of Amritsar. Bhai Partap Singh's elders knew Ghulam Haider's family intimately. He told me that Ghulam Haider was born in the walled city of Amritsar near the Golden Temple and all his upbringing took place in Amritsar. I think, in the interest of fair play, more research is needed to clear this confusion about a great genius. I was also told by S. Mohinder Music Director that Ghulam Haider's father was a Muslim by faith but was held in high esteem by the Sikh community, because he used to perform Sikh religious classical and semi-classical music in Sikh places of worship and the homes of Guru Nanak's followers. In Sikh circles Ghulam Haider's father was called Bhai Mehar. He hailed from a respected Gharana of Rababi musicians dating back to the times of Guru Nanak's fifteenth century disciple, a musician, Bhai Mardana.
According to Bhai Partap Singh, Bhai Mehar was bestowed with a melodious voice. He had a good knowledge of most of the thirty one Ragas mentioned in holy Guru Granth Sahib as well as most of the "Taals" used by Sikh classical musicians. Bhai Mehar and his ancestors had a mastery over ancient string musical instruments like "Saranda", "Taus" and "Rabab" in addition to the popular contemporary instrument "Harmonium" he could play "Tabla", "Dholak", "Ghara", and "Pakhawaj" quite proficiently. All this knowledge was passed on by Bhai Mehar to his son Ghulam Haider. Bhai Mehar's desire was to see his son as an important part of his own group of musicians called ""Jatha". But young Ghulam Haider perhaps had other intentions and he succeeded in what ever he did.
My (writer's) father was born on December 22, 1905, and he did his B.A. and M.A. from Government College Lahore during mid nineteen twenties. He said that Ghulam Haider was of his age. That means Ghulam Haider could have been born in 1926 or 1927 also. The exact date of birth of such a great person needs to be confirmed through proper research.
Both Amritsar and neighbouring Lahore had decent dental colleges, but there is hardly any authentic information about Ghulam Haider's enrolment into a dental college. This also requires more research, because by age twenty, there are conclusive proofs that he was already composing music for live performances in Lahore. He was the first music composer in Punjab, who's innovations introduced Western instruments in North Indian music.
Ghulam Haider might have visited Calcutta, because that great Eastern Indian Metropolis, during the nineteen thirties and forties, used to be the fountainhead of musical talent in the Indian Sub-continent. Being an expensive city, it was difficult to make both ends meet in Calcutta without engaging in some kind of profession. Another music director Shiv Dayal Batish agreed that Ghulam Haider might have served for brief periods in "Alfred Theatre Company Calcutta" and "Alexandra Theatrical Company Calcutta". But must have returned to base soon afterwards.
I think the inspiration for becoming the music director in a theatre in Lahore came from his experience of such musical theatre companies that were mushrooming in Calcutta. All the big and small music composers need to go back to the basics in order to refresh their knowledge of the finer points of classical music. Since for quite sometime he was out of the shadow of his father, he perhaps thought it appropriate to straighten the kinks under the expert guidance of Pandit Babu Ganesh Lal in Lahore. Dalip Chandra Vedi was another great teacher in Lahore.
During his pre-talkie years in Lahore, he came in contact with some of the theatre companies of the city. There were two types of theatre companies in that city. The first category included the Norah Richards inspired drama companies. Parsis owned some of such theatres. The second, less serious and more entertaining category, consisted of musical theatres, which featured dance and song events and just "Geet" and "Ghazal" mehfils. Ghulam Haider got in touch with the song and dance theatres, The concept of dance and music theatres came from the nineteenth century London, which was the role model for early twentieth century Calcutta, Bombay and Lahore. The music and dance theatres of Lahore were the work stations where Ghulam Haider thought his talents could be best utilized. He took upon himself the responsibility of composing the tunes from his vast treasure of inherited "Ragas" and "Taals". The people of Lahore fell in love with his newly coined tunes, ever changing "Taals" and his wizardry with harmonium.
The years from 1930 to 1934 were the years of evolution of what we know about Ghulam Haider. Some of the female singers, who used to sing in the theatres and Mehfils of Lahore, included Amir Bano, Nawab Bai, Zohra Bai of Kapurthala and Mukhtar Begum. Zohra used to commute from Kapurthala to Lahore to perform. Umra-o-Zia Begum was the youngest to enter this field in 1933. As the films crossed over from silent to talkies, a new breed of talent was needed. Script writing, elocution and speech making skills were in demand. My late father saw Ghulam Haider in person in Lahore. My father used to tell me that Ghulam Haider as a music composer introduced the concept of "Prelude" and "Interlude" in instrumentation even during the pre-talkie era. This capability made his style unique. After hearing his compositions, his preludes and interludes, you can not make a mistake in identifying his special style. There were two other Punjabi music directors, who preceded him. They were Ustad Jhande Khan and Rafique Ghaznavi B.A., but they both flourished in Bombay, while Ghulam Haider held the fort in Lahore for a long time before making it big in Bombay in 1944.
My father told me that Ghulam Haider was a highly romantic person in nature. He found one captivating beauty in actress singer Umra-o-Zia Begum (some people spell her as Umrazia Begum). Ghulam Haider instantly got romantically involved with this talented character. After a brief period of courtship, mostly during tune making opportunities, rehearsals and recording sessions, they decided to tie the knot and from the day of "Nikkah" they never looked back until death put them apart in 1953. Their romantic association gave several soulful "Ghazals" and "Geets" to the World of music. Some of them have survived to date.
Ghulam Haider was a great discoverer of latent musical abilities. Umra-o-Zia Begum was his first such find. But after marriage she bade farewell to acting and soon thereafter she stopped singing also and settled down into performing the daily chores of an Indian household lady.
Ghulam Haider's innings as a film music director started in 1934 and ended in 1953. Sometimes it appears that the nature is acting very cruelly. Ghulam Haider died when he was needed most as an elder statesman of music and a guide to the budding music directors in the newly born nation of Pakistan.