Harking back: The old gypsy woman and the French botanist
By Majid Sheikh
Dawn, Dec 06, 2015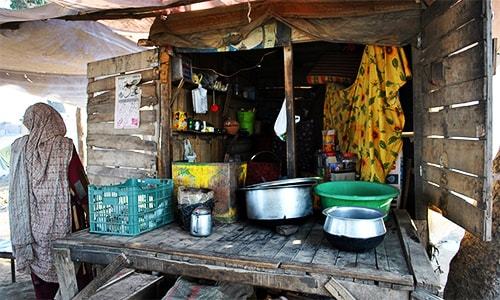 ─ Photo: Aown Ali/File
If you walk along the River Ravi taking a northward direction, you will come across hundreds of small gypsy huts, all crafted with small pieces of cloth picked up from waste thrown away by people like me and you. These people are the original inhabitants of our land.
While on a research visit to these gypsies, who have since become very good friends, I once asked them a question to test their ancestral memory. My purpose was to compile an oral recollection of their origin. Pat came the reply from an old gypsy lady: "No humans lived here before us 'janglis', even this tree was not here before we came, and even this, so our elders said was brought here from the hills by a young beautiful man from the country where belonged the man who built Bangla Laat Sahib". I soaked up that information, but it remained at the back of my mind. Just last week I was going over a list of botanical species of Punjab and trying to trace their origin, and that is when the old gypsy woman came to mind.
While going over rare documents of the Sikh period, a contribution by Prof. C.S. Srinivasachari, one of India's most distinguished historians who has dwelt at length on recorded buffalo and cow sacrifices in ancient India, caught my eye. He has written a lot about foreign visitors to the court of Maharajah Ranjit Singh, and he mentions a famous French botanist and geologist, Victor Vincelas Jacquemont (1801-1832) who came to the court of Lahore and with assistance of the maharajah managed to tour Kashmir. But the wise ruler was no pushover. He listened at length to the young botanist and then put a condition on him visiting Kashmir. That is where what the old gypsy woman said proved to be amazingly 'spot on'.
Let me quote directly from the rare document dated March 1831: "Victor Jacquemont was a friend of LaFayette, the Duc de Broglie and Baron Gerard. He was introduced to Sir Alexander Johnston, Vice President of the Royal Asiatic Society; and when he proposed visiting Punjab for a botanical survey the English Government at once became suspicious and regarded him as either an emissary of the Russian Government bearing some secret treaty to Ranjit Singh and the Ruler of Afghanistan, or was a soldier wanting to join his Army. After great effort and explanations this was overcome, and he was able to get letters of introductions from the Directors of the Company to the British Governors of India". Jacquemont arrived in India in 1828.
The documents go on: "Jacquemont wrote to Baron Humboldt that he wanted to explore the entire Indus Valley on a route suggested in Elphinstone's 'Account' of his mission to Kabul. He was helped a lot by Gen. Allard from Lahore to undertake a visit to Tibet. With help from the Sikh ruler he was able, without anxiety, to travel wherever he wanted and collected some very valuable scientific specimens."
The description then goes on to say: "I have spent a couple of hours on several occasions conversing with Ranjit. His conversation is a nightmare. He is almost the first inquisitive Indian I have seen, but his curiosity makes up for the apathy of his whole nation. He asked me a hundred thousand questions about India, the English, Europe, Bonaparte, this world in general and the next one, hell, paradise, God, the devil and a thousand things besides.
"Like all persons of quality in the East he is a 'malade imaginaire' (an expression taken from a play by Moliere. One translation is 'hypochondriac') and has a large band of the loveliest Kashmiri girls and sufficient means to pay for a better dinner than anyone in the land.
The documents go on to say a lot of very interesting things, but in this piece our interest is focussed on what the condition was that Maharajah Ranjit Singh imposed on Jacquemont, and he took Gen. Allard's guarantee that he would fulfil the condition. As he was a geologist, he was asked to survey the soil along the Ravi right up to the hills in his territory, and to find an appropriate tree that would prevent erosion of the rivers. He sent three men with horses with him to collect samples and to undertake plantation.
And so it was that we have a collection of 'Acacia Jacquemontii' along the river, though nearer the edges are Betula Jacquemontii (White Himalayan Birch), and then inland we have 'Corylus Jacquemontii' (Indian Tree Hazel) and at places some 'Arisaema Jacquemontii' (known as cobra lilies). In the upper reaches he planted 'Prunus Jacquemontii' (Afghan Cherry). Once the maharajah had managed to get trained ten men as expert gardeners by Jacquemont, and also assured himself that his condition had been fulfilled, he let him go with a very impressive dinner and the promise that he was always welcome to return and work in the Lahore Darbar.
Sadly, Jacquemont died of cholera in Bombay (Mumbai) in 1832 at the age of merely 31. The maharajah was very upset on hearing of his death and, if these rare documents are to be believed, he commented: "Phul nay rang change vakhiya" (The flower bloomed very colourfully") Victor Jacquemont spent a few months in Lahore writing about his botanical exploits and samples, many of which the Royal Botanical Society named after him. His compilation of letters to his colleagues and professors has been done under the title 'Letters from India 1829-32' and published in 1834 in London after it was translated from French. In 1932 his death centenary was celebrated by a special book on his botanical contributions. This book contains all these rare letters and documents.
The botanical effort of the maharajah continued throughout his life, for at one point he was to say: "Without trees humans are not human". What an amazing observation, especially in a land where today humans cut down trees as if it was an unprompted reflex. If anything this proves just how dehumanised we have become.
Coming full circle let me return to the gypsies along the Ravi. They are some of the finest humans I have met in my long innings as a journalist. Let me share just one of the hundreds of habits and cultural traits that these original inhabitants of our land possess. Before a gypsy girl gets married, they have to plant 11 saplings along the river, as a tribute to the process of life.
Amazingly, as a scientist tells me, this number of trees is just enough to generate oxygen for a human to live. Today none of us would sit down on equal terms with our original inhabitants. Caste and class live deeply within us. We have no idea just how much wisdom we are ignoring.