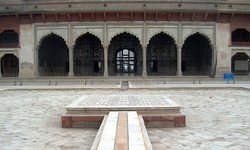 Few mosques in old Lahore can match the history, romance and beauty than that built inside Masti Gate by Mughal emperor Jahangir in honour of his mother Mariumuz Zamani, often wrongfully referred to as Jodha Bai.
After going through the terrible condition of the Lahore Fort, a trip to the nearby mosque was in order. Her special house inside the fort has been knocked down (in China they hang officials for such crimes) and staff quarters built in that place. The experience was a sad one. Here was the memory of a proud Rajput princess, the third wife of Emperor Akbar, and the woman who bore and raised her sons, one of whom was to be the future emperor of India. She was a unique woman, a trader whose own wealth, earned solely from her own business activities, was second only to that of the emperor. A woman of beauty and taste, and kind to a fault. Who, after all was this unique, and surely underrated, empress? How come this mosque was built in her name and what is its current condition?
Mariumuz Zamani was a Rajput princess, a 'Rajkumari', the eldest daughter of the Raja Bharmal of Jaipur (then known as Amer). Her name was Heer Kunwari, and she was the aunt of Raja Maan Singh, one of the 'Nauratans' (Nine Jewels) in the court of Akbar. The Rajputs never did consider themselves as equals of the Mughals, so this marriage was opposed. But given the overwhelming power of the Mughals, her father forced her into this marriage, which was to have far-reaching results. Akbar started to take a positive view of Hinduism, which in turn led to bitter rivalry between Mariumuz Zamani and the first two wives of Akbar, namely Ruqaiya and Salima, the widow of his trusted general Bairam Khan. After Akbar heard the news that she was expecting his first son, his respect and honour for this 'reluctant princess' grew. She was to bear him three sons, as predicted to Akbar by great Sufi saint Hazrat Salim Chishti of Ajmer. There is some ambiguity as to whether Mariumuz Zamani did convert to Islam or not. The Akbarnama states that the emperor first converted her to Islam and then married her, but other accounts (e.g. Agarwal, as also Tusak-e-Jahangiri, Vol 2) clearly state that she refused to convert and held her own. There are accounts of Akbar respecting her views and allowing her to worship Lord Krishna. It might come as a surprise to many in Lahore that the eastern-most portion of the Lahore Fort was once referred to as 'Krishna Konna' – the corner of Krishna. Here an exquisite pavilion was built for her, where today 40 odd staff quarters have been erected.
But Mariumuz Zamani managed to carve her own place in the Mughal court as a woman of immense wealth. She started a massive trade business in spices with the West by building her own fleet. One account (V.A. Smith: 'Akbar the Great') states that the empress started to get her own fleet made in Lahore. I have no ways of verifying this amazing claim, but we do know that at Khizri Gate a major shipping port existed, and that even today the 'mohallahs' have names like 'mohallah kishtiban'. We also know that for the battle of Multan, Maharajah Ranjit Singh sent off the Zamzama gun on a boat from Khizri Gate, for the River Ravi then curled around the Walled City and the Lahore Fort.
But now back to the mosque. After her death in May 1623, her son the Mughal emperor Jahangir built this mosque just opposite the eastern gate of the Lahore Fort, and the gate was to get its name Masjidi Darwaza from this very mosque. Today the encroachments of the Rim Market hide this exquisite mosque. This happens to be the oldest Mughal mosque of Lahore.
The unique feature of this mosque is its double dome structure under which is the prayer chamber. On the surface are beautiful fresco paintings and the walls are of a unique small brick. This is unique for it represents a time period when architectural practices were converting from the Lodhi to the Mughal periods. There was a time when the mosque had three entrances, which can be seen today, but only they are hemmed in by illegal constructions. On the eastern side along the gateway are some grave of recent origin.
In the middle of the courtyard a tank stands, though now it has a crude cement finish, quite against the very grain of this beautiful mosque. New modern brickwork can be seen all over the mosque. There are also traces of small-brick staircases that once led to the roof.
The fresco designs are in beautiful combinations of green, ochre, red, blue, yellow and black. The Quranic inscriptions are in exquisite Nastaliq on the entrance door, and inside on the façade in Naskh-Suls. It is a unique combination.
There was a time when this mosque was known in Lahore as Barudkhanay Wali Masjid. Incidentally a nearby 'haveli', now owned by Mian Yusuf Salahuddin, also acquired this name after his great grandfather came from Amritsar in 1850 and took over this huge Sikh 'haveli'. The name came about because in the rule of Maharajah Ranjit Singh this was used as a gunpowder store. In 1850 the British restored this mosque, as also the Badshahi Mosque, to the Muslims of Lahore.
As I walked through this beautiful mosque named after a most unique Rajput woman, it dawned on me just how we have reduced this amazing structure to an odd experiment of new bricks and concrete plaster, using enamel paint to cover over some of the oldest fresco designs in the sub-continent. Around the mosque illegal structures hide the mosque, where very few tourists manage to reach, let alone even fewer of the faithful reach.
From the eastern ramparts of the Lahore Fort this amazing mosque with much more than a story to its name, stands out. This oldest mosque of the Mughal era needs immediate assistance. Surely there may still be a few proud Rajputs left in this city to lend a hand to the noble task of saving this mosque. Surely their pride is legendary, and their unique princess worth honouring.