Intizar Sahib will always be there
By Majid Sheikh
Dawn February 4th, 2016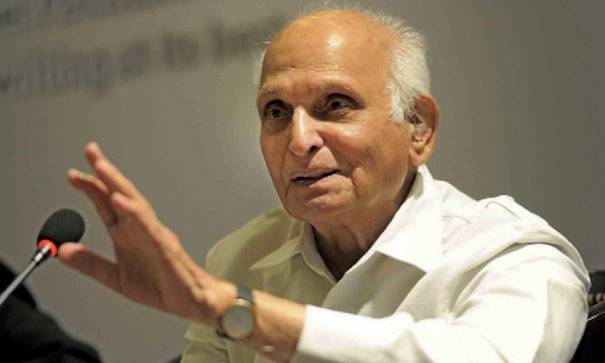 Lahore on Tuesday lost one of its finest and gentlest souls, a humanist, the finest Urdu fiction writer, newspaper columnist, literary critic, poet and a colossus in the world of sub-continental literature. Humble to the very core, the city will certainly be the poorer, and poorer for a very long time.
On Wednesday as we left the funeral prayer hall, the mood was one of disbelief. TV channels were rounding up well-known writers for short interviews in the mad rush to beat each other. This was against the very grain of the great man. The Urdu dramatist, Asghar Nadeem Syed, was approached. He politely refused saying: "We are here to mourn the loss of a great man, not for photo ops". Such was the mood at this gathering.
Intizar Hussain had not been well of recent, and at 92 years of age one does expect the worst. But just a few weeks earlier he had settled rumours of his illness and turned up at the Karachi Literary Festival. Somehow he was above leaving us, or so his ardent admirers, fans and followers believed. Whatever he said, wrote or uttered, was taken as gospel. But then death does catch up on even men like Intizar Hussain.
My earliest memory of him was as a young schoolboy watching him meet my father at the bus stop every day. Both were journalists heading towards the city. He was ever so polite. My father was a well-known newspaper editor and had just finished his first Urdu novel. So they had common grounds for discussion. He was to tell me: "Your father got me into writing newspaper columns in English". He already had a name in Urdu journalism for his 'Lahorenama' column, and as both had a deep interest in Lahore they got on well.
Once a week he would drop in and both would discuss European and Russian writers. Kafka was often mentioned, as was 'Mahabharata' and all the classics. He was always seeking my father's opinion and my English mother was of the opinion: "He is an absolute gentleman and will just not sit down if I am in the room". That became a sort of family joke.
It was Intizar Sahib, as everyone called him out of reverence, who presented me Kafka's collection of short stories 'Contemplation'. It went over my head. I discussed the problem with my father who advised me to tell Intizar Sahib. The great man was very gracious. "Few people even today understand it, so worry not", he consoled. Then he said: "Wait for a month and read it again". The result was very different.
My father died at a relatively young age, but Intizar Sahib would contact me off and on to ask if we were fine. Ever gracious, polite to a fault, but in his opinions firm and strong. He spoke through his novels 'Basti', 'Who Jo Kho Gaye', 'Hindustan Say Akhri Khat' and his numerous other books. The mood in them was upbeat and that of an optimist. But with time he was not very happy with how Pakistan and its leaders had treated the poor of our land.
His columns started to acquire a hope that 'maybe' better days might return. The doubt had started to creep in. On the one hand he was immensely upbeat about how Pakistani women were trying to get from society the respect they deserve. On the other hand the hatred created by religious bigotry depressed him. On my numerous visits to his house on Jail Road he was always keen to know my views on the issues of the day. The intellect was piercing.
By then I had started, almost 16 years ago, to write a weekly column on Lahore, its people and its history. After a few months he sent a message through the operator at the daily 'Dawn' to ask 'Sheikh Sahib' to meet him. His word was a command for me. After a cup of tea he said: "Majid, if you want to write about Lahore, go back to the beginning, and read the Rig Veda, the Mahabharata, the ancient scripts. Only then will you understand the people of this great city".
The city where he came to in 1947 from Meerut he embraced. It was his love and he sought to project its importance in the literary scheme of things in Pakistan. But his view of the world was amazingly universal. Once when a bigot of a TV anchor tried to get him to speak negatively of a neighbouring country, he calmly and firmly questioned: "Can not the same moon also be seen from there?"
Over the years he was always kind enough to ring me if he liked my column. A few times he corrected mistakes, for which I remain eternally grateful. He spoke, and wrote, with such care and love when my three books on Lahore were launched. For me Intizar Sahib will always be there.