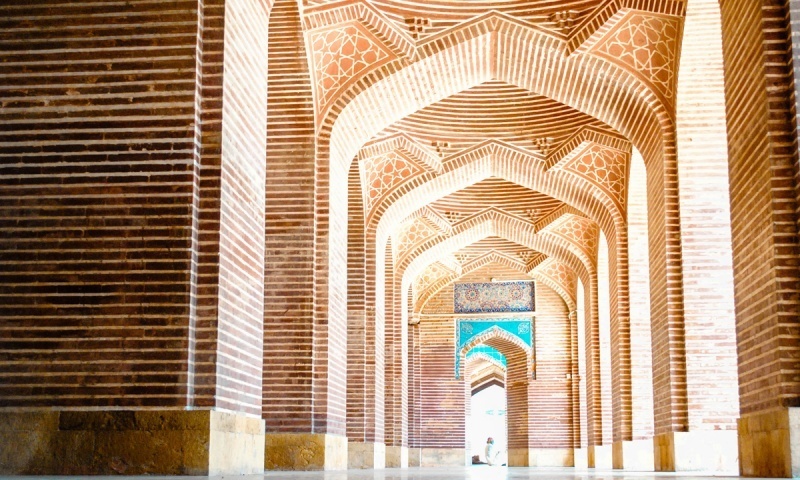 DAI ANGA has always fascinated me. Why would a dai — a wet nurse — to Mughal Emperor Shah Jahan be buried next to his daughter Sultan Begum? The status of the dai must have been very special in the Mughal scheme of things. Her tomb and mosque are today protected monuments, or at least we think so. She had the mosque built in 1635 before proceeding for Haj, while her tomb was constructed in 1671 during Aurangzeb's reign.
But little is known today about this woman, probably because she was not a 'royal'. Her son Rashid Khan, a top archer of his time, was killed fighting for Dara Shikoh against Aurangzeb. The mere fact that her tomb was built during Aurangzeb's reign, alongside the monarch's favourite sister's last resting place, speaks volumes for Dai Anga — and Aurangzeb.
With all these thoughts, I set off last Tuesday to visit both the mosque and the tomb in Lahore. If you proceed along Nicholson Road towards the railway station, you cross the Allama Iqbal Road coming from Garhi Shahu. As you proceed straight on this road, take a left turn on the road called Dai Anga Street. It ends at the gate leading to the famous Platform 1, where the film Bhowani Junction was shot.
To the left is the mosque which I entered. It was amazing to see how huge it is, exquisitely decorated in floral tilework dulled by nearly 380 years of weathering. This is the second oldest Mughal-era mosque in Lahore. The Mariam Zamani Mosque, inside the Walled City (which no longer has any walls left), is the oldest.
I walked inside the main hall. It was empty as it was not prayer time. Ropes, wooden planks and a ladder were positioned because there was a lone worker busy
decorating
the inner roof. Was this serious conservation work being undertaken on a 'protected monument'? I called out, and down came an old man, Riaz Ahmed Sirhindi. He turned out to be an old acquaintance who has been working on mosques and conservation projects for well over 50 years.
We went over the quality of the work, and I pointed out that modern tiles and cement were not what true conservation was all about, let alone reconstruction with similar limestone material. He smiled and said: "Sheikhji, forget serious conservation, there is no money, no mind, no patience for that. Some private persons are collecting funds and doing up this mosque to the best of their understanding."
What could one say, for Sirhindi is an artisan in his own right.
"Our children are not interested, and now I just earn my daily wages." I walked away in silence.
With these thoughts in mind, I reached the tomb of Dai Anga, next to the University of Engineering and Technology. Apart from containing an impressive structure, it must have been in its time an imposing garden. The Punjab Horticulture Authority has taken over what little is left of the garden while the Archaeology Department is responsible for maintaining the structure. Forget the huge garden that has been encroached upon — as recently as a few years ago a major chunk of the left portion of the main garden had new housing on it. There is a case in court and an 'appropriate' stay order.
The main structure is in reasonable shape, though it is falling apart at a few places. Some recent limestone patchwork can be seen. The sad thing is that the entrance to the lower level where the two graves exist have been walled up and covered. On the main floor are brick markings that point to the graves quite a few feet below. The main structure represents among the finest early Mughal-era constructions in Lahore.
The marble and precious stones that once embellished it were removed by Sikh forces. The British managed to preserve the main monument. After 1947, slow decay set in. The old dai evokes no interest among scholars or archaeologists. The garden has disappeared. The finest rose garden — Gulabi Bagh — of Lahore is no more.
But then what is in a name, be it a rose or a woman who was merely the 'wet nurse' of an emperor a long time ago.