Amarjit Chandan's second full-length bilingual collection is out, where the poems are more grievous and have a strange tinge of sadness
There are very few poets who are as true to their art, roots and ideology as Amarjit Chandan. He came to prominence during the Maoist Naxalite movement of the late 1960s in East Punjab, when he was a student of MA English at Panjab University, Chandigarh. He ran the movement's publication section, and was regarded as one of the major 'militant' poets of that era alongside Pash, Lal Singh Dil and Sant Ram Udasi. He was arrested during the thick of the Naxalite movement in August 1971. He spent two years in solitary confinement in Central Jails in Jalandhar and Amritsar, before his release in August 1973.
Chandan was born in Nairobi, Kenya, and had a British Passport. After serving time, he spent a few years in Punjab and then left for Europe. He has been living in London since 1980 where he has become the global face of modern Punjabi poetry. In the words of Moniza Alvi, Lahore-born British poet and writer, his "work is marked by restraint and imaginative brilliance".
Chandan's poetry is special in the way it connects to international readership. The Punjabi rootedness of his poems doesn't become a compartmentalised space or a fenced wall that stops 'others' from entering.
The Parrot, The Horse & The Man is Chandan's second full-length bilingual collection of poems. His first bilingual volume Sonata for Four Hands, prefaced by his long-time friend, mentor, and admirer of his poetry the great English writer John Berger, was published in 2010 by Arc.
Sonata for Four Hands was presumably the first-ever bilingual volume of a Punjabi poet published by a mainstream British publisher. The book under review is a continuation of that achievement. The 41-poem collection is dedicated to John Berger. Berger gifted Chandan his drawing 'The Key' with an inscription that said it was the key of poetry for the gifted. That drawing and memory was invoked in the following words by Chandan in his dedication note: "In memory of John Berger for whom I shall always carry the keys of poetry". Poems of this collection are translated from the original Punjabi by the author with his fellow poets Julia Casterton, Vanessa Gebbie, Ajmer Rode, Jaspal Singh, Stephen Watts, and John Welch.
Getting translated is not easy for any Punjabi poet; no one ever volunteers especially if you are not part of the established academic oligarchy or not from that part of the world which in the eyes of global capitalism is 'politically troubled enough' to yield considerable sales and career uplifts for academic translators. The second limitation is there are very few Punjabi language institutes or Punjabi literature study centres in the West. Therefore, regardless of how good a Punjabi poet may be, it is difficult to find good translators as there are none.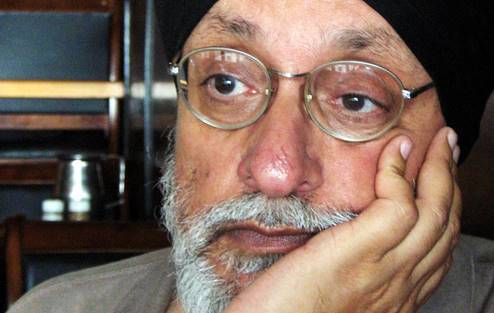 The few international centres that we have are focused more on Sikh studies than Punjabi literature and our common heritage. In this scenario, you need to do what Chandan did — do the hard work, translate your poems yourself first and then find interested English colleagues who can 'fine tune' and bless the translations, so that a reputed publisher can risk publishing your bilingual poetry.
Poetry is more 'sensitive' to translations than prose, and the only possible way to relish the poetic experience is to have poems available in both languages in print. As is evident from the translations, Chandan has the skill of finding the right words to translate precise expressions that are nearly irreplaceable.
Chandan's poetry is special in the way it connects to international readership. The Punjabi rootedness of his poems doesn't become a compartmentalised space or a fenced wall that stops 'others' from entering. His poetry works as a lush green pathway that connects people of the world equally, not only to his poetry but with each other in a common human space irrespective of their pseudo split binaries and barbed identities. In the words of author, musician, and singer Madan Gopal Singh, it is Chandan's "unique sense of earthy mysticism" or in the words of Seamus Heaney it's that quality of a poet where the "local articulates the global".
In these poems, Chandan doesn't rely on overused metaphors, which have made contemporary poetry as if it's written by one single individual with different names in different languages. He is fully aware of that metaphorical 'rathole'. In one of his poems "Kee loR Tashbeehã(n)" (Why Metaphors), he satirically lists those dozen-and-a-half metaphors with which every contemporary poetry is muddied. He echoes: "Why metaphors/what's the need, /can't there be poetry without them? /the truth exists as it is/ It's neither covered nor naked/ the creation stands in front of itself like itself".
Poems of the current book are more grievous than those which were selected for Sonata for Four Hands, his earlier book. Chandan's poems have always been full of memories, longing, and love for his people, his mother tongue and his lost land — the Undivided Punjab. He still lives and breathes in the land of five rivers which is not partitioned. Any thought of the Punjab partition disturbs him emotionally and psychologically. However, the poems of this book have a strange tinge of sadness, silence of pre-departure, sounds of a mystery bird flapping its wings, trembling vibrations of the last school bell, voices coming from a far-off land where Chandan wants to be at this very moment.
"Itthay hay dooja pehr / sochda hã(n) rãt pai hovaygi Nakodar vich / Sunjhi saRak kandhay sutta hovay ga ghar / Jithay meray supnay jawãn ho'ay sann." (Nakodar in Jalandhar, East Punjab is Chandan's ancestral town where he spent his early childhood and youth).
Let's read the last poem of the collection 'Iss Velay' (I should have been somewhere else) in deep meditative silence: "Iss velay menu kittay hor hoNa chãhi da see / Jithay menu kissay cheese di udeek nah hondi: Khat di, Telephone di, Maut di / Vagday rahwã(n), chupp khaRay rukhã(n) tay tayriã(n) yaadã(n) nay / meray dil anddar ãhlNa pã lia hay /Hunn baRi dair ho chukka hay/ mainu tã(n) kittay hor hoNa chãhi da see/ Jitho(n) main seeti vajaonda, baRay thanddhay dil nãl / Raincoat tu(n) meenh diã(n) chhitthã(n) jhãRdã / Tur painda oodhar / Jithay mairi udeek ho rahi hay". (I should have been somewhere else/ at this moment/ Somewhere I won't have to wait for /The letter, the telephone or death/ The busy roads/ The silent trees/ and memories of you nestled in my heart/ But now it's too late/ I should have been somewhere else/ At this point, from where/ I could start whistling a tune, shaking/ The raindrops from my coat/ In a place where I'm missed).
The Parrot, The Horse & the Man is a book not to be missed. The only limitation for West Punjabi readers will be that the Punjabi text is in Gurmukhi typeset. When Chandan's first bilingual collection was published, I wished it was published in Pakistan in Shahmukhi text, instead of transliterated Gurmukhi, so that Punjabi readers and writers could cherish the poems as well as learn the art of translation through it. It is high time that both his bilingual collections are published in Pakistan in Shahmukhi script.
The Punjabi diaspora must come out of their oblivion and own Punjabi as their primary identity, the way Latin American and Eastern European immigrants played a key role in introducing and popularising writers from their ancestral countries through excellent translations. Punjabi diaspora is the key because they know the host language idiom and expression much better than their fellow Punjabis living in East or West Punjab. The few English translations done by Punjab-based English Professors that I have read are too poor to be quoted.
One hopes that Chandan's latest bilingual collection will finally set in motion the sleeping Punjabi diaspora.