Tributes paid to Shiv Kumar Batalvi
Zubair Qureshi: Pakistan Observer, May 08, 2006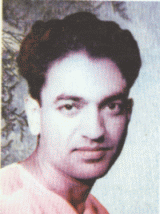 Islamabad—Mansha Yad noted writer and playwright, Sunday, recalled how by a good chance he listened to Shiv Kumar's poems and songs and came under their spell-binding influence. "I found myself simply lost in the rhythmic appeal of the verses and drifted along the overpowering lines."
He was speaking as a chief guest at the 33rd death anniversary of the noted poet of Punjabi, Shiv Kumar Batalvi who died young (1936-1973) at the age of 37.
One could see a galaxy of poets and scholars who had come not only from Islamabad and Pindi but also from Lahore to remember Shiv Kumar. Punjabi literary and cultural organization "Pehla Per" or "The First Step" in collaboration with literary organizations Sheikh di Bethak, Creative Club, Imkan, Zavia and Halqa-i-Arbab-i-Zauq organized Shiv Kumar's death anniversary at the conference hall of the Pakistan Academy of Letters. Prof Saeed Khawar Bhutta of Oriental College, University of the Punjab (Punjabi Department) Lahore, poet Tajamul Kaleem, Akhtar Sheikh of Sheikh di Bethak, Prof Waseem Gardezi and Hazrat Sham read out papers on the occasion and discussed Shiv Kumar's poetic genius.
According to Mansha Yad, it was Rahat Naseer Malik who arranged an audiocassette of Shiv's poems for him sung by Jagjit and Chitra. There were a few sung by Nusrat Fateh Ali Khan too. And in those songs, of course, included the widely sung songs "Main ek shikra yaar banaya" or "I befriended a falcon" and "Maye ni Maye meray geetan de naina wich" or "O Mother, in the eyes of my melodies".
Mansha said Shiv Kumar's contribution to Punjabi poetry especially song, is simply remarkable. The fact that he followed a different path, different from the one taken by Amarta Pritum and Mohan Singh two great Punjabi poets of India, makes him all time great. Shiv Kumar is perhaps the most poignant Punjabi poet of the last century. In his short life span, he wrote poetry (and some prose) that could cause cracks in the hardest of human stuff. Born in Bara Pind Lotian Shakargarh, he migrated to India in 1947 with his parents and the family settled in Batala. There after doing Matric, Shiv could not continue his studies and was first taken in as Patwari. He quit the job too and and became a full time poet. There are five poetic collections including opera or poetic drama to his name. In his lifetime, Shiv Kumar enjoyed immense popularity all across India especially in youth.
Prof Saeed Khawar Bhutta called Shiv Kumar a poet who uses down-to-earth rural imagery. Imagery is a tool in the hands of the master poets like Shiv Kumar, he said and Shiv used rural symbols and images to his heart's content in the overall scheme of that imagery. The woods, pastures and meadows we find in Shiv Kumar's poems are familiar to us who are living at this side of the border and this makes Shiv Kumar our beloved poet. Dr Bhutta also spoke on the subject of feminism that recurs in Shiv Kumar's poetry along with Hindu mythology.
Akhtar Sheikh said Shiv Kumar lived all the three stages—childhood, youth and old age—in just 36 years and 9 month. A genuine poet like Shiv Kumar experienced the three stages of life since he possessed an eye unlike ours. He mentioned the term "Chup di waaj" or the Cry of Silence used by Shiv Kumar in his poems. This goes to the sole credit of Shiv Kumar that he restored Punjabi song and Punjabi culture in those songs. Shiv Kumar's arrogance was legendry. Perhaps the most celebrated such episode is his fascination for Gurbaksh Singh's daughter who left for the US and married someone else. When he heard of the birth of her first child, Shiv wrote 'Main ek shikra yaar banaya', perhaps his most famous love poem. It's said that when she had her second child, someone asked Shiv whether he would write another poem. Shiv replied 'Have I become responsible for her? Am I to write a poem on her every time she gives birth to a child?' Sounds much better in Punjabi (main oda theka leya hoyaa? Oho bacche banayi jave te main ode te kavita likhda rehma?).
Towards the end, Dr Azhar Mahmood Chaudhry gave a vocal performance of Shiv Kumar's songs. A skin specialist by profession he told he had been giving performance on Sufi poets' kalam since his college days and after Sufi poets he found Shiv Kumar's poems on equal level with those of the mystics. Hameed Shahid, Asghar Abid, Akhtar Usman, Prof Jalil Aali, Ali Akbar Abbas, Wafa Chishti, Khaliqur Rehman, Malik Mehar Ali and Nadeem Sheikh were also present in the function.