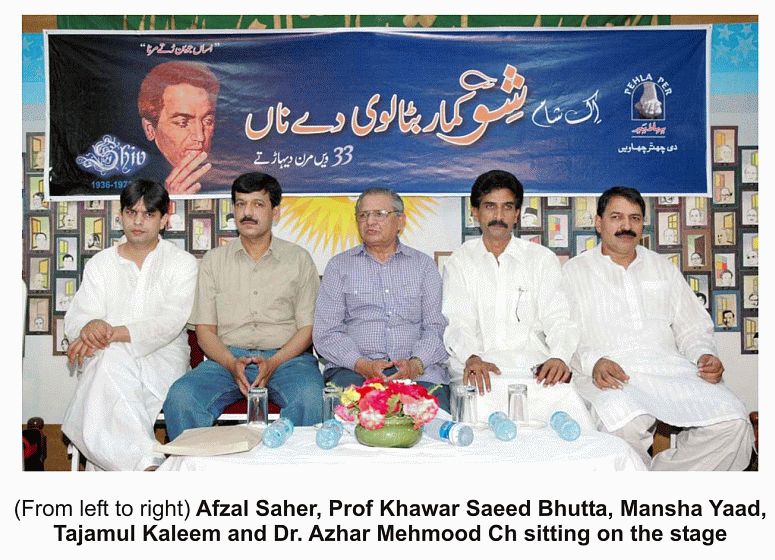 May 08, 2006
"ASSAN JOBAN RUTTAY MARNA"
33rd DEATH ANNIVERSARY OF
SHIV KUMAR BATALVI
HELD AT
PAKISTAN ACADEMY OF LETTERS
ISLAMABAD.
Written by: HAZRAT SHAAM
Photography: ZAHID MEHMOOD ZAHID
For the first time in Pakistan, a ceremony was held to pay homage to a great literary figure from India. Shiv Kumar Batalvi, a renowned Punjabi poet from Indian Punjab, was paid rich tributes for his extra ordinary literary services and contribution to the development of Punjabi language.
Due to the long-standing rivalry between two neighbors – Pakistan & India – there was no tradition of acknowledging any great personality of the enemy county – not even artists and literary personalities.
Pakistan Academy of Letters had already set a new trend by paying tribute to Amrita Pritum. A newly established literary organization "Pehla Per" decided to uphold this tradition by paying a befitting tribute to Shiv Kumar Batalvi – another legend of literature from Indian Punjab.
A grand ceremony held in the Conference Hall of Pakistan Academy of Letters, Islamabad on May 7, 2006 – 33rd death anniversary of the legend. Conference Hall was well decorated with the sketches of great literary figures of the subcontinent. Hazrat Shaam, a representative of Pehla Per, hosted the program. Representatives of different literary organizations of Rawalpindi/ Islamabad including Creative Club, Halqa-e-Arbab-e-Zauq, Sheikh de Bethak, Imkan and Zavia participated in the program. Poets, intellectuals and fans of Shiv came from all over the Punjab.
Conference Hall was echoing with the voice of Shiv Kumar Batalvi reciting the lines: "QABRAN UDEEK DIAN MENU JEUN PUTRAN NON MANWAN". Audience really enjoyed it. Shiv Kumar Batalvi's personality and works were discussed and appreciated in the program.
Mr. Mansha Yad, Dr. Khawar Saeed Bhutta, Associate Professor of Department of Punjabi, Punjab University Lahore, Tajammal Kaleem, Afzal Sahir and Dr. Azhar Mehmood Ch were invited to the stage respectively.
Prof. Waseem Gardezi of Department of Punjabi, Zamindar College, Gujrat said that poets like Pooran Singh, Amrita Pritum and Mohin Singh were well-established poets when Batalvi entered the arena of Punjabi literature and attracted people's attention by his passionate and rich poetic diction. He further said that before the partition, there were one hundred Muslim families and four hundred Hindu families at "Bara Pind Lohtian" – the birth place of Shiv Kumar Batalvi – and they lived together in complete harmony and peace. All the kids used to play together. He mentioned that the name of the village Lohtian is due to the majority of Khushtry Hindu caste "Lohta". He further said that Shiv Kumar Batalvi was fond of roaming around alone since childhood. That is why even today the elders of the village recall him as "Malang Baita of Patwari". He said that the poetic journey of Shiv Kumar started from "PEEDA DE PRAGAY" while it ended at "MEIN TE MEIN".
On behalf of "Sheikh Di Bethak" poet Akhtar Sheikh said that the poetry of Shiv Kumar Batalvi describes all the pains and difficulties faced from childhood to old age. Shiv kumar Batalvi liberated the song from the usual topic of the "DIM LOVE". Though he himself departed soon, but left an indelible mark on the minds and souls of the people through his song. He said that his lines were so catchy and attractive that many writers borrowed his phrases as titles for their books. His songs express the pains and sorrows of the reincarnation.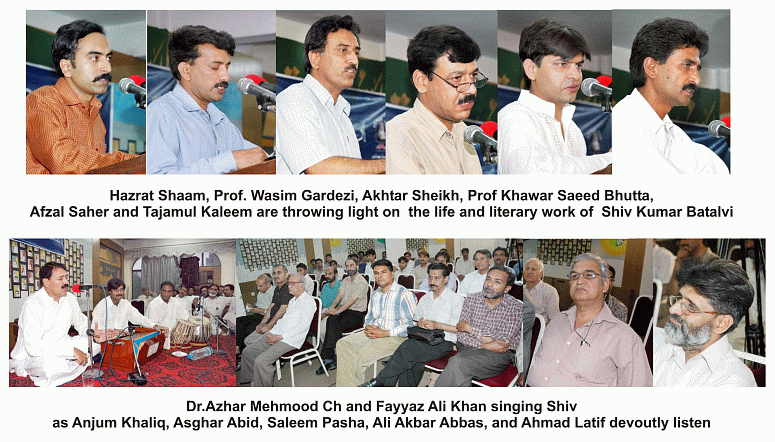 Famous poet Tajammal Kaleem from Kasur (Chunnian) said that few days back I was being ordered to talk on Shiv Kumar Batalvi. One by one I invited all letters to come and resolve my problem. All letters came and went off, leaving me in a vacuum of thoughts. I made an announcement and slept, and that announcement was....
SANU BHUL GIA PICHLA PADIA,
JADON DA TERA NAAN PADIA.
(Ever since I read your name, I forgot everything I read before)
Great storywriter, Associate Prof. Dr. Khawar Saeed Bhutta, Department of Punjabi, Punjab University Lahore, mentioned that Shiv Kumar Batalvi was groomed in the hands of Mohin Singh and Amrita Pritum and left this world before them. He said that "KAGAZ TE KANVAS" Mohin Singh Rachnavli and Kulyat-e-Shiv Kumar are not available in Persian (Shah Mukhi) yet there are so many mistakes in the translation. He said that though it's not acceptable to misread any poet's poetry, but Shiv Kumar got double hit. Because there are lot of printing errors as well. He said these rhymes of Shiv Kumar Batalvi can melt the stones.
SON GIAN HAWAWAN RO RO
KAR WIRLAP NI
TAARIAN NON CHAD GIA
MATHA MATHA TAAP NI
JANJ SAHWAN DI DA RUS GIA LADA
(NI PEERAN DA PRAGA BHUN DE)
At the end of the discussion, famous Punjabi novelist and intellectual, Mansha Yaad said that he was delighted to see Shiv's fans remembering him in a befitting manner. It was a proof that his fans were present everywhere. He said that whenever he had read Shiv's poetry, he was amazed by his poetic and musical maturity.
Young poet and Punjabi broadcaster, Afzla Sahir read few poems of Shiv Kumar Batalvi and won the people's hearts.
There could not have been a better way to pay tribute to Shiv Kumar Batalvi than to listen to his poems sung by good singers. The hall echoed with the tunes of Dr. Azhar Mehmood Ch. and Ustad Fiaz Ali Khan from Gujrat. Dr. Azhar Mehmood sang lines from the song
"MAI NI MEIN EK SHIKRA YAR BANAYA",
"BHATTI WALIAY",
MAI NI MAI MERAY GEETAN DE NENAN WICH BIRHON DI RADAK PAWAY" and "JITHAY ITRAN DE WAGDAY NEN CHO, OTHAY MERA YAAR WASDA" and got a lot of appreciation. Dr. Azhar Mehmood is famous Skin Specialist of Gujrat and has been singing songs of Shiv Kumar Batalvi since he was student.
At the end, famous Ghazal Singer Ustad Fiaz Ali Khan sang these songs.
RAAT GAI KAR TARA TARA
MENU TERA SHABAAB LE BETHA
AND
KEH PUCHDAY O HAAL FAQEERAN DA
At the end, he also sang the Kafi of Shah Hussain "MAYE NI MEIN KINO AKHAN" while his brother Ejaz Ali Khan joined him on Tabla.
After the music, there was a Mushaira to pay homage to Shiv Kumar Batalvi. Poets not only from twin cities but also from other towns of the Punjab participated in this Mushaira. Tasaduq Bhatti, Veer Sipahi, Ali Shakir, Afzal Sahir and Tajammal Kaleem were some of the major names of the Muhsaira.
The team of "PEHLA PER (THE FIRST STEP)" which consisted of Hazrat Shaam, Saleem Pasha and Qamar-uz-Zaman, paid thanks to the honourable guests individually.

*******