The genius of film-making named: Kidar Sharma
Satish Chopra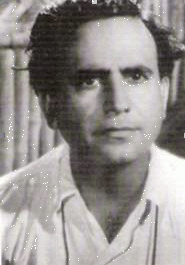 A painter, photographer, story-writer, poet, lyricist, dialogue-writer, director, editor, producer and above all a Masters in English literature from Punjab University; the genius of the last century cannot be other than -the one and only -Kidar Sharma.
A life which was a complete replica of distress, neglect, shattered economic conditions and mental agony in his early days; could not discourage him from his will to join films; which was his first and foremost passion. The film 'Pooran Bhagat' produced by New Theatres of Calcutta and directed by Debaki Kumar Bose in early 1930s made some perpetual impact on his psyche.
He recalled in a memoir- "I have nothing to recommend me. My voice was horrible and my face was average. My health was poor and my purse empty besides there was nobody to help me. Only my sense of humour and my faith in God goaded me on to continue the struggle." Of Debaki Bose he wrote' "He expressed his ideas through symbolism. He was the greatest movie maker. Even today no one can match his subtlety and mastery. He was the supreme guru and all subsequent directors have learned a thing or two from him".
The tiring rail journey in third class compartment from Amritsar took young Kidar Sharma to a totally unknown place called Calcutta in search of Debaki Kumar Bose. He did not have the train fare to Calcutta but his wife Raj Dulari produced the money that she had saved. It was just Rs.25. Consequently for his survival occasionally he pasted film-posters on the walls of Calcutta
After repeatedly attempted to enter the gates of the studio of New Theatres (the then mecca of Indian film industry) and forbidden by the watchman at the gate, Kidar Sharma approached two Punjabies- Prithviraj Kapoor and Kundan Lal Saigal, who were associated with New Theatres for their help for his desired introduction to Debaki Kumar Bose.
As the destiny would have it, Saigal introduced young Kidar Sharma to Debaki Kumar Bose through Durga Khote, the well known face of Indian cinema of those days. Thus commenced the journey of Kidar Sharma, which proved to be the beginning of a golden phase in the history of Indian silver screen.
Debaki Bose hired Kidar Sharma initially as a still photographer for the film- Seeta (1934) and he continued working in photographic department for the subsequent films 'Inqilab' & 'Dhoop Chhaon' (1935) and Pujarin (1936). But, he came to limelight with historic film 'Devdas' (1935) starring his life long friend K.L.Saigal & Jamuna. It was directed by legendary P.C. Barua. In this film Kidar Sharma got his first major break as a lyricist and a dialogue writer and Bimal Roy as a photographer. Its two immortal songs- 'Balam aye baso mere man mein' & 'Dukh kea b din beetat naahin' (sung by K.L.Saigal) were penned by Kidar Sharma. These two immortal and 'Down Memory Line' melodies are still alive in the head and heart of millions of ardent music lovers..
A few lines about the persona of Kidar Sharma, who was born on 12 April, 1910 at Narowal (now in Pakistan) in what was then the Punjab region of India and grew up in a life of poverty. His two brothers, Ragunath and Vishwa had died as infants and sister Taro too died of tuborclosis at an early age. A younger sister Guro survived as did a younger brother Himmar Rai, who would later work with Kidar Sharma in films before establishing himself as a successful Urdu poet.
Kidar Sharma attended the Baij Nath High School, Amritsar where he became interested in painting, theatre, photography besides philosophy. While he was studying in his primary class, as his family could not afford his initial education, he did book-binding for the school library, thereby he could earn four annas (a quarter of a rupee) a day to sustain livelihood and continue his education. After completion of his High school education, he ran away from his home to pursue a career in cinema in Bombay but was unsuccessful in gaining any employment. He returned to Amritsar and continued his studies. He attended Hindu Sabha College where he founded a College Dramatic Society which would later gave him his first break in films.
In his early days, while struggling for his living he also used to paint the portraits of luminaries, religious idols and film personalities. On a Diwali day, the young Kidar Sharma sold his captivating painting of Lord Rama at a footpath in Hall Bazaar, Amritsar for a mere sum of nine rupees (which included four rupees incurred for its framimg), so as to purchase crackers for his younger sister and sweets for the family.
On joining the films, he continued his passion for creating images. He painted the portraits and made sketches of Uma Shashi, Kanan Devi, Pahari Sanyal, Robindranath Tagore, Sarat Chandra Chatterjee and in his later days that of Jawahar Lal Nehru.
Besides these fabulous paintings, in the midst of his large number of fascinating still photographs, there is a prized portrait of young Kundan Lal Saigal with a solo-hat, which has been published time and again in different magazines and journals. He remarkably utilized the art of still photography in his directional attempts. One such example can be visualized in one of his immortal films- 'Jogan' (1950) wherein close-ups of emotionally charged Nargis and Dilip Kumar depict some classic examples of human sentiments.
The lyricist in Kidar Sharma needs no introduction to the film-music lovers. As stated here-in-above, he came to limelight with the lyrics of film- 'Devdas'. A list of some of his other most unforgettable lyrics include- 'Deewana hoon', 'Hum apna unhein banaa na sakey', 'Jagat mein prem hi prem bharaa hei', 'Kya humney bigaraa hei, kyuun humko satatey ho', 'Miskuratey huyey yun aankh milaya na karo', 'So jaa rajkumari', (sung by Kundan Lal Saigal). 'Khayalon mein kisee key is tarah aya nahin kartey', 'Teri duniyan mein dil lagta nahin', 'Mujhey such such batado, kya', 'Sun bairee balam mat bol, ib kya hoga', 'Sapna ban saajan aye', 'Muhabbat ke maron ka', 'Farishton ki nagri mein main', 'Gokul se gayey girdhari', 'Kabhee tanhaiyon mein yun hamari yaad ayegee,' and 'Ankhon mein teri yaad liye jaa raha hoon mein' –just to name a few.
During his earlier days of financial crisis, Kidar Sharma wrote some of Saigal's immortal non-film songs for a petty sum of five rupee each viz 'Panchhi kahe hot udas', 'Suno suno hey krishan kala' and 'Shamma ka jalna hei'.
It may be observed that most of his lyrics are generally worded at a distinct ease, with superb simplicity, a unique style which is close to dialectical prose, spontaneous, effortless and apparently coming from the core of his heart. For instance, if it is 'Dukh ke ab din beetat nahin' or 'Mujhey such such bataa do, kya' and 'Khayaoln mein is tarah aya nahin katrtey'. There is a large number of such lyrics written by the maestro.
It appears that saying of Mathew Arnold that- 'Poetry is overflow of spontaneous thoughts'- has come alive from the pen of Kidar Sharma.
Again the dialogue and a screen-play writer's role of Kidar Sharma (for some of his films viz 'Devdas', 'Vidyapati' and later on for 'Jogan') must be appreciated for their in-depth appeal and passion. Then there were other enduring movies like 'Suhagraat', 'Bawre Nain', 'Shokhian', 'Gauri' and 'Hamari Yaad Aayegi' .
A hard task master and having a deep understanding of mental conflict of human nature and above all an uncompromising character as a director; Kidar Sharma resigned from 'New Theatres', Calcutta when he could foresee that his conviction and logical determination was getting hurt. This accelerated his financial problems, he therefore moved to Bombay alongwith his lifetime friend Prithviraj Kapoor, where he was introduced to Seth Chandulal Shah of Ranjit Movietone.
At Ranjit, he scripted and directed his first film 'Aulad' starring A.S. Gyani and Romola, which was an off-beat dealing with human conflicts. The film marked the beginning of new wave cinema.
As a major entrant to Bombay cine production, Kidar Sharma directed a film 'Chitralekha' (1941) starring A.S. Gyani and Mehtab in the year-1941. It was based on Bhagwati Charan Verma's (Hindi laureate) all time eminent novel having a classic story line and a conflicting theme. In this film he as well wrote the theme song 'Tum jao jao bhagwan bane' sung by Ramdulari. The music for the film was composed by Jhande Khan (the mentor of Naushad). Kidar Sharma yet another time directed another version of -'Chitralekha' in 1964, starring Meena Kumari and Pradeep Kumar. Though himself a lyricist of eminence, he preferred to suggest Sahir Ludhianvi to write its theme song 'Sansaar sey bhagey phirtey ho' which was composed by Roshan and sung by Lata Mangeshkar.
Nargis' role in film 'Mother India' produced and directed by Mehboob Khan is generally considered as her best. However, Nargis could not restrain herself, when in one of the interviews she said- "Though I touched my best in the movie Mother India__yet, I think I gave my best ever performance in Jogan". It was perhaps due to the reason that Kidar Sharma, the director of film 'Jogan', could extract better performance from the actor than Mehboob Khan in 'Mother India'.
An exciting facet on the making of all time classic 'Jogan'. Once Kidar Sharma observed: "The producer of the film- Chandulal Shah told me that I will have to finish the film 'Jogan' with in a month. I love challenges so I agreed on two conditions- I said. I'd shoot during the day and edit at night provided he give me a room at the studio to sleep, and a man to make me cup of tea any time of the day or night. The stars were Nargis and Dilip Kumar. On the first day of shooting, I asked Dilip Kumar if he was ready and he said "Yes Boss". Lekh Tandon gave me clap and the camera start rolling, bur Dilip Kumar would'nt concentrate. This happened again and again, and finally I told him, 'you are a prize horse which will run the race, no doubt, I'm the jockey who controls you with the reins to make you win'. He co-operated fully after that and we finished the picture in 29 days". Thus a history was made in the ambit of Indain cinema with the classic film- 'Jogan'.
The film was one of the four highest box-office earning movies of the year 1950. The gross sale of tickets was over Rs.1.20 crores. The other three were 'Samadhi', 'Babul' and "Dastan'. The present day generation of cine-goers perhaps will be amazed to learn that maximum rate of ticket in a urban cinema hall used to cost Rs.2.50 and a semi-urban and rural hall's ticket was for Re. 1.25. Very few people could even afford a lower class entry costing five annas and or ten annas (thiity one and sixty-two paise).
Back to music of the film 'Jogan', which was composed by Bulo C. Rani (a former assistant of Khemchand Prakash). Most of its fabulous melodies were sung by Geeta Roy, which are still alive in head and heart of ardent music lovers. Each and every song was a glittering gem. Just listen to a few of its Meera bhajans sung by Geeta Roy (nee Geeta Dutt) 'Ghunghat ke pat khol re', 'Mein to girdhar ke ghar jaaoon', 'Aye ri mein to prem diwani', 'Jogi mat ja', 'Pyare darshan dijo aaj' & 'Uth to chale awdhoot'. Owing to the voice quality, choked with emotions of Geeta Roy, it became a milestone in the history of Indian cine-music. She was perhaps at her best in 'Jogan'. While listening to these sublime melodies; at times, the singer reminds the listeners, the sublime bhajan singing of some of the other greats like Juthika Ray and M.S. Subhalakshami.
The fact remains that Kidar Sharma had a brilliant sense of lyrics and music, right from the days he wanted to enter the film-world and stirred by musical-hit film 'Pooran Bhagat' (1933) in which Saigal sang some heart-throbbing melodies- 'Bhaju mein to bhav se shree girdhari', 'Ausar beeto jaat pranee tero ausar beeto jaat' and 'Sumiran kar piya raam naam'. He complemented his fulfillment through these sublime melodies of film 'Jogan'.
Prithviraj Kapoor himself a doyen of theatre and cinema had firm trust and reliance in his life-long friend Kidar Sharma. When his eldest son Randhir Raj Kapoor failed in his matriculation examination, he requested Kidar Sharma to accept his son as his assistant. Thereby Raj Kapoor joined Kidar Sharma as his clapper boy. As an assistant, he even swept and mopped floors before he actually became the hero that he was.
Then came a day, when Kidar Sharma decided to launch Raj Kapoor as a hero in his next film- 'Neelkamal' in the year 1947 along with another newcomer as heroine called Madhubala (known as Baby Mumtaz). Though this was against the wishes of the producer Seth Chandulal Shah; yet, conviction and firm determination in the psyche of Kidar Sharma could not deter him from making this film and creating legendary actors. Besides, these illustrious stars, Kidar Sharma also introduced Geeta Bali in film-'Suhagrat', Mala Sinha in 'Rangeen Ratien', Rajender Kumar in 'Jogan' and brought to limelight Tanuja in his film 'Hamari Yaad Aayegi'.
Roshan Lal Nagrath (later on known as Roshan) left Delhi for Bombay in search of an opportunity as a composer. He came across Kidar Sharma at Dadar Railway Station. The meeting gave Roshan an opportunity to provide music for the film 'Neki aur Badi' (1949) directed by Kidar Sharma. Though it proved a box-office failure, yet Kidar Sharma could foresee the hidden talent in him. Kidar Sharma gave Roshan another chance in his next film 'Bawre Nain' which was a turning point in the career of Roshan, as the film came out a smashing-hit and a momentous chapter was created.
The haunting melodies of yester years composed by Roshan for 'Bawre Nain' 'Khayalon mein is tarah aaya nahin karte'- sung by Geeta Roy and Mukesh, 'Teri duniyan mein dil lagta nahin'-sung by Mukesh and 'Sun bairi balam mat bol' and 'Kyun mere dil mein' -sung by Rajkumari proved their worth. These songs will be remembered by the music lovers not for years but for ages.
In myriad roles of a story-writer, lyricist, screen-play writer, dialogue-writer, editor, photographer and or a director; Kidar Sharma in his career in the film industry was in one way or the other, associated with some immortal films. Just have glance of a few renowned films, wherein he was closely associated- 'Devdas'. 'Vidyapati', 'Aulad', 'Mumtaz Mahal', 'Zindagi', 'Vishkanya', 'Jogan', 'Bawre Nain', 'Suhagraat', 'Gauri', 'Shokhian', 'Neki Aur Badi', 'Rangeen Ratein', 'Pyase Nain', 'Mumtaz Mahal', 'Chitralekha', 'Hamaari Yaad Aayegi'. The list is endless.
In the later half of his career, Kidar Sharma was associated with Children Film Society and produced and directed some classic films like- 'Jaldeep', 'Chetak' and 'Dunia Ek Sarai'. The film -'Jaldeep' won an award at the Cannes Film Festival.
"Kidar Sharma died on 29 April 1999, dreaming till the last of the films he wanted to make. He always had a subject ready or a script waiting to be financed. It never happened. And the strange it may seem, he was, I think, the only film-maker who was not adequately honoured in this country in his lifetime"- noted critic Saeed Akhtar Mirza has pertinently observed after the maestro's demise.
Award or no award! In the present day over-all scenario in our country, now that every one understands, how the capability of a person is being evaluated; thereby it is lesser said, the better.
Yet, the fact remains that as and when a dispassionate history of Indian cinema will be written, one name amongst the greats of 'Silver-Screen' will be that of –Kidar Sharma; and what he wrote and Mubarak Begum recited 'Kabhi tanhaiyon mein bhee, hamari yaad aayegi' for his film -'Hamari Yaad Aayegi' will find its meaning for various reasons. It will also continue to haunt millions of zealous lovers and ardent critics of Indian cinema.
-Satish Chopra, BA/26B Ashok Vihar-I, Delhi-110052
011-27134229/8802805055 Email: satishchopra@rediffmail.com