When footloose but sage Satyarthi died, I was working with The Indian Express in Chandigarh. The brief item that appeared with a New Delhi dateline about Satyarthi's death wasn't even commented upon in my office and as I tried talking to my colleagues, I found that except for one person, the name rang no bells for anyone. Sad for a man who dedicated his entire life so that ours could be richer. I penned this piece from sheer anguish, but sometimes wish I had waited for a couple of more days, spoken to people who knew better and been able to bring out his persona more meaningfully. For the moment, however, I was taken up by the urge to pay a tribute .. SP Singh
[Editor's note: the Monthly Pancham, Lahore, published a special 300-page issue on Davender Sathyarthi in April 2003 that covered his life and work in full detail].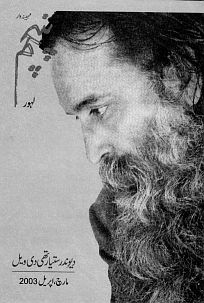 Footloose darwesh Satyarthi is dead, Lak Tunnu Tunnu will ring in heavens
S P SINGH
CHANDIGARH, February 14, 2003
For decades, that incomparable collector of folk songs and folk lore, polyglot Devendra Satyarthi's black pen scribbled relentlessly, recording for posterity the folk heritage which would necessarily have been lost otherwise. And for years, his wife's sewing machine rattled incessantly, making sure the family had enough to at least survive.
Satyarthi's pen stopped writing finally; he breathed his last two days ago. The sewing machine still works.
"I confess that it was the sewing machine which saved the family, I just scribbled on paper," Satyarthi had said some four years ago, summing up his life. Entire literary world however has been much more kind, prefixing forever the epithet of darwesh (saintly) with his name.
They made a perfect couple: Satyarthi spent most years loafing about, measuring the country's length and breadth and recording its cultural diversity, his wife bringing up children, then grand children, and great grand children.
Born in the summer of 1908 in Sangrur's Bhadaur, Satyarthi was the quintessential roamer, leaving his education midway to take to the road in 1927, meeting the humblest of Indians, middle-class people, traders, farmers, tribals and the mightiest too in various fields. Among the people he ended up befriending was Gurudev Rabindra Nath Tagore and Mahatma Gandhi.
And along went the work of collecting folk songs. In 1935, Giddha was published, and remains a seminal work even today.
Recalls Panjab University professor and folk lore expert Nahar Singh, who himself has spent a lifetime in the same field: "Many were foresighted in those times of the Raj and talked about importance of recording the country's cultural diversity, but few had the courage to step out of the cushioned life and do it. It required a life time, and Satyarthi dedicated his."
Of his 95 years, Satyarthi gave too little to his family, sparing most of his time for the written word. Aloofness was his hallmark, and the Spartan lifestyle came naturally.
He was hardly able to speak in his last two-three years. When Balbir Parwana, that relentless pen pusher wedded to the strange addiction of keeping adulterating dullheaded journalism with meaningful literature, convinced a couple of scribes last December to try to get one last interview of Satyarthi in Delhi, there was little coherent that he could say. Ironical for a man who had spent a lifetime building up a reputation for being a loquacious raconteur.
Nirmal Arpan, who wrote the racy but enriching Satyarthi – Ik Dant-katha, recalled what a wonderfully pestering guest he could be, and fashioned enough material from his interaction with the great man to write an entire volume of anecdotes about Satyarthi.
Satyarthi initially wrote in Urdu, Hindi and English, but after Tagore advised him to preferably write in his mother tongue, he started using devnagri script to write in Punjabi. ``My first essay in Punjabi was published in Preetlarri and since then, I have been considered a Punjabi writer," Satyarthi once said.
His books kept appearing with an unfailing regularity: Murrka Te Kanak,
Dharti Diyan Vaajan, Paris Da Aadmi, Kung Posh, Devta Dig Piya, Tinna
Buhiyan Wala Ghar.
Many a litterateur recalled that he was perhaps the only man who got a recommendation for a job – editorship for Hindi literary journal Aaj Kal – from none other than Mahatma Gandhi. Okay fine, Nehru too was his nominee, but that is disputed.
He prided himself for being ghumakkar (a roamer, loafer), but in his later years had a regret for not being responsible towards his family. "I wasn't there when my daughter Kavita was born, and I wasn't there when she died. It is a burden that will lighten only with my death, but when you are afflicted with a junoon, this is what happens,'' he once told litterateur Prakash Mannu.
It was in the writing of novel Ghorra Baadshah that Satyarthi said he was able to forget some of his lifetime pain. But the fact is that with his death, one of the last links between the pre-Independence Punjab and now has snapped. Satyarthi belonged to the generation of, and was friends with, Saadat Hasan Manto, Krishna Sobti, Gurbaksh Singh Preetlari, Mohan Singh, Ismat Chugtai, Rajinder Singh Bedi and Nanak Singh.
When AIR wanted to pay him royalty for folk songs, Satyarthi refused saying copyrights were vested in Bharat Mata, just as Satyarthi's memories will always be vested in the lovers of the written word, and the country's folk heritage. Who can forget Lak Tunnu Tunnu?