Birth Centenary 1909–2009
Mohinder Singh Randhawa:
the Builder of post-1947 East Punjab
­
MS Randhawa. Portrait by Harikishan Gorkha. c 1957
Mohinder Singh Randhawa, a great Punjabi, was born on 2 February, 1909 at Zira in district Ferozepur, Punjab. His ancestral village was BoNđlaaN ਬੋਂਦਲ਼ਾਂ in Hoshiarpur district. He joined the Indian Civil Service in 1934 in London and then served in various capacities at Saharanpur, Fyzabad, Almora, Allahabad, Agra, and Rai Barelli till 1945.
Randhawa was the Secretary of the Indian Council for Agricultural Research (ICAR) from 1945 to 46 and made huge contributions to this pioneering organisation which was responsible for the Green Revolution in India. In fact, Randhawa is acknowledged as the Father of the Green Revolution in East Punjab.
In 1946, Randhawa was appointed as the Deputy Commissioner of Delhi, when India was on the eve of independence and when Delhi was going through a turbulent phase. Thanks to his fair and administrative ability so many lives were saved when the Hindu-Muslim riots were at their peak in Delhi. He was famous for travelling to the troubled spots incognito, so he could gauge the reasons for the trouble. In 1947 he was in charge of the entire Independence Day function where Jawaharlal Nehru unfurled the flag of free India at Lal Qila.
MS Randhawa. 1916. Aged 7
1947 was also a very troubled time for hundreds and thousands of people who came from West Punjab during the time of Partition. This was perhaps the greatest achievement of Randhawa, who as the Deputy Commissioner and as the Additional Director General (Rehabilitation) and the Director General (Rehabilitation), Punjab and Commissioner Ambala Division in Punjab helped the displaced half a million farmers to resettle. He was synonymous with integrity, courage and humanism which helped him handle that onerous task so well.
In 1955 Randhawa became the Vice-President of the Indian Council for Agricultural Research (ICAR) and Additional Secretary to Government of India, Ministry of Food and Agriculture, New Delhi. It was during this time that the ICAR was ushered into the modern era and Randhawa got several books published on agriculture and horticulture. He also headed an Indian-American team and headed schemes for the development of national research programmes and programmes for the promotion of uses of fertilizers. He also headed delegations to United Nations Food and Agricultural Organisation conferences in Bandung, Indonesia, Rome and London. He then served the Government of India as Advisor, Natural Resources, Planning Commission from 1961-1964 and then as special Secretary, Ministry of Food and Agriculture, Government of India.
Another facet of Randhawa was his scientific bent of mind and he also did valuable work as a scientist. He had specialised in Botany during his education and so later in the year 1955, he was awarded a Doctorate in Science by Panjab University for his pioneering work on algae and especially on a particular strain of that called Zygnemaceae. Further, he also remained a part of several scientific organisations like National Academy of Sciences and North India Science Association.
Randhawa was a part of another project of setting up a new city which is now Chandigarh. He was associated with the project right from the start and in 1955 became chairman of a committee of architects, town planners, engineers, horticulturists and foresters. The city of Chandigarh became Randhawa's baby and it is widely acknowledged that even though the legendary Le Corbusier was the designer of Chandigarh, but it was Randhawa who was the implementer and landscaper of the city. It was his experience with trees and landscaping that has earned Chandigarh the title of 'City Beautiful'.
Randhawa was Financial Commissioner of the Capital Project Punjab from July to October 1966, and the Chief Commissioner of the Union Territory of Chandigarh from November 1966 to 1968.
He allotted land on a nominal price to artists and poets and countless others to build houses. He is also the reason why the world famous Rock Garden of Nek Chand exists. When it was discovered that one Public Works employee Nek Chand was making sculptures from waste, the officials wanted to throw the person out who was illegally occupying Government land, but Randhawa identified the potential in Nek Chand and got him allotted land.
He was also responsible for establishing the Rose Garden in Sector 16 in Chandigarh and later in Ludhiana too.
Randhawa conceived and created India's first agricultural university, the Punjab Agricultural University (PAU) in Ludhiana along with a museum and art gallery at the campus to depict the various aspects of rural life. He became the vice chancellor of the university in 1968 and was also instrumental in the construction of the Anglo–Sikh Wars Memorial near Ferozepur which was completed in February 1976. He donated all his books to the PAU library which was renamed after him later on.
Randhawa was an avid admirer of arts and crafts and his contribution to this field cannot be forgotten. He was the Chairman of All India Fine Arts and Crafts Society, donated a number of Art books from his private collection, gave a donation of Rs 50,000 for the building funds of the society and acquired collections of paintings of contemporary artists for the society including the ones by the famous Russian painter, Nicholas Roerich. He was the chief editor of the magazine, the best art journal in the country at the time, Roop Lekha, which provided a forum to research scholars in art for publication of their original papers.
On May 6 1968, a new museum appeared on the map of India. This was the museum at Chandigarh, designed by Le Corbusier and had the largest collection of Gandhara sculptures, Rajput miniatures and contemporary paintings. This museum, like the city of Chandigarh owes its existence to Partition. After Partition, some parts of the Art collection of the Lahore Museum came to Punjab. When the exhibits were received, they were housed in Amritsar, then a church in Shimla and then to Moti Bagh Palace in Patiala. Randhawa got the Punjab Government to examine the suitability of keeping the art objects at Patiala, and finally prevailed upon the Government to build a new museum in Chandigarh. A plan for building the museum was approved, but in 1962, China attacked India and the Punjab Government decided not to go ahead with the construction of the museum. Greatly perturbed by this decision, Randhawa wrote to Partap Singh Kairon, Chief Minister of Punjab and explained to him that Chandigarh though an impressive city, would remain without a soul if the people were not exposed to works of art, and finally. Randhawa got the Government to go ahead with the construction of the museum. He donated a large number of books from his personal collection to the museum's library and they are still there to date. He also arranged for the procurement of a large number of paintings from various parts of Punjab and India and from famous contemporary artists from all parts of India. The city of Chandigarh and the artist community shall forever remain in debt to this great man because of whom the Arts Museum in Chandigarh is a premier museum in India.
Another known passion of Randhawa was that of Indian Art. He was enthralled by the paintings of the Kangra region and began a devoted study of the same and put his scientific knowledge and training to use. The result was a series of books which were outstanding in both their scholarly contents as well as in their excellent standards of print. The paintings of the Kangra region were not exposed to the people of India and were confined only to where they were made. Randhawa made efforts to bring this exotic art before the people. For this he travelled the length and breath of Himachal Pradesh, which at that time was a part of East Punjab. The problem at that time was that the owners of the paintings were very possessive about these paintings and would seldom admit to having these paintings. Randhawa interviewed people like Raja Dhruvdev Chand of Lambagraon, Raja Baldev Singh of Guler, Mian Kartar Singh of Basa Waziran, Raja Anand Chand of Bilaspur, Rai Brij Mohan Singh of Nalagarh, Captain Surender Singh of Mirthal and Raja Rajinder Singh of Arki. All of them possessed family collections and agreed to allow Randhawa to view these paintings. This led to the identification of local styles of the paintings and consequently he was able to bring out the artist genealogies. Randhawa wrote several books on Kangra painting, Chamba painting and Basohli painting. Randhawa's aim was to educate people in art and it was in this mission that Randhawa gloriously succeeded through his books. His books on art make a permanent contribution to Indian art history. The books were reviewed not only in India but in magazines, journals and newspapers all over the world.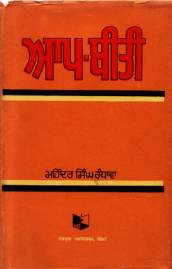 Aap Beetee. MS Randhawa. Autobiography in Punjabi.
Navyug. 1985
Randhawa was a prolific writer as well and he was well versed in English, Punjabi, Hindi, and Urdu. He however mostly wrote in English or Punjabi. In fact, he made important contributions in the encouragement of Punjabi writing. He had written books, articles and papers on a wide spectrum of issues. From his critically acclaimed books on agriculture like Beautifying India and Flowering Trees in India to books in Biology like Evolution of Life, from books on Rural Development and Sociology to several books on Art, and from several books on his research on Algae to his books on the city of Chandigarh, Randhawa's effort was exceptional and all books and articles were meticulous in their content and style of writing.
Randhawa remained active promoting the causes dear to his heart till he breathed his last aged 77 on March 3, 1986 near Chandigarh.