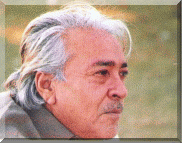 Tuesday, 26 December 2006

LAHORE, Dec 26 (APP): Renowned poet Munir Niazi passed away Tuesday in Lahore. He was 79. He has written over 30 books of his poetry. His poetry has been translated into several world languages. Besides other awards, he was conferred the 'Kamal-i-Fun' award by the Pakistan Academy of Letters. He had also been awarded the Pride of Performance and Sitara-i-Imtiaz awards by the government of Pakistan. (AP)
A brief profile of Munir Niazi (1928-2006)

LAHORE: Munir Niazi (78), the renowned Punjabi and Urdu poet and writer, passed away on Tuesday night.

Munir Ahmad known as Munir Niazi was born in 1928 in Khanpur – a village near Hushiyarpur. He had got his initial education at Khanpur and after independence settled in Sahiwal. He did his intermediate from SE College, Bahawalpur and received a BA degree from Diyal Singh College, Lahore.

He launched a weekly 'Saat Rang' from Sahiwal in 1949 and wrote numerous songs for films. He was also connected to newspapers, magazines and radio through his works. In 1960, he established a publication institute, Al-Misal.

"Taiz Hawa Aur Tanha Phool", "Jungle Mein Dhanak", "Dushmanon Kai Darmiyan Sham" and "Mah-e-Munir" are his popular Urdu works. In Punjabi he published "Safar Di Raat", "Char Chup Cheezan" and "Rasta Dassan Walay Taray". He wrote 13 poetry books in Urdu and three in Punjabi.

The country's political and literary figures called his death a loss to the Urdu literature. (Daily Times).
Munir Niazi passes away
By Shoaib Ahmed & Hasan Mansoor
LAHORE/KARACHI, Dec 26: Renowned man of letters Munir Niazi, who composed unforgettable film songs like "Us Bewafa Ka Shehar Hey", passed away after suffering cardiac arrest here on Tuesday night. He was 78.

According to family members, his condition deteriorated rapidly after an asthma attack at around 7pm. He was taken to the Jinnah Hospital where he died one and a half hours later. Niazi leaves a widow.

Niazi, whose original name was Munir Ahmad, was born in Khanpur in 1928. He had his early education in Khanpur but moved to S.E. College in Bahawalpur for his intermediate. He did his BA from Dyal Singh College.

Niazi, who settled in Sahiwal following the partition of the subcontinent, published a weekly called "Saat Rung" in 1949. He became associated with what was then the country's budding film industry for some time and penned a number of lyrical poems for movies. The late Nasim Begum sang the song "Us Bewafa Ka Shehar Hey" for the 1962 film "Shaheed". The song, which was put to music by versatile composer Rasheed Attre, catapulted both the singer and the poet to stardom.

Niazi also wrote articles for newspapers, magazines and radio. In 1960, he established a publishing house called "Al-Misal".

Among his famous anthologies of Urdu poems are "Taiz Hawa Aur Tanha Phool", "Jungle Mein Dhanak", "Dushmanoon Kay Darmiyan Sham" and "Mah-i-Munir". In the Punjabi language, he authored "Safar di Raat", "Char Chup Cheezan" and "Rasta Dasan Walay Tarey".

Niazi, a master of poetic imagery, was bold enough to experiment with many genres of poetry and is credited with creating a distinct style, rhythm and diction. Mythology, nostalgia, haunting romance and a belief in the supernatural are some of those themes that find frequent mention in his poems.

Contemporaries' comments:

Critiquing Niazi's poetic art, noted writer Intizar Hussain said Niazi had his own unique style of poetry.

"He had his own colours. Along with Nasir Kazmi, he is one of my favourite poets," said Mr Hussain.

Poet Dr Abrar Ahmed said Niazi was among those poets who migrated from India and in their poetry defined the places they lived. Dr Ahmed recalled that Niazi had no other source of living and relied solely on his poetry.

Playwright Munoo Bahi said next to Faiz and Nasir Kazmi, Niazi was a leading Urdu poet who had his own style.

'Niazi gave a couple of new metaphors to Urdu poetry," he explained.

Poet Dr Pirzada Qasim, who is vice-chancellor of the University of Karachi, said that with Niazi's death, the country had lost one of the finest poets.

"He was one of the few most important poets of his generation. His poetry was full of mystery and melancholy," Dr Qasim said.

Poet Jamiluddin Aali said the late Niazi was distinctively strict in his aesthetic diction and style.

"He was also known as a great Punjabi poet but I cannot say much about that. I would however state without any reservation that among his Urdu contemporaries, he was the greatest. His departure from the scene is really a great loss to Urdu," said Mr Aali.

Poet Iftikhar Arif, who is chairman of the Pakistan Academy of Letters, said Niazi was the greatest poet of the post-Faiz era.

"He was so committed that he never compromised on aesthetics. That's perhaps why he is equally popular with the intellectual elite and the masses," said Mr Arif.

According to him, Niazi was among those five Urdu poets who have been widely translated in European languages.

"He has been translated in English, Russian, German, Norwegian and many other European languages. He was also translated in Hindi," said Mr Arif.

Poet Kishwar Naheed said what Niazi wrote in Urdu and Punjab would inspire future writers for a long time.

"His poetry has given a modern approach to Urdu and Punjabi poetry. He gave new expressions to old words and used beautiful words in his poetry that had earlier not been touched. He drew sketches with words. He was matchless," said Ms Naheed. Funeral: Family members told Dawn that Niazi's funeral would be held at 2pm in a mosque near his residence at 43, Block 1, B1 Township on Wednesday. (The Dawn).
Munir Niazi is no more


LAHORE: Renowned Urdu and Punjabi poet Munir Niazi died of cardiac arrest at Jinnah Hospital on Tuesday. He was 78.

Family sources said Munir complained of some breathing problem on Tuesday noon and was taken to Jinnah Hospital where his condition deteriorated rapidly and he died during treatment. His Namaz-e-Janaza will be held at Alquds Mosque, Sector A1, Township Lahore at 2.00 pm on Wednesday (today).

The only child of his parents, Niazi was born in Khanpur (Hoshiyarpur, Indian Punjab) on April 9, 1927. After the creation of Pakistan, the family migrated to Sahiwal and settled there. While living in India, Munir also served in the Royal Indian Navy for some time.

Twice married, Niazi was issueless. He started as an editor of a newspaper "Saat rang" (seven colours). Niazi has to his credit 14 collections of poetry both in Urdu and Punjabi. Shy, soft-spoken and a person of few words and great self-belief, he was a poet of distinction.

Munir Niazi had a vision of hope and love for his country and its people. Love, he said, is the most enduring quality and poetry reflects the most sublime side of life. His poetry influenced an entire generation of young writers and poets and they should be grateful to him for having set such an exceptional and powerful style in poetry.

His works include "Dushmanoon Key Darmiyan", "Mah-e-Munir", "Aghaz-e-Zamastan Main Dobara" and "Aik Musalsal". Equally proficient in Urdu and Punjabi, Munir Niazi's poetry had great depth and he advanced the tradition of realism with great sensibility and force of imagination. Words were always slaves to his vision, creation and criticism. In the sixties he also contributed songs to Pakistani films. "Us baiwafa ka shehr hay" sung by the late Nasim Begum for the film "Shaheed" still stirs up memories of a period gone by. Unfortunately, Munir Niazi was never rewarded for his poetry, despite public acknowledgement. Despite his greatness, he was never really well paid. And often the money would come after the printer went round with a staff to collect money from newspaper agents. If he succeeded in collecting enough he would be paid, said Neelama Naheed Durani, a poetess who met Munir a day before his death.

She said Munir Niazi wrote about society and love, and how these two elements combine to change a person's life, personality and values. Munir's expression is a mirror, which gives us insight into what sort of a man he was and how he had suffered and was loved as well. Munir Niazi lived a simple life, always avoided company and mostly used to live alone, she maintained.

The uncertainty in wages from poetic works and writing made him tilt towards film lyrics, but only to face the same fate. The film industry had its own culture and cruelties. Munir once narrated that for his famous song "Us bewafa ka shahr hai aur ham hain dosto", he was promised Rs 2,000 but received only Rs 200.

He also held a grudge against publishers, who, according to him were denigrating poets and writers by publishing cheap books. His poetic publications in America were sold at a good price but here at home publishers did not even send him copies of his published work.

He is acclaimed as a trendsetter with his unique diction, style and thought-content and made an enduring contribution to literature of the post-Independence period. Munir deeply influenced his contemporaries and later generations of poets and is respected by the reading public. His works have been translated into many other languages.

For his literary achievements Munir Niazi was awarded 'Kamal-e-Funn Award for the year 2002 by Pakistan Academy of Letters and the 'President's Award for Pride of Performance" in 1992 and 'Sitara-i-Imtiaz' in 1998.

President Pervez Musharraf, Prime Minister Shaukat Aziz, PML leader Ch Shujaat Hussain, Punjab chief Minister Ch Pervaiz Elahi and literary figures and educationists have expressed profound grief over Niazi's death.

In their messages to the family, they said Munir was one of the greatest poets of our times and prayed that Allah Almighty may rest the departed soul in eternal peace and grant courage to his family members to bear the irreparable loss. (The News)
Munir Niazi passes away
EMANUEL SARFRAZ
LAHORE - Munir Niazi a towering personality in Urdu poetry and equally revered as a giant in Punjabi poetry passed away in the City on Tuesday evening. He was 78.
The foremost of Pakistani poets Niazi was not well for some months. He was anemic and had become very weak and pale since many days. On Tuesday evening his conditioned worsened and the family took him to Jinnah Hospital. He was provided medical treatment but he passed away due to cardiac arrest. The funeral would be held at the Sector A1 ground near Al Qudus Mosque, Township on Wednesday (today) after Zohr prayers.
Niazi had four brothers and sisters.He has left behind his widow. After the death of his first wife he married again but did not have a child. The fact that he had no children had an impact on his poetry.
Columnist and writer Dr Ajmal Niazi, Additional IG Investigation Salahuddin Ahmed Khan Niazi, President PML USA Agha Muhammad Afzal Khan and well known cardiologist Dr Naeem Khan Tareen are nephews of the late poet.
Niazi had a charismatic personality. The news of his death spread like wild fire across the country and globe. Poets, writers, scholars who revered him as a number of people from across the City were shocked to hear the news and rushed to his residence Sector B1 of Township area. Writers Hussain Majrooh, Ajmal Niazi, Khalid Sharif, Karamat Bukhari, Sofia Bedar, Farhat Abbas Shah and Zulqarnain Shah were among those who rushed to his residence on hearing the news.
Equally proficient in Urdu and Punjabi, Munir Niazi had become a legend in his own lifetime and had millions of fans spread across the world.
He served as an inspiration for a whole generation of poets who revered his style of poetry. His first collection of poems was published in 1949 and last in 2004. He was often invited to preside over Mushairas in UK and US.
His effective imagery conveys pictures in few words. He experimented with poetic forms and created a new style, rhythm and diction in Urdu poetry. Innocence, mythology, nostalgia, dreams, and romance were some of his most common themes. His Urdu poems are very inspiring and are often quoted for their freshness and unique style. The aura of his towering personality could be felt in the functions where he came.
Munir Ahmad, known later as Munir Niazi, was born in Khanpur in 1928, a village near Hushiyarpur, India. The natural beauty of the area, with gardens,mountains, mosques and classical temples, provided a picturesque setting for his poetry. He was initially educated at Khanpur and after independence settled in Sahiwal.
He passed his Matriculation there. He earned the Intermediate degree from S.E. College, Bahawalpur and a BA from Diyal Singh College, Lahore.
Niazi launched a weekly 'Saat Rang' from Sahiwal in 1949. He also wrote for newspapers, magazines and radio. In 1960 he established a publication institute, Al-Misal.
He wrote over 30 books of his poetry. Many of these were translated into major languages of the world. His popular Urdu publications included 'Taiz Hawa Aur Tanha Phool', 'Jungle Mein Dhanak', 'Dushmanoon Kai Darmiyan Sham' and 'Mah-e-Munir'. In Punjabi 'Safar di Raat', 'Char Chup Cheezan', 'Kul Kalam' and 'Rasta Dasan Walay Tarey' became very popular. Niazi's anthology titled Gaotha ar Fan (pronounced Gohya ar Fawn) meaning 'the wandering winds' was the first rendition of anything Urdu in Ireland, albeit through English.
In the 60s he was associated with the film industry and wrote numerous songs for films. 'Us baiwafa ka shehr hay aur hum hai dosto' sung by the late Nasim Begum for the film 'Shaheed' still stir up memories of a period gone by. He came to the world of cinema because of his friendship with the late film director Riaz Shahid.
He was awarded the Pride of Performance and Sitara-i-Imtiaz awards by the govt. Besides countless other awards he was also conferred the 'Kamal-e-Fun' award by the Pakistani Academy of Letters.
The independence movement was driven by a burning desire of Muslims for cultural freedom. Niazi was a great spokesman of the freedom movement. Niazi only read and heard poetry before partition. After independence and migration from India, he started to write and publish. The first collection of his poetry later translated in English with title 'Strong Wind and Lonely Flower' was published in Lahore in 1949. Many of these poems explored the meaning of independence and migration and what it meant to millions of others. Nostalgia for a world abandoned and excitement of one being born was subject unfolded throughout Niazi's poetry.
In separate messages, Punjab Chief Minister Ch Pervaiz Elahi and Federal Minister for Information and Broadcasting Muhammad Ali Durrani have expressed profound sense of shock and grief on the sad demise of renowned poet Munir Niazi.
In separate condolence messages they have paid tributes to the late poet terming it as second big loss to Urdu literature after the death of Ahmed Nadeem Qasmi. They prayed that Allah Almighty may rest the departed soul in eternal peace and grant courage to the bereaved family to bear this irreparable loss with fortitude. (The Nation).