Manto's Birth Centenary 1912-2012
Fahmida Riaz
MANTO
[Courtesy: Dawn, January 1 2012]
Shocked in disbelief. That is what I felt when I heard from a very responsible Pakistani publisher, back from a recent visit to India, that the works of Sa'dat Hasan Manto are being published in Pakistan after editing and censoring out unacceptable passages. It took sometime before I could accept that the guardians of morality and piety in our homeland could easily do it. When he was alive, living in Lahore, eking out a living with his pen, court cases for obscenity were filed against him and to save him from being sentenced to years of hard labour in jail, his friends had to declare him insane. He was sent to a mental hospital where he had to spend some time and returned to the outside world, the bigger mad-house, as he called it, with his classic masterpiece, Toba Tek Singh, a short story that is the pride of Urdu fiction, a literary marvel so subtle, moving and hilarious that it remains unsurpassed in its finesse to this day. One wonders and wonders how did he strike upon such a brilliant idea.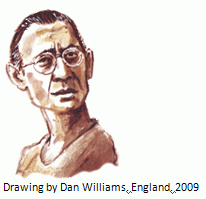 What was Toba Tek Singh? In the wake of the partitioning of the subcontinent, heart-rending bloodshed and mayhem reigned everywhere. There was an exchange of population as millions of Muslims, Hindus and Sikhs left for territories, which were now Pakistan and India, and were assigned to them according to their respective religions. There was a transfer of assets and perhaps the two young States exchanged Hindu, Sikh and Muslim prisoners. Setting his story in the pagal khana (mental asylum), Manto envisions an exchange of Hindu, Sikh and Muslim lunatics. Having heard of what was happening in the outside world, some inmates of the mental asylum have adopted the identities of several leaders of Congress and the Muslim League.(One of them thinks he is Master Tara Singh) There is much sloganeering of "Long Live" and "Down With" enlivening the mental hospital. One of these inmates is known as Toba Tek Singh because he belongs to this small town in Panjab and in what he mumbles incoherently, only the words Toba Tek Singh can be deciphered. "You have to go to India", he is told. "Where is Toba Tek Singh?", he asks. No one is sure, but someone tells him that it has come to Pakistan, or perhaps gone to India. How could Toba Tek Singh come and go, and not be where it remained since eternity? His feeble, insane mind fails to accept the truth of the situation. He refuses to go anywhere and while being pushed and pulled by the Indian and Pakistani Border Security Forces, falls dead on the borders of Pakistan and India.
Manto was permanently, and most virulently attacked for 'obscenity' all his life. He was labeled a 'sex maniac' who indulged in wallowing in filth and dirt. Let us, for our enlightenment look at one of his lesser- known short stories, Nangi Awazain (Naked Sounds). The main protagonists are two brothers, Bholo and Gama. (He chose the names of two well-known wrestlers perhaps to leave us in no doubt about their fabulous manliness). They live in an extremely over-crowded hovel, a block of tiny flats in a slum of Lahore. When Gama gets married, he tries very hard to consummate the marriage. But the voices and sounds in the dark so inhibit him that he can not perform. This incapacity becomes known to others and the bride leaves him after a few days, leaving him distraught and nearly insane. Was this story about sex, and failure of performance etc.? No. As any reader could discern, it is about the human need for privacy of which our overwhelming urban population is deprived in over-crowded sleeping quarters. Manto perceived of sexuality as energy, a life force, delicately interwoven in the human persona. This enraged his detractors, our moral brigade, because for them sex was Oh so shameful and dirty, something to be most secretly and stealthily enjoyed in the dark recesses of the mind, hence the very word tied their innards into millions of knots. To suffer the indignity of living his brief life among such ideologues was the tragic fate of one of the greatest writers in world literature.
In Boo (Smell), another short story for which he was tried in the courts for obscenity, he tells you about the wedding night of a well-to do bridegroom, with the daughter of a rich family, the bride smothered in gold jewelry and most expensive French (chemical) perfumes, and how at this critical moment he remembers a poor Ghatan, a working class Marathi woman whose soiled blouse and the flesh underneath exuded the scent of rain-soaked earth. For Manto, the sexual act was co-mingled with the elements, with water and earth and the winds. The short story exposes how gold and brocades and all the riches we aspire for, suffocate the beauty and sanctity of pure desire and union, which was meant by nature to be like the 'scent of rain-soaked earth'.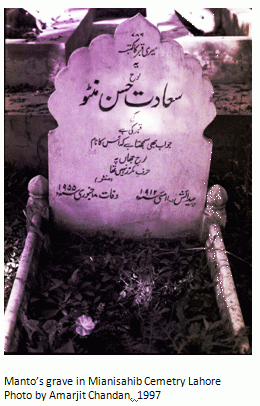 So, Manto is gone, Manto, Sa'adat Hasan. Loving father of his two daughters and adoring husband of Safya, who figured in many of his sketches, who wrote about pimps and prostitutes, the scum of the earth, and their inviolable human dignity despite the suffering and insults heaped upon them by society. He also wrote lovingly about Qaid-e-Azam and Iqbal. A certificate of patriotism may be issued for him. Let us simply ignore and not edit out what he writes for Allama Iqbal: "Iqbal had prayed to God - mera noor-e-baseerat a'am kardey (Let my enlightened vision become common to all), but when I see your name linked to washing soaps and hair oils and Laundromats, I have a sneaking suspicion, that your enlightened vision, dear poet, is likely to flounder in the dark alleys of ignorance and narrow-minded blindness for a long time" (Yaum-e-Iqbal Par).

Manto was born on 11th May, 1912, in Samrala in Ludhiana District. Educated in Amritsar, he began writing at an early age. His literary career began with extensive translations of Russian literature of his time. His first collection of short stories was published in 1936. He moved to Bombay where, to make a living, he began to write for movies, edited film magazines and wrote plays for the radio.

In 1948 he came to Lahore and settled down here. Most of his great short stories reflect these turbulent times. Manto died in 1955, in Lahore. •