Media Release
Stress on Indo-Pak peace process continuation
Pakistan India People's Forum for Peace and Democracy (PIPFPD) has stressed upon the continuation of peace process between India and Pakistan. This view emerged from a discussionorganized in Jawaharlal Nehru University New Delhi, in which representatives from both India and Pakistan participated. Three member PIPFPD delegation from Faisalabad (Lyallpur-birth place of Bhagat Singh) district of Pakistan, who has come to visit Lala Lajpat Rai's birth place Dhudhike in Punjab took part in this discussion along with Tapan Bose, General secretary of PIPFPD (India). Discussion chaired by former Vice Chancellor of Jawaharlal Nehru University Prof. G.K.Chadha emphasized upon the absolute unsustainability of war among two nations.
Chaudhary Zafar Iqbal, President of Lyallpur chapter of PIPFPD, said that there is no problem in the world, which cannot be resolved through dialogue and negotiations and India and Pakistan being so culturally close to each other, dialogue is the only way to resolve matters. He underscored the need to increase trade for the benefit of people on both sides. Tapan Bose said that some people in India are still not reconciled with the creation of Pakistan as independent nation state, which creates suspicion among Pakistan people, which are happy with the creation of new nation as Pakistan in 1947. He emphasized upon resolving all outstanding issues between two countries, including Kashmir issue in truly democratic manner through negotiations. Azar Mehmood, bureau chief of Duniya TV in Pakistan and labor party activist wished to see India and Pakistan live in peace and also recited Fiaz Ahmad Faiz's poem. Earlier at the beginning of programme, Prof. Chaman Lal,Chairperson, Centre of Indian Languages,JNU and organizer of the function on behalf of PIPFPD, recited Amrita Pritam's famous poem on partition-Aj Aakhan waris Shah nu…He also spoke about the need to hold such meetings more frequently to enlarge support for peace process between two countries, which has got affected due to Mumbai terror attack. Prof. Chaman Lal presented set of books including his own books in Punjabi and English and poster on Bhagat Singh to Chaudhary Zafar Iqbal, for placing these in Bhagat Singh's birth village Chak No. 105 and in the library of Faislabad University.
Women and Child rights activist Tahir Iqbal recited his poems on the occasion. Prof. G.K.Chadha in his presiding remarks underlined the exceptional hospitality and warmth of Pakistani people towards visiting Indians. As an economist he opined that the idea of war among two nations is absolutely unthinkable and a stage will come when finance depts. of both countries will refuse to sanction any fund for war exercises, so the best course for economic development of two countries is to have peace and friendship with each other. Prof. Chadha was moved so much that he penned a poem spontaneously in praise of peace and friendship between two nations and shared with the audience. Brief discussion followed, in which writer Noor Zaheer spoke to protect the interests of workers of both countries from international 'labor shoppers'. Prof. Sankar Basu, Dean SLL&CS, JNU, Noor Zaheer, Sumit Chakrvrati(Editor-'Mainstream' ) S.Irfan Habib and Vijay Partap and many other writers and scholars were present to lend support to the peace process.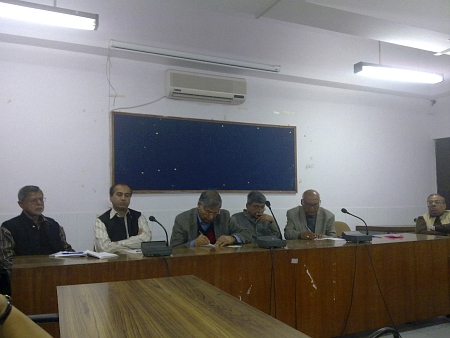 L to R- Prof. Chaman Lal,Tahir Iqbal, Prof. G.K. Chaddha,Tapan Bose, Chaudhary Zafar Iqbal, Prof. Shankar Basu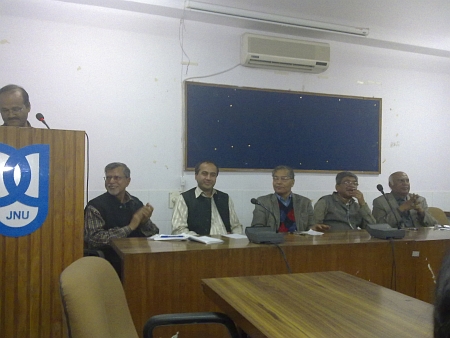 L to R- Azar Mehmood ,Prof. Chaman Lal,Tahir Iqbal, Prof. G.K. Chaddha,Tapan Bose, Chaudhary Zafar Iqbal,