HUSBAND JOGINDER SINGH SODHI WAS THE MAN BEHIND
THE SUCCESS OF LEGENDRY SINGER SURINDER KAUR
Harjap Singh Aujla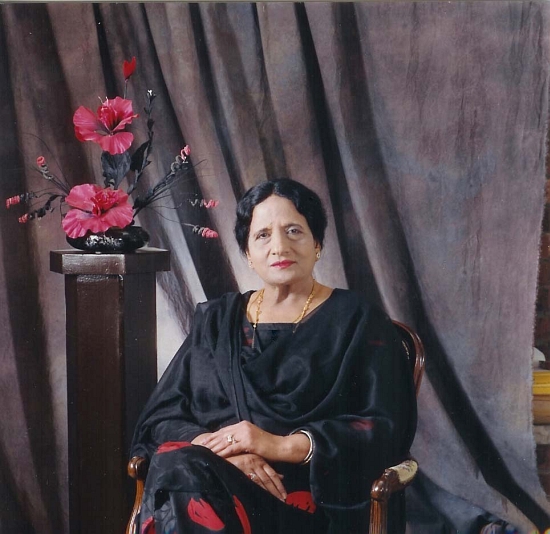 Surinder Kaur 1929-2006: Photo by Gerard Photographers, Toronto, Canada, 1992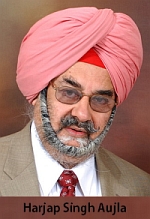 There is an old English adage "Behind the success of every man, there is a woman". It is of course universally accepted that a woman can be the maker of the brilliant careers of many a man. Its reverse is also true, especially in the case of legendry Punjabi singer Surinder Kaur. Although the credit for discovering Surinder Kaur's latent talent as a versatile singer is attributed to one of the pioneers amongst India's music directors Master Ghulam Haider, but she was groomed into classical music by another music director Master Inayat Hussain and was minutely trained by Sardar Budh Singh Taan. All these music directors hailed from Lahore. But there can be no substitute for the husband, who can stand by you through thick and thin.

Surinder Kaur's real training as a singer of light music happened between 1948 and 1952 in India's leading film city of Bombay. The music directors who shaped the destiny of Surinder Kaur into a great singer were Pandit Husna Lal Bhagat Ram, Showqat Dehlavi, Ustad Alla Rakha Qureishi, Ghulam Haider, Chitalkar Ram Chandra, Vinod, Shyam Sunder, Master Hans Raj Behl and S. Mohinder. The poet who helped Surinder Kaur initially in Bombay was D.N. Madhok.

But more than all the above mentioned music directors, the person, who singlehandedly guided her destiny the most was her husband Professor Joginder Singh Sodhi. Sardar Sodhi hailed from Ferozepore. After his marriage to Surinder Kaur, this professor made it an integral aim of his life to navigate his wife's genius into unprecedented greatness. He first moved for a shortwhile to Bombay, where Surinder Kaur had embarked upon a career as a playback singer in Hindi films. After Surinder Kaur decided to make a move to New Dehi, or after Joginder Singh Sodhi thought it appropriate to move closer to their roots in Punjab, they made a very successful and eventful move to New Delhi. This was in 1952 and the refugees from Pakistan were still moving to Delhi.
Surinder Kaur 1929-2006. N. Delhi. Photo by Balwant Gargi. circa 1952

While in New Delhi, Sardar Joginder Singh Sodhi took a professorial job. After finishing his daily academic responsibilities during and after college hours, Professor Sodhi will start going through the recent poetry of the all time great poets and lyricists of Punjabi language. He will meticulously read through the works of Amrita Pritam, the folk poet Nand Lal Nurpuri, Dhani Ram Chatrik, Professor Mohan Singh, Shiv Kumar Batalvi, Bishan Singh Upashak and Parkash Saathi to name a few. Every few days, Joginder Singh Sodhi will identify a piece of poetry for Surinder Kaur to sing and record. This continued till 1976, the year of his death at a young age.

When Surinder Kaur was too busy in her profession, Professor Sodhi used to do the rounds of various music directors based in Delhi. He will discuss the chosen lyrics with the music director. The music director will come up with a suitable "Taal" and the "Raaga". The music director will also compose a number of would be tunes. One of these tunes used to become the common choice of Professor Sodhi and the music maker. Before Surinder Kaur arrived at the studios for rehearsals and eventual recordings, the compositions were already finalized and fine tuned. Several times for the duets with elder sister Parkash Kaur also, the tunes were pre-planned between the music director and Professor Sodhi. Those were the golden days of Punjabi music and Surinder Kaur was acknowledged as the queen of Punjabi music. The Delhi based music directors included K. Panna Lal, Kesar Singh Narula, Mujjaddid Niazi and Pandit Amar Nath (Junior) to name a few.

Within a few years, Surinder Kaur had attained the status of being the most popular Punjabi singer in India. Then, after a decade and half of a very successful career, her mentor and best wisher Professor Joginder Singh Sodhi passed away in 1976. Initially Surinder did not realize as to what she had lost. But as the time passed, the reality of the colossal loss dawned on her.

After her husband's sad demise, quite naturally Surinder Kaur started singing very sad music. At All India Radio, she started singing sad "Urdu Ghazals" composed by all time greats like Mirza Ghalib. Since these were the renditions coming from her heart and soul, they had a tremendous impact on the audiences. Some of the Punjabi Ghazals recorded by Surinder Kaur after the death of her husband have also attained the status of evergreen pieces of music. During the nineteen seventies Surinder Kaur recorded several Punjabi Ghazals. Some of these, such as "Vichhrhe chiran ton uh mainoo supne che mil gaye, aya unhan daa naa mere athroo nikal gaye", "Inhan akhiyan che pawan kivenye kajla veh akhiyan che toon vasda", "Mehram dilan de maahi, morhen ga kad muharan, din raat tarhaphde ne arman kayi hazaran" and "Oh barha belihaaz ki kariye, bewafa da illaj ki kariye" are still very fresh in the memories of listeners. Some of these "Ghazals" Surinder Kaur rendered again after the death of her husband for All India Radio. These recordings became Surinder Kaur's most emotionally rendered numbers.

After 1980, Surinder Kaur's voice, due to age related factors, started getting affected. Surinder Kaur had three daughters, but no son. Surinder Kaur started calling one of her biggest admirers Iqbal Singh Mahal of metropolitan Toronto in Canada as her son. Iqbal Mahal also gave a lot of encouragement and moral support to her to sing without inhibitions during the course of her foreign tours. Iqbal Mahal proved to be a true son. Surinder Kaur's elder daughter Dolly Guleria, a popular singer in her own right, now settled in Chandigarh metropolitan area also became a big moral support to her. Jaspal Singh Suri, the only son of her elder sister Parkash Kaur has also all along been a source of strength to her. Surinder Kaur visited North America several times. Two of her daughters are now settled in America. Once during her 1983 visit to the East Coast of the US, she had a very successful concert in New Jersey, which I arranged. It was there that she called me also as her son. It gave me a lot of emotional pleasure. Again in 1985, she had a successful tour of the tri-state area around New York City. I am happy to be associated with it. Surinder Kaur had performed admirably at one very largely attended concert in Manhattan.

In 1993, we in New Jersey, celebrated the Golden Jubilee of Surinder Kaur's professional singing. S. Mohinder, one of the all time great music directors of India, was invited to award a gold medal to Surinder Kaur. That was a historic moment for us the hosts. After that the professional singing by this velvety voice started tapering off slowly. In 2006 her health deteriorated considerably. Surinder Kaur bade her final farewell to this world in June of the same year while under treatment in a New Jersey hospital.