Amrita Pritam is no more
Tribune News Service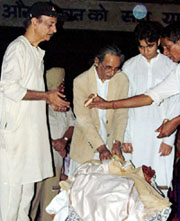 Navraj, son of Amrita Pritam, artist Imroz (centre) and grandson Aman perform last rites of the writer in New Delhi on Monday evening. — Tribune photo by Rajeev Tyagi
New Delhi, October 31
Doyenne of literature and the first woman recipient of Sahitya Akademi Award, Amrita Pritam, died here today. The 86-year-old writer, who had become a household name through her writing, had been ailing for some time.
Her last rites were carried out late in the evening today, with her companion for years, noted writer Imroz, her son Navraj Kwatra and grandson Aman lighting the pyre.
Survived by her daughter Kundala and son Navraj, Amrita Pritam was born in 1919. She carved a niche for herself as the first most prominent woman Punjabi poet and fiction writer. A witness to the gory events that marked Partition, Amrita Pritam captured in her writing the pain and grief that the people of the two nations underwent.
Author of over a 100 books, some of which have been translated into several languages, including French, Japanese and Danish, Pritam's accounts of Partition became the theme for the Hindi film "Pinjar".
A former member of the Rajya Sabha and recipient of the Padma Shri in 1969, she was awarded Sahitya Akademi award for her book "Sunedeh" and Jnanpeeth Award for her contribution to Punjabi literature.
"Rasidi Ticket", her autobiography, was one of her most controversial books. they also received three D Lit degrees from Delhi, Jabalpur and Vishva Bharti Universities. She continued writing and editing a monthly magazine in Punjabi, "Nagmani", for years despite her failing health.
--------------
Obituary
The true daughter of Waris Shah
Nirupama Dutt
Tribune News Service
Chandigarh, October 31
The news of the passing away of the grand dame of Punjabi letters, Amrita Pritam, spread like forest fire through the literary circles in Chandigarh and Punjab as telephone calls started coming from Delhi minutes after her demise.
She rose like a meteor with her verses in Punjabi in Lahore in the Lahore of the 1930s and 'Thandian Kirnan' published by her in 1935, when she was just 14, brought her serious critical notice and there was no looking back after that. In a literary career spanning seven decades, she did Punjabi proud by bringing it the highest of national and international awards and honours. Not only was her contribution great in poetry and prose, she also provided a platform to young Punjabi writers in her magazine 'Nagmani', which she edited for 33 long years.
As writers recalled her and her times, the lines from her famous poem 'Ajj akhan Waris Shah nu…' was on many a lip. This poem made her the indisputable Punjab's Partition poet on both sides of the border for she had summed so well the sorrow and loss that Partition had wrought on human lives.
Born in 1919 at Gujranwala in West Punjab in the rather orthodox Sikh society of the times, she showed rare courage in coming forth with what she believed in both her verses and life. This pretty and petite woman reigned over the world of letters and was a path-breaking writer in her language. It was she who brought to Punjabi the prestigious Jnanpith Award for the first time for her anthology of poems called 'Kagaz te Canvas' and the only other Punjabi writer who got the award after her, shared with Nirmal Verma, was novelist Gurdial Singh. When asked to comment on the award, she had replied in a line of her own verse — 'Maan suche Ishq da hai, hunar da daava nahin…' (I am proud of my pure dedication and I make no claims to artistry).
Among the other awards she received were the Sahitya Akademi Award, Cyril and Methodious Award from Bulgaria and the Ordre des Arts des Lettres from France. The Delhi Government declared her Poet of the Millennium at the turn of the Century. Interestingly, the same title was bestowed upon her by Punjabi Academy, Lahore. However, what made her most happy was when Illias Ghumman and other Punjabi writers of Pakistan sent her in recent years three 'chaddars' from the tombs of Waris Shah, Bulle Shah and Sultqan Bahu saying — "You are the true daughter of Waris Shah and thus the Waris of our Waris. Frail and weak as she was in her latter years, she got herself photographed with the green silk 'chaddars' edged with gold. Of her own poetry, her comment in all humility was: "I have just returned what I had absorbed from reading the poetry of the great Sufi and Bhakti poets of my land."
The story of Amrita's life is one of amazing courage, resilience and achievement. What set her a class apart from others was her very romantic search for freedom and the desire to live life on her own terms. Walking out of a loveless marriage, she made her home with artist Imroz and the relationship lasted over four decades. It was Imroz who answered the telephone at their home as he was getting her ready for her last journey. He said in a choked voice, "She has not gone, only her body has perished. She will be there in her poems and my paintings."
In her lifetime, Amrita authored over 100 books of poetry, fiction, biography and essays. In one of her last poems written from the sick bed, she consoled her love Imroz by saying, 'Main tainu phir milagi…' (I will meet you yet again). This is the promise she made to her soul mate but she will yet meet us all again through her writings. For today on Divali eve she has passed out of history into legend to stand in the row of poets like Meera Bai, Rabia and Lal Ded.
CM mourns death of Amrita Pritam
Tribune News Service
Chandigarh, October 31
The Punjab Chief Minister, Capt Amarinder Singh, today expressed grief over the death of noted Punjabi writer Amrita Pritam.
Capt Amarinder Singh said the contribution made by Amrita Pritam to Punjabi literature would be remembered for centuries to come. In her death, an unbridgeable void had been created in Punjabi literature
======
Article
Prayer for the daughter of Waris
This is not an article but a prayer for Amrita Pritam, a writer who enriched many souls in her long and triumphant literary journey, says Nirupama Dutt.

Amrita Pritam with Imroz
THERE is a street shaded by trees that meanders like a snake off the Safdarjang Development Area into the K block of Delhi's Hauz Khas. On this street is a stone house with tall windows trailing with bougainvillaea and a small patch of a garden with its harsinghar tree. Come August, and the lawn will be strewn with tiny parijat flowers. Come August and the girl who built this house number 25 will turn 83.
Yes, you already know her name. Her name is Amrita Pritam. The eminent Punjabi poet and novelist. This name means a lot to many and the girl with this name means much more. Her story is one of great courage. This pretty girl began her literary journey way back in Lahore in 1935 when she penned her first book of verse in Punjabi called Thandian Kirnan. Here was a girl writing in her own language, her own dreams. Punjabi was to go places with her and her dreams were common with the pioneering women writers writing all over the world. As the little girl's talents blossomed, her poetry was to represent not just the composite culture of Punjab, but universal values of truth, justice and freedom.
Today, as I write these lines to her she is in pain and agony following a fall and surgery. Her physical condition has compelled her to shut down Nagmani, the literary magazine she and her artist partner brought out so lovingly over 36 years. A couple of years ago she had announced that she would close it down as her health was indifferent but readers made pleas and Amrita brought it out somehow in spite of failing health. The final closure of Nagmani has brought gloom in literary circles.
Imroz, however says, "The gloom is misplaced. Everything has a time cycle. Nagmani came out so many years in full glory. Let someone else bring out another Nagmani maybe by another name somewhere."
So well said and reminiscent of a song Sahir Ludhianvi, the Urdu poet with whom Amrita shared a bond of love, Main pal do pal ka shaair hoon (I am a poet of a moment or two). Sahir is no more, but his poetry lives on. A moment or two can sometimes reach out to the infinite. Personally, I , a minor poet of Punjabi among the two generations of writers whom Amrita inspired and nurtured, feel the gloom is not required. What is required is to look up to her and reconfirm faith in struggle, love and freedom. To think of Amrita is also to think of her immortal poem addressed to Waris Shah— Ajj Akhan Waris Shah Nu:
Waris Shah!
I call out to you
Rise from the depths
Of your grave
And add another page to
Your saga of love
A daughter of Punjab
Had wept once and
You sang a thousand dirges
Today millions of girls
Are weeping and asking you
O' Waris
To look afresh at your Punjab…
On hearing of Amrita's illness and the closure of Nagmani, I go to that sacred destination in Hauz Khas with a bouquet of white roses. As I put them in a vase and place them on a bureau in front of her, I notice on the wall a picture of Amrita sittting all huddled up in green silk shawls edged with gold. What is this I ask the grand lady of letters, "These are the chaddars from the tombs of Waris Shah, Bulle Shah and Sultan Bahu that writers from Pakistan have sent me as a gift. They came with a letter from Iliyaz Ghumman saying that You are the waris (heir) of our Waris." It certainly is a befitting title. In the past few years more awards and honours were added to Amrita's already long list of laurels put she says most precious to her are those green silk chaddars. " I have only returned in my writings what I learnt from these saints and sages," she says in all humility as her hand goes to her broken hip joint.
I have personally enjoyed a fond relationship with Nagamani as I am one of the many Punjabi writers, who was discovered and nurtured by this literary journal that was bought up like a baby by Amrita and Imroz. Amrita would take care of the editorial content and the design and sketches would be by Imroz. Looking back at the early days of Nagmani, Imroz recalls, "We chose brown newsprint because it was cheap but it looked so good that it became quite a craze. We also picked out the cheapest press. We would go there to supervise the printing. There would be no chair there for Amrita to sit on and read the proofs. So we would borrow a barber's chair from nearby." Together they would write addresses on the magazine and Imroz would put them in his Fiat car and take them to the post office. This labour of love made it an exceptional journal. There never was and it will be a long time before someone will bring out one such. Since the talk is of Nagmani, Amrita cannot help but join it in spite of the pain, "Readers are writing me letters to not close it. But My health just does not allow me to go on with it."
The magazine was just one aspect of this girl who dared to be a poet. Yes, talent and courage combined in the life of Amrita Pritam who led a life at her own terms and all through contributed brilliant poetry and prose to her language. She is one writer who is loved by Punjabis on both sides of the Indo-Pak border. What pains Amrita is that clouds of war should gather over these two countries. The writer says, "The people on both sides want peace. The writers strive for peace and the politicians should also see sense in it."
It is time to leave and Amrita is feeling drowsy, courtesy the sedatives. I ask her, "Is there anything that I can do for you?" She smiles her charming smile and says, "Pray to God that I should depart from this world in peace." I sit a while with Imroz who looks after her keeping awake at nights . And as I wish goodbye and step down, I feel that I am returning from a pilgrimage. I mutter the prayer and then recall some lines of this great poet of our times:
I have effaced the name from
the nameplate outside my house
I have even rubbed off the number
Wherever you see a free soul
You will know that it is my home…
So spoke the daughter of Waris and I feel blessed that one lived in her times and got the chance to know a little a soul as kindred as hers.
Article
A Tribute to Amrita Pritam
Amrita Pritam is the goddess of defiance. A rebel and a recalcitrant, even a revolutionary.


Her works, especially the poetry, tempts the reader to break off the existential contrarieties
and contradictions of life. Yet one is resisted from administering his/her thought-process to transform the society.
Like the mirror, her principal task was to reflect the society as it subsisted with stink and flavour; good and bad. In truth, it was her creative talent wrought up with the twinge of bereavement that came of age during the dark days of the Partition of Punjab. Small wonder then, that one of the most beautifully weird poems ever written by Amrita was the New Heer or Aankhaan Waris Shah Nu… which was addressed "to the author of the Punjabi romantic epic of immortal love".
Born on 31 August 1919, Amrita Pritam had a distorted childhood (except the case that Rabindranath Tagore cajoled her once)--lost her mother when she was 11, and at a later adolescent stage, her poetry was something which her father thoroughly despised because of its unconventional tone. What he anticipated from his exceptionally talented daughter was religious verse and not the sensuous and spontaneous outpourings of love.
Infact, she often provoked the whole community when she essayed to transcend her intense sexual impulse into poetic images of rare beauty. It has been said of her that "her poetry depicts the feeling of a woman in love. She has loved dearly and suffered terribly. She loves with her whole being and considers her personality incomplete unless the man condescends to transform it into some thing, pure and sublime…"
However, to confine Pritam to such a limited circumference is to ignore her other monumental works. The Indian fraternity gave immediate recognition to her seminal collection of poems Sunehra (Messages) which was published in 1955. It was the book made her the first lady recipient of the prestigious Sahitya Akademi Award in the following year. Couched in sensuous and spontaneous outpourings on the theme of love, these poems radiate with "an unearthly glory without losing contact with the earth". It can be affirmatively said that Sunehra is indubitably Pritam's finest, in fact, the most sparkling collection ever written.
In Sunehra, she is totally involved in her personal anguish and he who has "filled her dreams since adolescence and being of victim of social and religious convictions, has failed to reciprocate her love with the intensity and ardor it demanded …she is eagerly expectant of the day when her love will be reciprocated and thus mellowed".
As the best and finest are always untranslatable, so is Sunehra, failed to reach a wider audience, particularly in other languages. Yet after the legendary poet Sitakanta Mohapatra, it is Amrita Pritam's works which have been translated in English, Albanian, Bulgarian, French, Polish, Russian, Spanish and all the 21 Indian languages.
Equally astounding is her rich literary corpus --she had published 75 books -of which thee are 28 novels, 18 volumes of verse, five short stories and 16 miscellaneous prose. Besides, she also edited Punjabi literary journal Nagmani. Two of her novels Dharti Sagar te Sippiyan (1965) and Unah Di Kahani (1976) have been made into her films entitled "Kadambari" and "Daaku" for which she even composed songs.
It is quite often alleged of Pritam that she has no real sense of history; nor is she a philosophical poet interested in the dynamic of ideas" but these charges stand no when her works are read in a form they were written. The 1947 Partition made Punjabi poets more self conscious of their social responsibilities. If Punjabi litterateur Mohan Singh celebrated the glory of Taj Mahal, he also depicted the untold sufferings of the thousand labourers who toiled for twenty long years to fulfill the dream of Shah Jahan.
So was Pritam's, who painted an intensely grim but honest account of the distorted social assemblage where women and peasants were ruthlessly exploited. As KS Duggal observes: "She (Pritam) started writing as a sissy. But it was a heart of a mother in her that shed tears of blood immediately after the Partition at in insensate massacre of innocent men and women on both sides of the border."
Deeply influenced by Baudelaire (Ode to Beauty), Mayakovsky, Pushkin, Tolstoy, Gothe, Schiller, Freud and Tagore, Pritam's works deal with the axiomatic problems of life, wants and denials of common men and women. In these, she extensively brought to bear parable to delineate her feelings. Her other acclaimed poems like Kasturi (Music) and Nagamani (Serpent's Jewel) published in 1959 and 1964 respectively illustrate her "strivings for her possibilities of life".
In Chak Nambar Chatti (Village Number Thirty Six) published in1964, one finds a completely matured Pritam addressing serious issues. Victorian minded readers were taken aback when candidly discussed sex of a girl who wants to play a double role --prostitute and wife, just because she passionately loves him.
A conspicuous message, which emerges from the novel, is that obscenity is less earthy because the protagonist is concerned with moral and ethical standards. Balwant Gargi, a long time friend of Pritam, perceptively notes: "She feels that where values end, obscenity begins."
Pritam's short stories, as intense as they are prolific, remain a class apart. Unusual depth, power and artistry characterize many of them, especially Ik Shehar De Maut, Tessari Aurat and Panj Vareh Lambi Sarak. For their precise and pruning, these stories are like those resourceful hostesses who triumphantly succeed in giving a large dance in a small room.
Her autobiography Rashidi Tickat (The Revenue Stamp) first published in Punjabi in (1976) is an honest chronicle written with a warmth and truthfulness. By all means, it may not equal with Nirad C. Chaudhuri's classic The Autobiography of an Unknown Indian or RK Narayan's My Days, but it has all the ingredients to take a place next to Dom Moreas' My Son's Father, which Stephen Spender aptly described as a minor classic.
Unfortunately, this too is not bereft of controversy. At one time, its fate was about to be hermetically sealed --but that somehow could not be materialized. On the following year, it appeared in both the Hindi and English versions.
Retrospectively, when Pritam in the course of a conversation with Khushwant Singh disclosed her plans to write an autobiography, the latter unwittingly remarked: "What is there to your life? Just an incident or two… you could use the back of a revenue stamp to write it."
In a brief prologue to The Revenue Stamp, Pritam shot back, "Whatever happened in my life happened between the layers of thought that found their way into novels and poems. What was left? Still, I thought I might write a few lines --something to complete the account book of my life and at the end, seal it with this revenue stamp as it were. Or am I with this revenue stamp setting a seal to my novels and poems…my entire, literary work…I wonder." In the contemporary Punjabi literature, she is an indisputable phenomenon who has virtually no parallel.
Awards & Honours
Sahitya Akademi Award (1956)
Padmashri (1969)
Delhi University confers its D. Litt. (1973)
Jabalpur Uniersity confers its D. Litt. (1973)
International Vaptsarove Award by the Republic of Bulgaria (1979)
Bharatiya Jnanpith (1981)
Vishwa Bharati, Shantiniketan, confers its D. Litt.(1987)
Degree of Officer dens/order des arts et des letters by the French Government (1987).
Some Important Works
· Amrit Lehran (1936)---poems
Jinnda Jian (1939)---poems
Trel Dhote Phul (1942)---poems
O Gitan Valia (1942---poems
Badlam De Laali (1943)---poems
Lok Pigr (1944)---poems
Pagthar Giite (1946)---poems
Punjabi Di Aawaaz (1952)---poems
Sunehray (1955)---poems
Ashoka Cheti (1957)---poems
Kasturi (1957)---poems
Nagmani (1964)---poems
Ik Si Anita(1964)---poems
Chak Nambar Chatti (1964)---poems
Jilavatan (1968)---novel
Rasidi Ticket (1976)---autobiography
Uninja Din (1979)---poems
Kagaz Te Kanvas (1981)---Bharatiya Jnanpith Award.
----------
Amrita Pritam
aaj aakhaaN waris shah nuuN
aaj aakhaN waris shah nuuN, kitoN kabraaN vichchoN bol,
te aaj kitab-e ishq daa koii aglaa varkaa phol
ik roii sii dhii punjaab dii, tuuN likh likh maare vaen,
aaj lakhaaN dhiiaaN rondiaa, tainuN waris shah nuN kahen
uTh dardmandaaN diaa dardiaa, uth takk apnaa punjaab
aaj bele lashaaN bichhiaaN te lahu dii bharii chenab
kise ne panjaN paniaN vichch dittii zahar ralaa
te unhaaN paniiaaN dharat nuuN dittaa paanii laa
is zarkhez zamiin de luun luun phuttia zaher **
gitth gitth charhiaaN laaliaN fuuT fuuT charhiaa kaher**
veh valliissii vha pher van van vaggii jaa, **
ohne har ik baaNs di vanjhalii ditti naag banaa **
pehlaa dang madaariaN, mantar gaye guaach, **
dooje dang di lagg gayii, jane khane nuN laag **
aagaaN kiile lok muNh, bus phir dang hi dang, **
palo palii punjaab de, neele pae gaye ang.**
gale'oN tutt'e giit phir trakaleon tuttii tand, **
trinjanoN tuttiaaN saheliaaN, chaRakhRre ghuukar band**
sane sej de beriaaN, luddaN dittiaaN rohr, **
sane daliaan peengh aj, piplaaN dittii toR **
jitthe vajdii sii phuuk pyaar dii, ve oh vanjhalii gayii guaach
raanjhe de sab viir aaj, bhul gaye usadii jaach
dhartii te lahuu varsiyaa, kabraaN paiaaN chon,
preet diaaN shaahzaadiaaN, aaj vichch mazaaraaN ron
aaj sabh 'Qaido' ban gaye, husn ishq de chor
aaj kitthoN liaaiye labbh ke waris shah ik hor
aaj aakhaN waris shah nuuN, kitoN kabraan vichchoN bol,
te aaj kitaab-e ishq daa, koii aglaa varkaa phol
** verses marked with ** are at best approximations as a result of which their literal translations are unreliable. I am unable to find my copy of Amrita Pritam's original and hope to check and correct the original if I remember, January 22, 2001
1. Waris Shah wrote the celebrated Punjabi classic Heer Ranjha
2 Qaidon, the uncle of Heer, was the villain in the story
I Ask Waris Shah, Today
I ask Waris Shah today to speak up somewhere from the graves
And to turn to a new page of the book of love
Once, when one daughter of Punjab wept, you had hit out by writing (1)
Today a million daughters weep and implore you, Waris Shah:
Arise, O friend of the distressed! Arise, see the plight of your Punjab
Corpses lie strewn in the fields and Chenab is filled with blood
Someone has mixed poison into the waters of the five rivers
And that water is now irrigating the land
This fertile land is sprouting poison,**
the horizon has turned scarlet-red and the curses fly to the sky**
The poisonous wind that passes through the forest**
Has transformed each bamboo-shoot into a cobra**
The first snake-bite made the snake-charmer forget his spell**
And the subsequent bites have addicted the people**
They have been bitten again and again**
And in no time, the limbs of Punjab have turned blue**
Silenced are the songs in the streets, the thread of the spinning-wheels snapped
The girls have fled the courtyards, the whirr of the spinning wheels halted
The wedding beds and the boats have been thrown away
Today the branch with the swing on the Pipal has broken
The flute through which blew the breath of love is lost
All the brothers of Ranjha today have forgotten this art
Blood rained on the earth and the graves are leaking
And the princesses of love are crying amidst the tombs
All have become Qaidon (2) today, thieves of beauty and love
Today, wherefrom shall we get yet another Warish Shah?
I ask Waris Shah today to speak up somewhere from the graves
And to turn to a new page of the book of love
--------------
Links to Amrita Pritam's Poetry on APNA Web:
Complete Book of Poetry "Naveen Rutt" in Shahmukhi
Selections from Amrita Pritam's Poetry - 32 poems - Gurmukhi