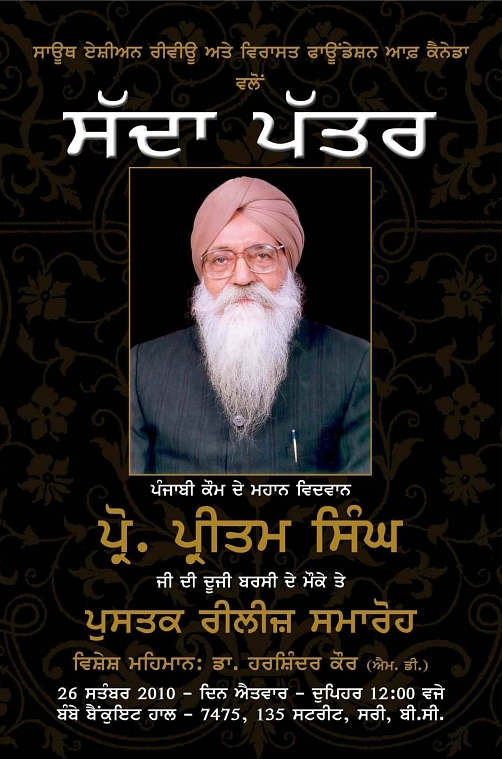 Virasat Foundation and South Asian Review are proud to present a special Book Release Ceremony in honour of the eminent scholar Professor Pritam Singh next Sunday September 26th 2010 at Bombay Banquet Hall, 7475 135 St, Surrey, B.C. at 12pm. On this occasion his last book which consisted of over 50 years research called "Sri Guru Granth Sahib wale Seikh Farid di Bhaal (In search of Sri Guru Granth Sahib's Seikh Farid)" will be released for the first time in Canada along with Professor Pritam Singh Kambo's book "Professor Pritam Singh, Jeevan, Shakhshiat Atai Rachna (Professor Pritam Singh, Life, Personality and Writings)." We are delighted that Professor Pritam Singh's worthy daughter Dr. Harshinder Kaur M.D. will be present at this ceremony and will be speaking about her father and her latest book "Khurak Bare Sampooran Jaankari (Complete Knowledge of Diet)" which will also be released.

Professor Pritam Singh was a prominent and renowned intellectual from Punjab who during his lifetime wrote over 60 books on Punjabi Language, Punjabi Literature, Sikh History, Philosophy and other subjects. During his lifetime he always made a point of fighting for the defence of the Punjabi Language and was never afraid of presenting his view. He was a towering figure in the field of Punjabi Language who taught many students of Ph.D. and M.A. during his lifetime. He collected and preserved many rare Punjabi manuscripts which he later donated to Guru Nanak Dev University, Amritsar who created a special library in his honour. He was truly one of Punjab's most gifted scholars.

Dr. Harshinder Kaur M.D. - worthy daughter of Professor Pritam Singh – is a well known writer and paediatrician from Patiala, Punjab. She was the first person to speak at the UNO in Punjabi and registered Punjabi there as a mother tongue for the first time. She has been widely honoured in India and abroad for her stands like her father Professor Pritam Singh in the defence of the Punjabi Language, her work on the prevention of female foeticide and the promotion of women's rights. Her research has been well-published and highly recognized. Her latest book on the importance of diet will be released on this occasion.

You are all invited to attend this event and join in the celebration of Professor Pritam Singh's work and lifetime. This event will also be marking the second anniversary of his passing away.

Please forward this invitation to your friends and we look forward to meeting you there next Sunday.

For further information please do not hesitate to contact either Myself at 604 765 3063 or Jaspal at 604 897 4512.